Obama Wants Big Debt Deal but Open to Fallback Plan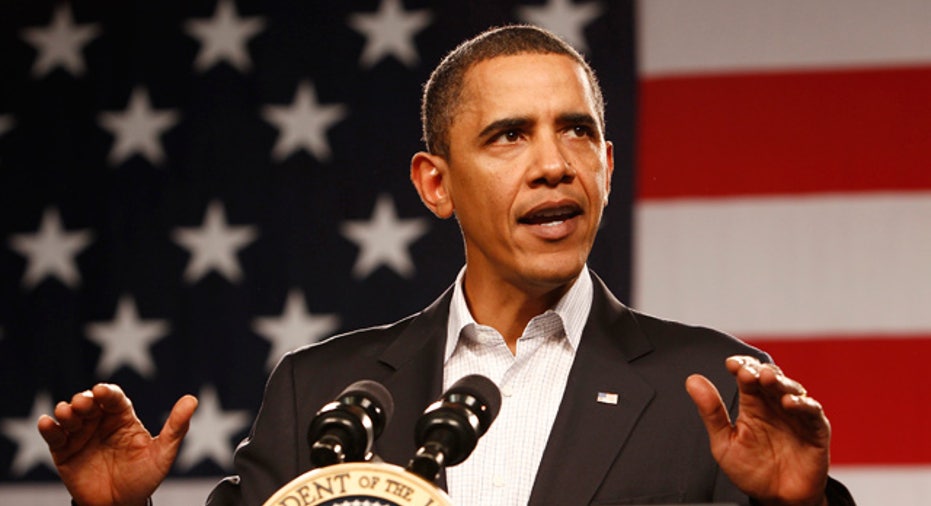 President Barack Obama would like to see a comprehensive deficit-reduction package but is exploring a possible fallback plan with congressional leaders to avert a U.S. debt default by Aug. 2, the White House said Monday.
White House spokesman Jay Carney said while Obama would prefer the biggest possible package, he is leaving room open for a safety valve to get an increase in the debt ceiling by Aug. 2, when the federal government will run out of money to pay its bills.
``We must pursue a fallback or last-ditch option,'' Carney said. ``Conversations have been going on about that.''
He also said there must be a mechanism in place to ensure the United States does not default on its debt obligations.
The stalemate on debt talks in Washington, along with debt problems in Europe, is unnerving financial markets worldwide amid fears of a spiral into a global crisis. World stocks dipped and gold prices hit record highs above $1,600 an ounce as investors sought a safe haven.
Obama, who set a Friday deadline for lawmakers to reach a deal on the debt ceiling, held a secret White House meeting with Republican congressional leaders on Sunday but there were no breakthroughs, a Republican congressional aide said.
Brendan Buck, spokesman for House Speaker John Boehner, the top U.S. Republican, said Boehner's deputy Eric Cantor was also at the meeting.
Referring to Republican legislation to be voted on this week, Buck said: ``We believe cut, cap and balance represents the best path forward and we are looking forward to the House vote on it tomorrow.''
The White House has criticized the ``cut, cap and balance'' measure from Republicans, which calls for any increase in the debt ceiling to include spending cuts and caps along with a balanced budget amendment. The White House said Obama would veto the measure if it passes Congress.
The top Republican in the Democratic-led Senate, Mitch McConnell, has submitted a plan that would essentially give Obama the power to raise the debt limit and take the political heat off Republicans. Senate Democratic leader Harry Reid hopes to begin debate on a modified version this week.
McConnell's complicated plan to increase the debt limit in three stages has moved to the forefront as efforts to reach a comprehensive deficit-reduction deal have hit a wall.