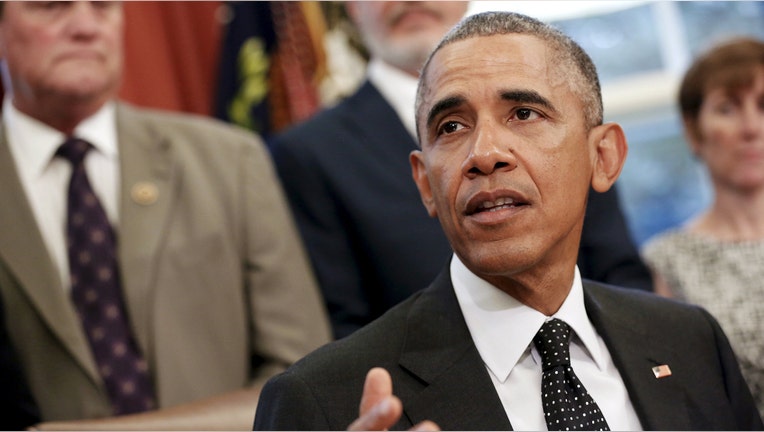 President Barack Obama's appearance at the United Nations this week is essentially his last opportunity to use the high-profile global platform to press his foreign-policy agenda, which is facing new challenges as he enters his final year in office.
Increasingly complex dynamics in a volatile Middle East will test Mr. Obama, while he tries to advance his longer-term policy goals on issues such as global development and climate change.
Russia's more aggressive posture in Syria and Iraq is overshadowing Mr. Obama's three days in New York for the U.N. General Assembly. On Monday, Mr. Obama is scheduled to meet with President Vladimir Putin for the first time in more than two years.
The president is also grappling with finding a U.S. role in a global migrant crisis spawned by Syria's civil war.
He is set to address the General Assembly on Monday, a speech that will serve as a road map for how he intends to approach the remaining 16 months of his term. He is expected to appear again next autumn but will have only a few months remaining in office.
Mr. Putin also is scheduled to address the world body on Monday, and the Middle East will be central to the U.S. and Russian leaders' high-stakes talks.
But Mr. Obama's schedule in New York, from Sunday to Tuesday, reflects a president looking to make strides in other policy areas. On Sunday, he addressed a U.N. meeting on global development concerns, after having lunch with his sister, Auma, at his hotel.
Mr. Obama urged other wealthy nations to contribute more to such issues, particularly the refugee crisis.
"We suffer no illusions of the challenges ahead. But we understand this is something that we must commit ourselves to," Mr. Obama said. "Because in doing so, we recognize that our most basic bond--our common humanity--compels us to act."
He said global development issues will be part of his work after he leaves office in January 2017, and he used a speech on Sunday on global development to push another priority, saying "development is threatened by climate change."
On Monday, Mr. Obama also will meet with Indian Prime Minister Narendra Modi. The intent of the meeting, for the White House, is to further Mr. Obama's push on climate change. The administration would like to gain specific commitments from Mr. Modi on emissions reductions before world leaders try to complete an international agreement during talks in Paris in December.
"What we want to get out of the discussions in New York is a sense of momentum for a successful outcome in Paris," said Ben Rhodes, a deputy national security adviser.
The White House also announced Mr. Obama will meet with Cuban President Raúl Castro on Tuesday, their first since the U.S. and Cuba formally restored diplomatic relations in July.
Monday's meeting will be the first between a U.S. and Cuban leaders that features formal diplomatic trappings, such as the flags of both nations and an official announcement, in more than 50 years.
An April meeting between Messrs. Obama and Castro on the sidelines of the summit of the Americans in Panama wasn't announced in advance and didn't include the usual formalities afforded foreign leaders from countries that have diplomatic relations with the U.S.
Mr. Castro is attending the U.N. General Assembly for the first time.
The meeting between the U.S. and Cuban leaders follows a visit to Cuba by Pope Francis, who then traveled to Washington to meet with Mr. Obama at the White House. Mr. Obama is hoping to advance U.S.-Cuba relations to the point of where he makes a trip to the island nation himself next year.
The diplomatic thaw with Cuba represents one of Mr. Obama's foreign-policy accomplishments. Another, a nuclear deal with Iran reached in July, isn't likely to be followed by a meeting with that country's leaders, administration officials said
Mr. Obama will also meet on Monday with President Nursultan Nazarbayev of Kazakhstan.
Felicia Schwartz contributed to this article.
Write to Carol E. Lee at carol.lee@wsj.com