Obama Pushes for Budget Deal Before Christmas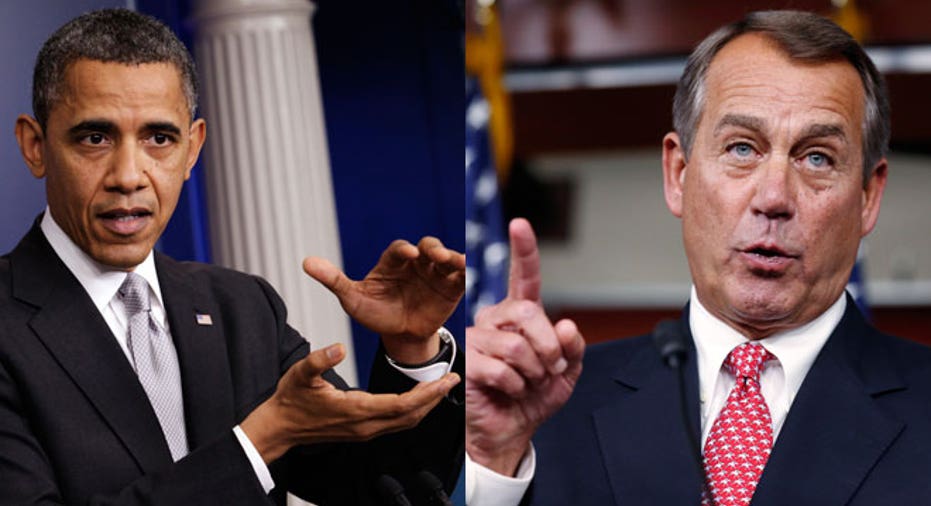 President Barack Obama on Wednesday urged Republicans to move beyond partisan objections to compromise with him on averting the year-end "fiscal cliff" and invoked the tragic Newtown elementary school massacre in a plea for flexibility.
"Right now what the country needs is for us to compromise, get a deficit reduction deal in place," the president told reporters at the White House.
"If you just pull back from the immediate, you know, political battles, if you kind of peel off the partisan war paint, then we should be able to get something done," he said.
Obama and congressional Republicans are struggling to come up with a deal to avoid year-end tax hikes and spending cuts that many economists say could plunge the economy back into recession.
The president made a fresh offer earlier this week that would raise taxes on those making $400,000 a year or more, but the House of Representatives could vote on a proposal by Speaker John Boehner that would extend current tax rates for all but those making $1 million or more.
The White House said on Wednesday that Boehner's "Plan B" places too heavy a tax burden on the middle class and preserves too many advantages for the wealthiest Americans, and that the president would veto the measure if it reached his desk.
Obama said that despite what his aides have described as a standstill in negotiations, he is still optimistic that a deal is possible, but said he is puzzled that Republicans have not yet accepted his plan as a basis for negotiation.
The president said he will continue to talk to Boehner and other congressional leaders to try to find a way to bridge differences, adding that he would like to get a deal done before Christmas. His aides said earlier in the day that he is willing to forego his scheduled Christmas holiday, due to start Friday, to continue fiscal cliff talks if necessary.
The heartbreaking deaths of the children in Newtown, Connecticut, on Friday should offer additional motivation for the two sides to come to terms, the president said.
"If there's one thing we should have after this week, it should be a sense of perspective about what's important," Obama said, when asked whether he thought Republicans would be able to cooperate with him to avoid the tax hikes and spending cuts associated with the fiscal cliff.
He made clear, however, that he will not negotiate with Republicans over raising the national debt limit, which is expected to be reached in the first few months of next year. A Republican insistence in 2011 that any increase in the borrowing cap be matched by spending cuts led the nation to the brink of default and set back the pace of economic recovery.