Obama Calls for 'Grand Bargain' on Job Creation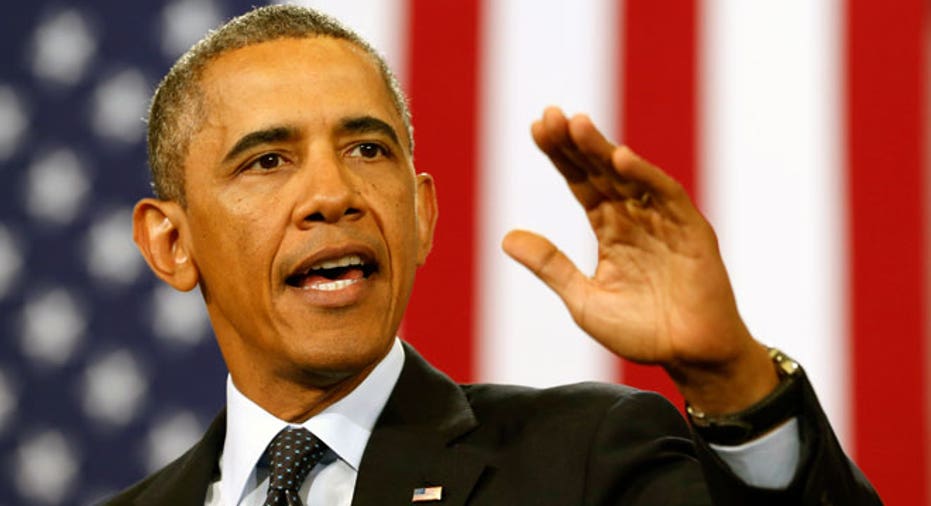 President Barack Obama proposed a "grand bargain for middle-class jobs" on Tuesday that would cut the U.S. corporate tax rate and use billions of dollars in revenues generated by a business tax overhaul to fund projects aimed at creating jobs.
His goal, as outlined in a speech at an Amazon.com Inc facility in southeast Tennessee, is to break through congressional gridlock by trying to find a formula that satisfies both Republicans and Democrats.
"I've come here to offer a framework that might help break through the political logjam in Washington and get some of these proven ideas moving," Obama said.
Obama's proposal immediately drew fire from the office of Republican John Boehner, speaker of the House of Representatives. Bickering broke out as the White House said it had tried to tell Boehner's aides about the plan on Monday but "never heard back" from them, said Obama spokesman Jay Carney.
The contretemps reflected the hyperpartisan environment that has made negotiations nearly impossible in Washington. Efforts to reach a "grand bargain" between Democrats and Republicans on deficit reduction have been at an impasse for months.
Obama wants to cut the corporate tax rate of 35 percent to 28 percent and give manufacturers a preferred rate of 25 percent. He also wants a minimum tax on foreign earnings as a tool against corporate tax evasion and the use of tax havens.
In exchange for his support for a corporate tax reduction, Obama wants the money generated by a tax overhaul to be used to fund such projects as repairing roads and bridges, improving education at community colleges and promoting manufacturing, senior administration officials said.
"We're not lacking for ideas. We're just lacking for action. And for much of the past two years, Washington has taken its eye off the ball when it comes to the middle class," Obama said.
Boehner's spokesman Michael Steel criticized the idea even before the release of the plan's details, saying it further illustrates Obama's policies on taxes and spending "while leaving small businesses and American families behind."
Obama's proposal would generate a one-time source of revenue by, for example, changing depreciation or placing a fee on accumulated foreign earnings.
DETAILS LEFT VAGUE
The White House left vague many of the details about the so-called transition fee, saying these could be negotiated.
"Our main goal here as not to announce new details as much as to make clear the president is putting forward a new kind of grand bargain for middle-class jobs," said Gene Sperling, director of the White House National Economic Council.
Officials put no specific figure on how much money would be raised, but Obama called for $50 billion for infrastructure spending in his State of the Union speech in February.
Republicans contended that by spending the revenue, it would violate Obama's previous commitment to a "revenue-neutral" overhaul of corporate taxes.
The White House hopes the idea will gain some traction in Congress because Republicans want corporate tax reform and Democrats want spending for infrastructure, so this offers something for both sides.
Administration officials said they recognize, however, that the climate is difficult in Congress with Republicans adamantly refusing anything that is seen as increasing spending and Democrats in no mood to cut taxes and get nothing for it.
Senior administration officials said Obama is not giving up on a big deficit-cutting package, but since no agreement appears on the horizon, he is offering a new idea to try to follow through on his 2012 campaign promises to help the middle class.
Bob Corker, a Republican from Tennessee on the Senate Banking Committee, sounded a skeptical note, but said he has yet to see the proposal's details.
"It would have to be a massive deal, I think, for any kind of Republican to look at revenues as part of this," Corker said on MSNBC. He said it would have to include "transformative structural changes" for programs such as Medicare for the elderly and the Social Security retirement system.
Obama's speech in Chattanooga was the latest in a series aimed at making good on his promises to boost the U.S. economy in ways that help the middle class. He is also looking to breathe new life into his second term, which has so far found successes to be fleeting.