Obama Brings in Bill Clinton to Push Tax-Cut Compromise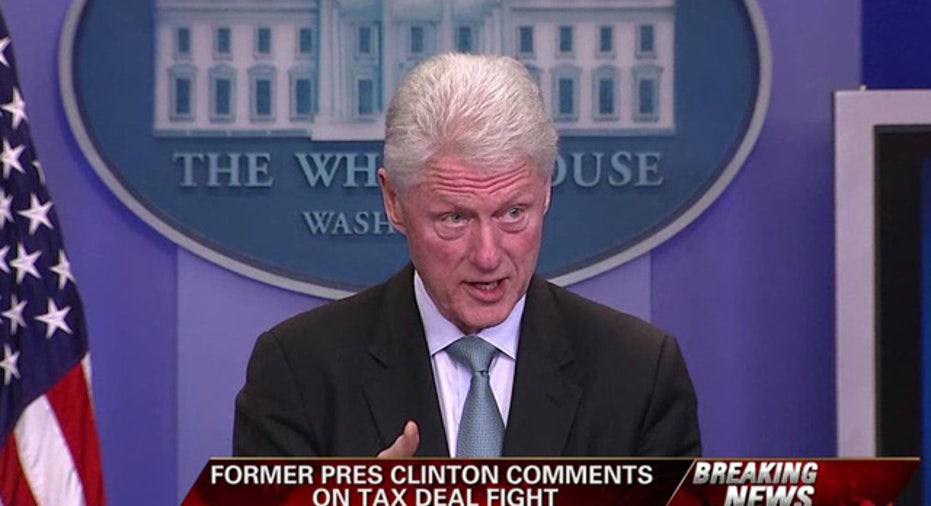 Some of President Barack Obama's most stalwart supporters continued to fume Friday over the President's tax deal, throwing the legislation into doubt while a Jan. 1 deadline loomed to extend the Bush-era cuts.
Members of the Congressional Black Caucus, staunch supporters of the president, said Obama had abandoned his party's principles.
Rep. Bobby Scott (D-Va.) in particular said he objected to setting the estate tax, a perennial Republican concern, at 35 percent. The levy expired for 2010 and was due to balloon to 55 percent next year."You can't give everybody a tax cut like it's Oprah Winfrey or Santa Claus," Scott said.
The fledgling deal, which would extend tax cuts signed into law by former President George W. Bush, is a reversal of the president's campaign promise to let them expire for American families making more than $250,000 per year.
In the halls of the Capitol, legislators resorted to profanity to describe their disgust, with one longtime congressman calling the White House "AWOL" on the issue.
"There's a lack of leadership on the part of Obama," Rep. Jim Moran (D-Va.) told The Hill late Thursday. "I don't know where the f*ck Obama is on this or anything else."
Over in the Senate, Sen. Bernie Sanders (I-Vt.) had his own end-of-the-week protest plans: Filibustering for six hours -- and counting -- to take a stand against the compromise.
Obama meanwhile hosted former President Bill Clinton in the Oval Office for a top-secret powwow, and then showed up for a surprise question-and-answer session in the White House briefing room. Both refused to say what they spoke about in the meeting.
Clinton said Democrats were stalling on the tax cuts at their own peril, as it would be far more difficult to pass the cuts when Republicans take over the House of Representatives next month.
"I don't believe they can get a better deal from waiting," Clinton said. "In my opinion this is a good bill, and I hope that my fellow Democrats will support it."
The tax deal has put Obama in the tricky situation of possibly needing to side with Republicans and against his own party in the House to get the bill passed. Already, he was taking rhetorical steps to distance himself from the unpopular compromise.
"Keep in mind, we didn't actually write a bill," Obama told NPR in an interview released Friday. "We put forward a framework. I'm confident that the framework is going to look like the one that we put forward."
"Nobody -- Democrat or Republican -- wants to see people's paychecks smaller on Jan. 1 because Congress didn't act," he added.
The inter-party infighting was a boon for at least one person: Sen. John McCain (R-Ariz.), who lost to Obama in the 2008 election.
"Being a snob, I don't pay that close attention to what goes on the House," he said facetiously at a Johns Hopkins University conference.