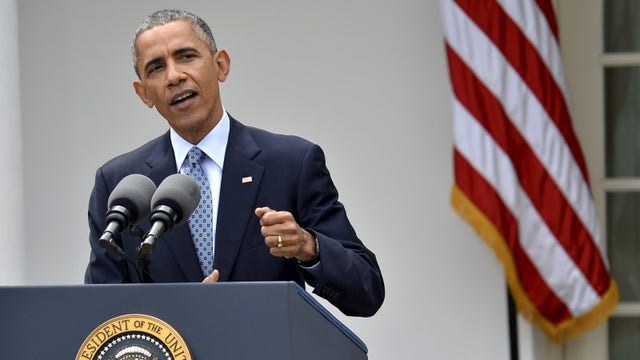 President Obama commented briefly on the disappointing March jobs report released Friday during an appearance at an Air Force base in Utah, noting that the lackluster numbers interrupted the strongest period of U.S. job growth in a decade and a half.
Obama said his administration has to "redouble our efforts" to initiate programs that create quality jobs for Americans.
The U.S., he said, can only ensure its national security through "strong economic security," adding that U.S. veterans who defend American liberties overseas have a quality job to return to when they get home.
The Labor Department reported Friday that the U.S. job market underperformed significantly last month, creating just 126,000 jobs in March, well below analysts' expectations and leading to concerns that a long run of labor market momentum has stalled. The unemployment rate held steady at 5.5%.
The government also sharply revised downward job creation numbers the first quarter, saying the economy created 69,000 fewer jobs in January and February than originally reported.
The labor market had been on a roll for over a year prior to Friday's March report, creating jobs at a healthy monthly rate of 269,000. But weak economic growth in the first quarter apparently bled into the jobs market.
Obama said he wants to work with Congress to approve programs that would rebuild America's infrastructure and increase job training. Businesses, he said, will relocate to the U.S. if its infrastructure is sound and its workers well trained.