North Korea says tests first ICBM; experts say Alaska within range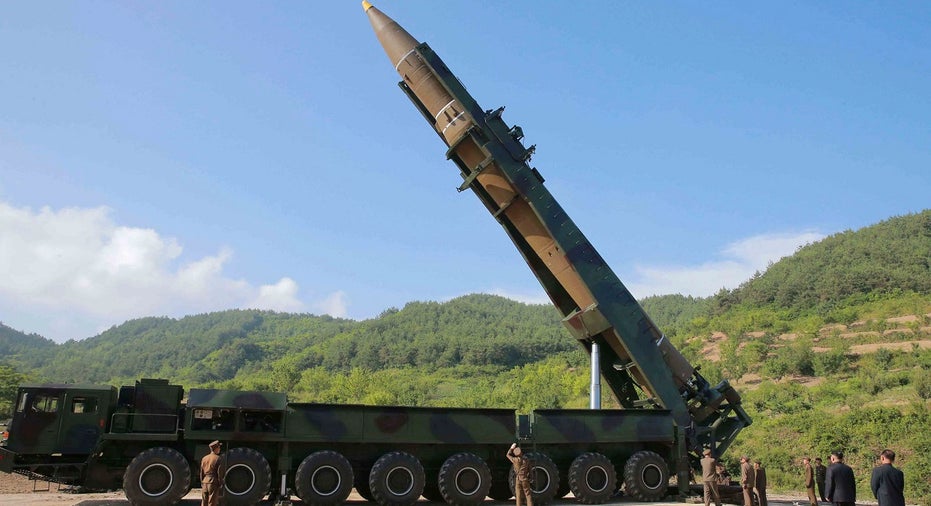 North Korea said on Tuesday it successfully test-launched a first intercontinental ballistic missile, (ICBM), which analysts said could put all of the U.S. state of Alaska in range for the first time.
U.S. networks Fox News and NBC said U.S. officials had told them they believed Tuesday's test was of an ICBM, marking a worrying milestone in Pyongyang's missile development. CNN quoted officials as saying it was probably a two-stage ICBM.
The United States requested a closed-door meeting of the 15-member U.N. Security Council on the launch, a session likely to be scheduled for Wednesday, a spokesman for the U.S. mission to the United Nations said on Tuesday.
The launch, on the eve of U.S. Independence Day, took place days before leaders from the Group of 20 nations were due to discuss steps to rein in North Korea's weapons program, which it has pursued in defiance of Security Council sanctions.
North Korea's state media said the launch was ordered and supervised by leader Kim Jong Un and sent the Hwasong-14 933 km (580 miles), reaching an altitude of 2,802 km (1,741 miles) over a flight time of 39 minutes.
North Korea has said it is working to develop a nuclear-tipped missile capable of striking the U.S. mainland, something U.S. President Donald Trump vowed in January would never happen.
Some analysts said the flight details suggested the new missile had a range of more than 8,000 km (4,970 miles), which would put significant parts of the U.S. mainland in range, representing major advances in its program.
David Wright, co-director of the Global Security Program at the U.S.-based Union of Concerned Scientists, said the flight time and distance suggested the missile could travel about 6,700 km (4,163 miles), bringing all of Alaska into range.
South Korean President Moon Jae-in said the missile was believed to be an intermediate-range type, but the military was looking into the possibility it was an ICBM.
The Pentagon and State Department did not immediately respond to requests for comment on the TV network reports but said the U.S. government was working on a more detailed assessment of the launch. On Monday night, the Pentagon described the missile as an intermediate-range type that traveled for 37 minutes.
U.S.-based missile expert John Schilling, a contributor to the Washington-based North Korea monitoring project, 38 North, said the launch was both earlier and "far more successful than expected."
He said it would now probably only be a year or two before a North Korean ICBM achieved "minimal operational capability" and it was likely the initial test did not perform as well as an operational missile would.
"Still, this missile demonstrated a degree of performance that is beyond what is needed to reach Anchorage - or Pearl Harbor - but not quite sufficient to reliably reach targets on the U.S. West Coast," he said.
Schilling said the U.S. national missile defense system was "only minimally operational" and would take more than two years to upgrade to provide more reliable defense.
North Korea said its missiles were now capable of striking anywhere in the world.
Officials from South Korea, Japan and the United States said the missile landed in the sea in Japan's Exclusive Economic Zone after being launched on a high trajectory.
Kim Dong-yub, a military expert at Seoul's Kyungnam University, said that if launched on a standard angle, the missile could have a range of more than 8,000 km (4,970 miles).
TRUMP FRUSTRATION WITH CHINA
Trump has been urging China, North Korea's main trading partner and only big ally and the current chair of the U.N. Security Council, to press Pyongyang to give up its nuclear program. In an apparent reference to Kim Jong Un, Trump tweeted: "Does this guy have anything better to do with his life?"
"Hard to believe South Korea and Japan will put up with this much longer," he added. "Perhaps China will put a heavy move on North Korea and end this nonsense once and for all!"
Trump has indicated he is running out of patience with Beijing's efforts to rein in North Korea. His administration has said all options are on the table, military included, but suggested those would be a last resort and that sanctions and diplomatic pressure were its preferred course.
While China has responded to previous North Korean tests of suspected ICBM technology by agreeing to tougher U.N. sanctions, it emphasized on Tuesday its call for a return to talks with North Korea by signing a joint statement with Russia.
Under China's plan, North Korea would suspend its ballistic missile program in return for a moratorium on large-scale military exercises by the United States and South Korea, which Washington and Seoul say are essential to maintain defense readiness.
Trump is due to meet both Chinese President Xi Jinping and Russian President Vladimir Putin during the G20 in Germany this week.
Japan said on Monday it would have a trilateral summit with the United States and South Korea on North Korea at the G20. Its prime minister, Shinzo Abe, said he would ask the presidents of China and Russia to play more constructive roles.
North Korea was a major topic in phone calls between Trump and the leaders of China and Japan this week.
Chinese Foreign Ministry spokesman Geng Shuang called on Tuesday for calm and restraint, and reiterated China's opposition to North Korea's violation of U.N. resolutions on missile tests.
Responding to Trump's tweet, Geng said China had been working hard to resolve the North Korean nuclear issue.
"China's role is indispensable," he told a daily news briefing. "We hope all sides can meet each other halfway."
North Korea has conducted five nuclear tests, two since the beginning of last year, and the pace of missile tests has risen significantly. It says it needs to defend itself against U.S. aggression.
Analysts say it often conducts tests to show its defiance and to raise the stakes when it sees regional powers getting ready for talks or sanctions.
(Additional reporting by Soyoung Kim in Seoul, Kiyoshi Takenaka and Elaine Lies in Tokyo, Ben Blanchard in Beijing, David Brunnstrom, Ayesha Rascoe and Lesley Wroughton in Washington and Michelle Nichols in New York; Editing by Howard Goller and Peter Cooney)