No Bail for Embattled IMF Chief Strauss-Kahn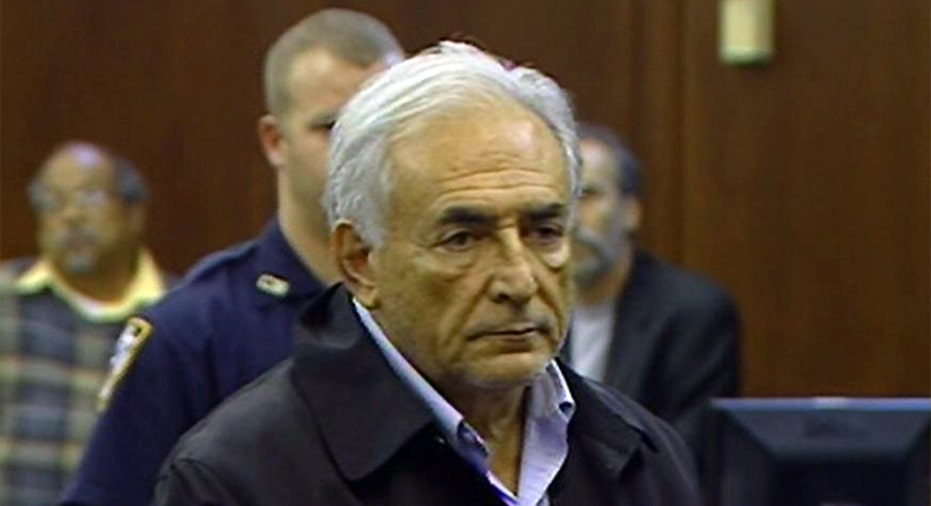 IMF chief Dominique Strauss-Kahn was denied bail on Monday on charges he attempted to rape a hotel maid, a crushing blow for the man until recently seen as a front-runner for the French presidency and who oversaw world finance.
Looking tired, with a light stubble, Strauss-Kahn listened as prosecutors described in graphic detail to a Manhattan Criminal Court judge what they said was his sexual attack on the maid and a subsequent attempt to flee the country.
"The charges and the underlying conduct here are severe," said prosecutor John McConnell.
He called the IMF chief a flight risk to France and urged the judge to keep Strauss-Kahn behind bars. "They do not extradite their nationals," he said.
Defense lawyers failed to win $1 million bail for Strauss-Kahn. They denied the charges against their client, whose arrest has thrown the IMF into turmoil just as it is trying to help fix the euro zone's deep debt crisis.
Strauss-Kahn faces up to 25 years in prison if convicted, prosecutors said.
Police have said the maid had described how the naked IMF chief sprang on her from a bathroom in his hotel suite, chased her down a hall, pulled her into a bedroom and assaulted her.
She told police she broke free but that he dragged her into the bathroom where he forced himself on her again.
Prosecutors told the judge Strauss-Kahn shut the door of his hotel room to prevent the maid from leaving.
"He grabbed the victim's chest without consent, attempted to remove her pantyhose and forcibly grabbed the victim's vaginal area," the prosecutors' office said in a statement. "His penis made contact with the victim's mouth twice through the use of force."
FORENSIC EVIDENCE
It was Strauss-Kahn's first appearance in court since he allegedly sexually assaulted the maid in his room at the Sofitel in Times Square.
He did not speak to the judge during the proceeding and was then taken to a New York detention center known as The Tombs.
Strauss-Kahn was pulled off an Air France jet on Saturday, minutes before it was to leave for Paris. The case has altered France's political landscape and left the IMF leadership in turmoil.
Defense attorney Ben Brafman said in court that forensic evidence taken by police from Strauss-Kahn "will not be consistent with a forcible encounter. We believe this a very, very defensible case and he should be entitled to bail."
Brafman told reporters, "I think it's important that you all understand that this battle has just begun."
Brafman was part of the team that successfully defended pop singer Michael Jackson in 2005.
The judge set May 20 as the next date for the case when the defense has suggested it will appeal the bail ruling.
A defense lawyer said Strauss-Kahn did not flee the hotel and that a person he was having lunch with on Saturday, the day of the incident, will testify on his behalf.
French radio reported that Strauss-Kahn's lawyers have proof that he was having lunch with his daughter at the time of the alleged attack.
The judge's order to Strauss-Kahn in custody raises further questions about his future as the globe-trotting managing director of the IMF.
The IMF board was due to meet on Monday. The fund's second in command, John Lipsky, has been put in charge.
The White House said the United States, the single biggest member of the fund, remained confident in the IMF's ability to do its job.
German Chancellor Angela Merkel, whom Strauss-Kahn had been due to meet on Sunday, said finding a successor for the Frenchman was "not a question for today," but there were good grounds to have a European candidate ready.
European sources said French Economy Minister Christine Lagarde had been picking up support before the Strauss-Kahn news broke. Former Turkish Economy Minister Kemal Dervis is considered a favorite among the non-European possibilities.
Strauss-Kahn led the IMF through the 2007-09 global financial meltdown, pressing for stimulus measures and interest rate cuts to avoid a depression. He has been central in galvanizing Europe to tackle its debt woes.
Strauss-Kahn had been in New York on private business. The IMF said in a statement he pays out of his own pocket for private trips, and that it understands he paid less than the reported $3,000 a night for the luxury suite.
MORE ALLEGATIONS
French Socialist party leader Martine Aubry called the pictures of the IMF chief's arrest "profoundly humiliating" and told reporters: "Fortunately in France we have a law on the presumption of innocence which means that at this stage of proceedings, people cannot be shown like this."
More allegations involving Strauss-Kahn surfaced in Paris, where a lawyer said a woman writer was considering filing a legal complaint against the IMF chief over an alleged sexual incident dating back to 2002.
In New York, prosecutors said he may have engaged in the past in conduct similar to the alleged attack on Saturday and they were investigating.
Defense lawyers said they understood the case was the one about the woman writer in France.
Strauss-Kahn's wife, French television personality Anne Sinclair, said she did not believe the accusations against her husband "for a single second."
Police say Strauss-Kahn left his suite in such a rush that he left his mobile phone behind but a French tourist who said she saw him check out told France 2 television he had appeared calm and in no hurry.
After he called the hotel from John F. Kennedy Airport asking about his phone, police pulled him off an Air France flight bound for Paris.
Police say the IMF chief does not have diplomatic immunity from the charges.
In France, Strauss-Kahn had not yet declared his candidacy but was widely expected to seek the Socialist Party nomination. Early opinion polls gave him a big lead over conservative incumbent Nicolas Sarkozy, who is likely to seek a second term at the election next April.
France's government as well as Strauss-Kahn's allies and rivals called for caution and respect for the presumption of innocence. But unless the case against him collapses rapidly, it is hard to see how he could enter the Socialist primary.
French voters are famously tolerant of political leaders' extramarital affairs, but the allegations against Strauss-Kahn are much more serious.
His character had been questioned before. In 2008, he apologized for "an error of judgment after an affair with a female IMF economist who was his subordinate.
The fund's board warned him against improper conduct, but cleared him of harassment and abuse of power and kept him in his job. It will now face new scrutiny over whether that response was too weak, especially as there have been persistent rumors about Strauss-Kahn making sexual advances to women.