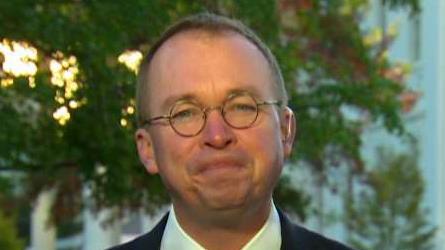 New York Governor Andrew Cuomo slammed President Trump's tax plan in a tweet on Thursday saying residents of the state would actually see a tax increase and warned that it could drive people and businesses out of the state.
Office of Management and Budget Director Mick Mulvaney reacted to Governor Cuomo on Friday during an appearance on FOX Business.
"You cannot look at a tax package individual part, by individual part. If you do, you'll never get tax reform," Mulvaney said to Maria Bartiromo on Mornings with Maria and added that this is a reason why the U.S. has not had serious tax reform in 30 years.
President Trump's proposed plan would include three income tax brackets of 12%, 25% and 35%, double the standard deduction and eliminate the estate tax and alternative minimum tax. In addition, the plan aims to simplify the tax process, Mulvaney said.
"If there are folks in the middle class in New York, and there are a lot of them, they are going to get a dramatic reduction. It's going to be easier for them to pay their taxes. They won't have to hire somebody, pay somebody to do their taxes," Mulvaney said.
While it's still unclear how the plan will impact individual families and businesses, Mulvaney pointed out how people who come out saying they know exactly what this plan will do are "simply jumping to political conclusions and not going through the serious process of looking at how we make laws."