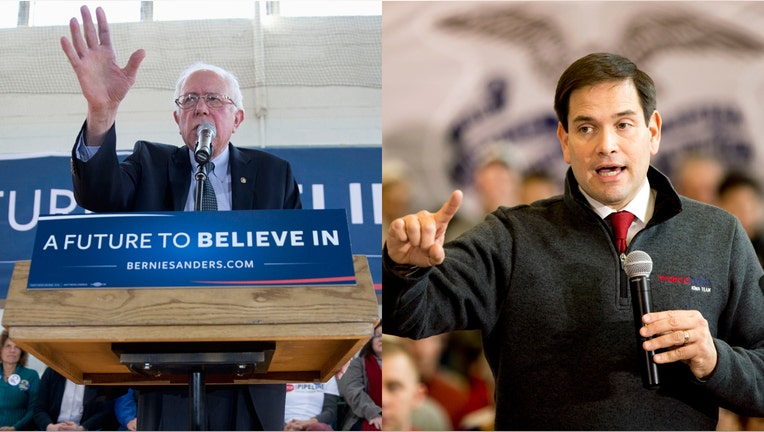 Billionaire businessman Donald Trump may be what Republicans want, but Florida Senator Marco Rubio is what they need to win the 2016 presidential election, according to a national poll from Quinnipiac University released Friday.
Trump is still the frontrunner in the GOP field with 31% support from Republican voters nationwide. Texas Senator Ted Cruz comes in second place with 22% and Senator Marco Rubio of Florida is in third with 19%.
However, in a head-to-head general election matchup, Rubio beats Democratic presidential rival Hillary Clinton 48% to 41% and ties with Vermont Senator Bernie Sanders with 43% support.  In a race against Trump, Sanders beats the real estate mogul 49% to 39% and also wins against the Texas senator 46% to 42%.
Rubio and Sanders are the strongest contenders in the general election, but if former New York City Mayor Michael Bloomberg enters the race, he could be a threat to Sanders. In a hypothetical 3-way election, Sanders gets 35% of the vote, Trump takes 36% and Bloomberg garners 15%. However, Sanders beats Cruz 37% to 36% with Bloomberg at 15%.
In the Democratic race, former Secretary of State Hillary Clinton holds 44% support nationwide while Senator Bernie Sanders has 42%, with 11% still undecided. In the December poll, Clinton held a substantial lead with 61% compared to Sanders' 30%.
"Democrats nationwide are 'feeling the Bern' as Sen. Bernie Sanders closes a 31-point gap to tie Secretary Hillary Clinton," said Tim Malloy, assistant director of the Quinnipiac University Poll in a statement.
When it comes to high favorability ratings, Sanders and Rubio score the highest among American voters. The Vermont senator has 44% while the Florida senator has 42%. On the flip side, Clinton, Trump and Cruz hold the highest unfavorable scores. Clinton's negative rating is 56%, Trump's 59% and Cruz's 42%.
"While Trump, Clinton and Cruz wallow in a negative favorability swamp, by comparison, Rubio and Sanders are rock stars," said Malloy.
Quinnipiac University surveyed 1,125 registered voters nationwide from February 2 – 4, with a margin of error plus or minus 2.9 percentage points. The survey includes 507 Republicans with a margin of error of plus or minus 4.4 percentage points and 484 Democrats with a margin of error of plus or minus 4.5 percentage points.