New Jerseyans feeling impact of state government shutdown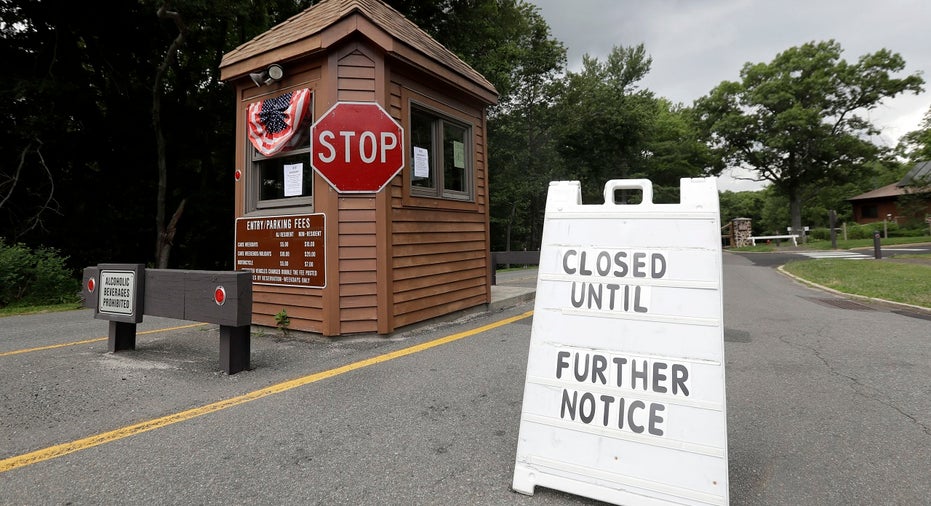 New Jerseyans were feeling the impact as a state government shutdown took effect Saturday, shuttering parks and other public sites and disrupting ferry service to Liberty and Ellis islands.
Among those affected were a group of Cub Scouts forced to leave a state park campsite and people trying to obtain or renew documents from the state motor vehicle commission, among the agencies closed by the shutdown.
Meanwhile, Republican Gov. Chris Christie and the Democrat-led Legislature returned to the statehouse Saturday to try to resolve the shutdown, the state's first since 2006 and the first under Christie. It came about after leaders failed to reach an agreement on a new budget by Friday night's deadline.
Andrew Spears, a leader with Cub Scout Pack 124 in Tinton Falls, said his group was told to leave Cheesequake State Park on Saturday morning. His group of roughly 45 — including about 25 children — had planned to camp all weekend.
"We knew this was probably coming, but it's still a shame we have to head out," Spears said.
Also closed was Island Beach State Park, where the state owns a residence that the governor can use.
Christie said earlier this week that his he and his family were planning to be there for the Fourth of July holiday, but he amended that Friday to say he would stay in Trenton this weekend if government remained shut down but his family would still go.
Asked Saturday if it was fair for his family to be able to use the park while others couldn't, Christie was defiant.
"The governor has a residence at Island Beach," he said. "Others don't. That's the way it goes. Run for governor and you can have the residence."
Remaining open under the shutdown will be New Jersey Transit, state prisons, the state police, state hospitals and treatment centers as well as casinos, race tracks and the lottery.
Liberty State Park was closed, forcing the suspension of ticket sales and ferry service from the site to the Statue of Liberty and Ellis Island. But the latter two sites remain open.
Christie and the lawmakers are in a stalemate over whether to include legislation affecting the state's largest health insurer into the state budget. He and Democratic Senate President Steve Sweeney agree on legislation to make over Horizon Blue Cross Blue Shield, including allowing the state insurance commissioner to determine a range for the company's surplus that if exceeded must be put to use benefiting the public and policyholders.
But Prieto opposes the plan, saying that the legislation could lead to rate hikes on the insurer's 3.8 million subscribers and that the legislation is separate from the budget.
Christie reiterated his stance during a news conference Saturday, calling the standoff "embarrassing and pointless." He also repeatedly referred to the government closure as "the speaker's shutdown." He later addressed a joint session of the Legislature, focusing mainly on the Horizon issue during a speech that lasted about 30 minutes.
"Government is closed over a transparency and accountability fight," he told the lawmakers. "Let's do it today and then go home."
Prieto remained steadfast Saturday in his opposition, reiterating that he won't consider the plan as part of the budget process but would consider it once a budget is signed.
Referring to the shutdown as "Gov. Christie's Hostage Crisis Day One," Prieto said he has made compromises that led to the budget now before the Legislature.
"I am also ready to consider reasonable alternatives that protect ratepayers, but others must come to the table ready to be equally reasonable," Prieto said. "Gov. Christie and the legislators who won't vote 'yes' on the budget are responsible for this unacceptable shutdown. I compromised. I put up a budget bill for a vote. Others now must now do their part and fulfill their responsibilities."
Prieto said a vote on the $34.7 billion budget that remains deadlocked 26-25, with 24 abstentions, will remain open until those 24 abstentions change their minds.
Democratic Assemblyman Vince Mazzeo was among those abstaining. He reasoned that if the governor did not get the Horizon bill, then nearly $150 million in school funding would be line-item vetoed out of the budget.
And indeed, Christie said he would slash the Democratic spending priorities if he did not get the Horizon bill as part of a package deal on the budget.
"It seems like he's just being stubborn," Mazzeo said of Prieto. "With all due respect to the speaker, then there should be some type of negotiations."
But Prieto said it's lawmakers — fellow Democrats — like Mazzeo who are to blame for the shutdown. He said he is willing to discuss the Horizon legislation but after the budget is resolved.
Christie has balked at the proposal because he says lawmakers plan to leave town to campaign for re-election and he will be a lame duck.