New Ads Target Kasich as Rubio Struggles to Remain Top 'Establishment' Candidate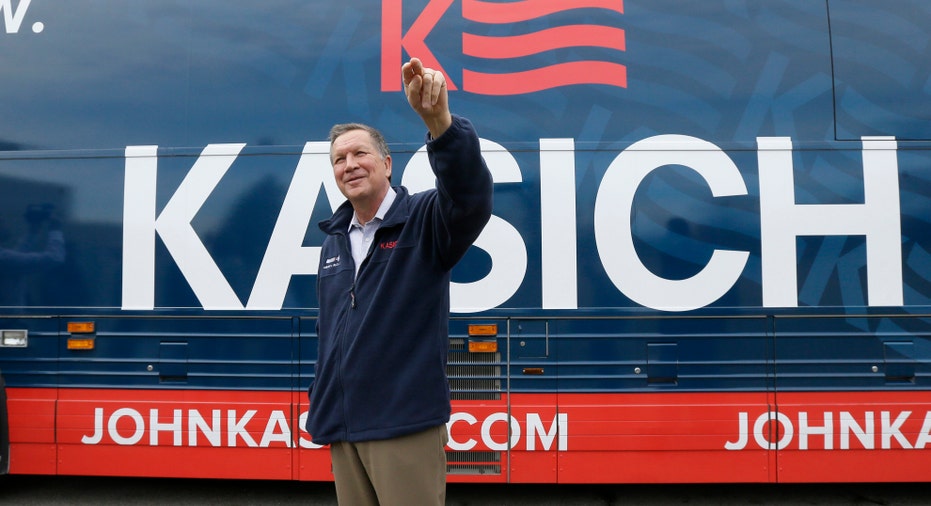 With less than a week until the winner-take-all primary in the Sunshine State, a super PAC backing Florida Senator Marco Rubio is targeting his Republican rivals. Conservative Solutions PAC released a negative TV ad on Thursday taking aim at Texas Senator Ted Cruz, billionaire businessman Donald Trump and Ohio Governor John Kasich.
The 30-second spot, "Closest," makes the case for Rubio as "the Republican who exposed Donald Trump as a fraud, and who's closest to beating Trump in Florida." It features a newspaper headline suggesting Democratic frontrunner Hillary Clinton would "crush" GOP frontrunner Donald Trump in a general election. A narrator says, "In Florida, a vote for Cruz or Kasich is a vote for Trump. It's time to stop Trump and elect a president we'll be proud of. Marco Rubio. Florida, make it happen."
This is the second smear ad with Kasich; On Wednesday the same super PAC launched an ad attacking his record as Ohio's governor. The 30-second spot calls out Kasich for expanding Medicaid under the Affordable Care Act and for increasing taxes on a list of items including, "cars, laundry, lawns, gyms, Internet… and on and on."
The Kasich campaign responded to the ads, with Communications Director Chris Schrimpf telling FOXBusiness.com, "After his attacks against Trump failed, it's sad to see the Rubio team now resort to attacking John Kasich, the one candidate who has run a positive campaign. If history is any guide, these negative ads will backfire and Gov. Kasich will only climb higher in the polls."
The Kasich focused ads are circulating in Florida and Illinois as Rubio faces his biggest make-or-break moment in the Florida primary. Rubio has said he must win in his home state to remain a viable contender for the Republican nomination. At this point Rubio has won one state and delegates in Puerto Rico, placing in third and fourth finishes in most presidential contests. It is the latest sign of trouble for the Rubio campaign, which has been fighting rumors of dropping out ahead of the March 15 primary.
According to a recent Fox News poll, Trump is in the lead in Florida with 43% support from likely Republican primary voters compared to Rubio's distant second with 20%. Cruz has 16% and Kasich comes in fourth with 10%. Trump also leads Rubio 47-22% among the quarter of Florida Republicans who reported already voting. The poll shows 48% of Sunshine State GOP voters approve of Rubio's performance as senator, while 38% disapprove.
The final GOP debate before the March 15 primary was scheduled to take place Thursday night in Miami, Florida. It's the last chance for the remaining Republican candidates to appear on a national stage together and make their case to primary voters in Florida, Ohio, Illinois, Missouri and North Carolina.