Mother slams Biden for 'mocking' sons' fentanyl deaths: 'That was him being empathetic?'
White House claims Biden's comments were taken out of context
A grieving mother, who lost two sons to fentanyl overdoses, spoke out after White House press secretary Karine Jean-Pierre defended President Biden's offensive actions during a press conference. 
On Thursday, Jeane-Pierre claimed Biden "expressed sympathy" when he laughed at her story, arguing that his words have been "mischaracterized" and "his heart goes out to any person who has to go through that type of trauma, that type of hurt." 
"He mocked me the other day," Rebecca Kiessling said on "Varney & Co" Friday. "And now there's a statement from him, well, his press secretary yesterday said that his words were mischaracterized and that he believes he showed me empathy. Like, that was him being empathetic?"
BIDEN SLAMMED FOR LAUGHING WHILE DISCUSSING MOM WHO LOST TWO CHILDREN TO FENTANYL: 'SHAMEFUL'
The laugh came during Biden's speech at the House Democratic Caucus Issues Conference in Baltimore on Wednesday night. The president was reacting to comments from Rep. Marjorie Taylor Greene, R-Ga., who had suggested that his administration was to blame for the fentanyl overdose of a woman's two sons in 2020.  
"Isn't [Marjorie Taylor Greene] amazing?" he said. 
"[S]he was very specific recently, saying that a mom, a poor mother who lost two kids to fentanyl, that, that I killed her sons. Well, the interesting thing is that fentanyl they took came during the last administration," Biden said while laughing.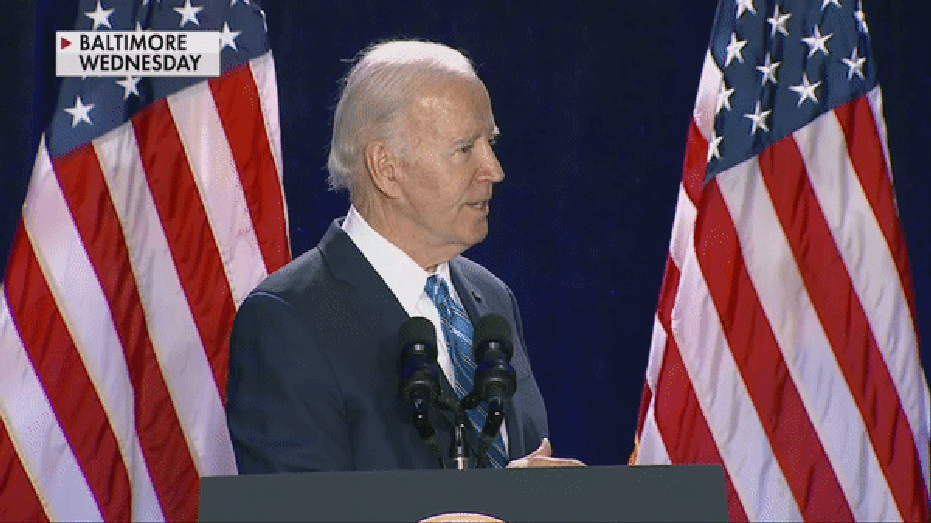 Kiessling bravely shared her heartbreaking experience of losing her sons Caleb and Kyler in 2020 to fentanyl overdoses during a House hearing on the border crisis Tuesday. 
"And you talk about children being taken away from their parents? My children were taken away from me," she said during the hearing, holding back tears. "100,000 Americans every year are having their children, 200,000 because it's both parents, are having their children taken away from them."
This is war, act like it! Do something! 
The emotionally-charged testimony came with a pointed and passionate call to action, demanding Congress and the Biden administration "do something" about the crisis.
"I don't need a purple chair in my house. Congress needs a purple chair, the White House needs a purple chair to never forget about all those being slaughtered," she said.
"This is a war, act like it! Do something."
While Kiessling and other Americans' homes have turned into war rooms, President Biden has refused to enter the trenches in the "war" raging along the southern border and taking the lives of thousands of Americans.
"They need to treat this as if it's a war. It is a war," Kiessling restated Friday. "And as I testified before Congress, if we had troops and passing at our southern border aiming weapons of mass destruction at our cities, you damn well know that you would do something."
"I think that this is terrorism. They're using weapons of mass destruction. And I am up for any and all solutions," she added. 
CLICK HERE TO READ MORE ON FOX BUSINESS
While many Americans are responding to the crisis, Kiessling lamented that President Biden's latest jab at those calling out for help indicates the country may not see true change or serious action on the border crisis.
"That just really makes me think that sort of there's no hope for him that he's not going to do anything, that he really doesn't care," she said regarding Biden's comments. 
Fox News' Adam Sabes, Bradford Betz and Adam Shaw contributed to this report.