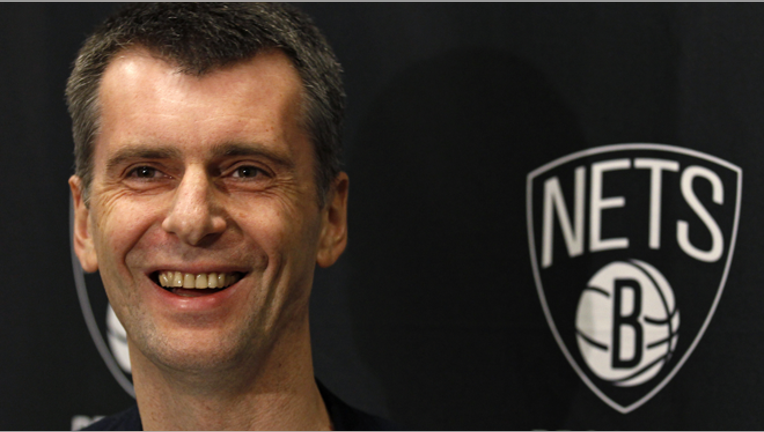 Russian billionaire Mikhail Prokhorov on Monday reiterated plans to relocate the company that owns the NBA's Brooklyn Nets to Russia as Washington and Moscow continue to trade sanctions.
The comments come as the Kremlin has called on Russian businessmen to repatriate assets to help offset the economic and financial penalties from West. A law approved by the Kremlin last year prohibits Russians who are seeking top government posts from holding bank accounts or direct shareholdings in companies abroad.
"A Russian company will own the basketball club," Prokhorov said on Monday, according to Reuters. "This (move) does not violate any NBA rules and I will bring it (under Russian jurisdiction) in accordance with Russian law."
The NBA did not respond to an inquiry. The Nets referred questions to Prokhorov's publicist, who pointed out the billionaire previously announced receiving permission to relocate the team's ownership vehicle to Russia in June.
Still, Prokhorov's comments come amid the worst political tensions between Moscow and Washington in decades.
The Nets owner, whose wealth is estimated at north of $10 billion, ran against Vladimir Putin in the 2012 presidential election but remains loyal to the leader. Prokhorov has not been hit by U.S. sanctions.
The White House has announced a slew of sanctions against Russia in response to the country's invasion and annexation of Crimea. The West has also expressed worries that Putin will launch a ground invasion of Eastern Ukraine, where Russia has some 20,000 troops massed at the border.
Last week, Standard & Poor's dimmed its outlook on Russia to "negative" due to concerns over how Western sanctions could exacerbate the country's financial situation.