Moody's Cuts German, Austrian Banks on Eurozone Fears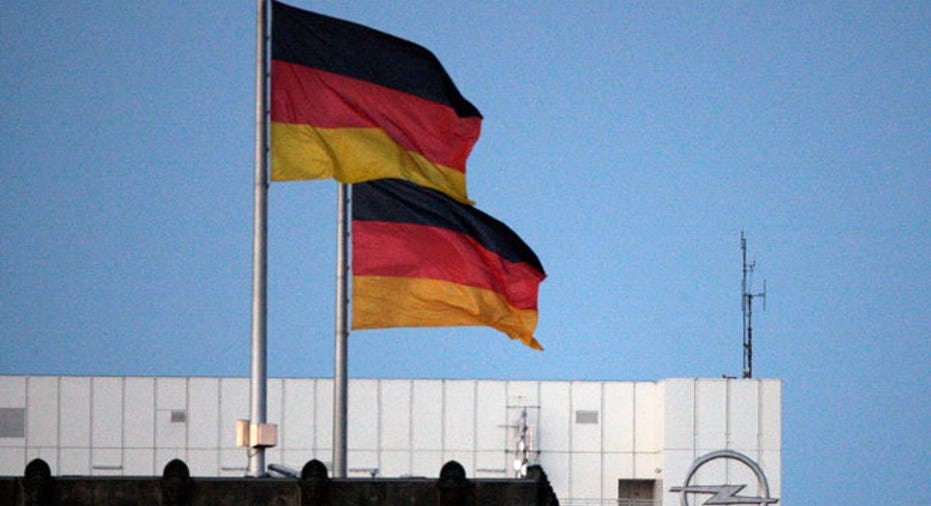 Moody's Investors Service cut the credit ratings of six German banking groups and Austria's three largest banks on Wednesday, underscoring that even the euro zone's strongest economies face risks if the region's debt crisis deepens.
The downgrades to Commerzbank AG <CBKG.DE>, Germany's second-largest lender, and several smaller German banks are part of a broad review of financial institutions in the euro bloc that has had investors on edge, but were mild compared with cuts for banks in weaker economies such as Spain and Italy.
Moody's said German lenders face risks to the quality of their assets if the euro zone crisis worsens or the global economy slows more, while also noting the relative strength of the German and Austrian economies.
Adding to fears of an escalation in the crisis, Spain said on Tuesday it was losing access to credit markets and appealed to its European partners to help revive its banks, a move likely to intensify global pressure on Europe to move quickly to the aid of its fourth-largest economy.
"We wanted to identify vulnerabilities from further potential shocks from the euro area debt crisis and how this would affect investor confidence in institutions across Europe," said Moody's Managing Director for banking, Carola Schuler.
The ratings agency was particularly concerned about a potential slip in the value of banks' portfolios of international commercial real estate, global ship financing, euro zone periphery sovereign bond and private sector assets, as well as a backlog of structured credit products, she said.
"German banks have limited capacity to absorb losses out of earnings and that raises the potential that capital could diminish in a stress scenario," Schuler added.
Commerzbank saw its long-term rating cut by one notch to A3 from A2 and assigned a negative outlook, with Moody's noting it had sizeable exposures to borrowers in Europe's periphery.
Commerzbank declined comment, as did other lenders.
Moody's action was widely expected, bankers said, noting that share prices showed little reaction on Wednesday.
"The fact that the debt crisis is intensifying again is affecting all banks," said Georg Fahrenschon, president of Germany's savings bank association, DSGV.
The downgrades leave the banks around the middle of Moody's rating spectrum, with Scandinavian banks generally rated higher.
Other German banks Landesbank Baden-Wuerttemberg and Norddeutsche Landesbank GZ were lowered to A3 from A2 and given stable outlooks while Italy's UniCredit <CRDI.MI> saw its German unit cut to A3 from A2 and given a negative outlook.
The agency delayed action on Germany's biggest lender, Deutsche Bank AG <DBKGn.DE> and its subsidiaries, saying that will come with reviews for other global firms with large capital markets operations that are expected to be completed by the end of June.
DOWNGRADES OVER-RATED
In Austria, Moody's cut the long-term rating for Erste Group Bank AG <ERST.VI> by two notches to A3 from A1 and assigned a negative outlook while UniCredit Bank Austria AG was cut to A3 from A2, also with a negative outlook. Raiffeisen Bank International AG <RBIV.VI> was cut to A2 from A1 and assigned a stable outlook.
For the Austrian banks, Moody's noted vulnerabilities from operating conditions in Central and Eastern Europe and the Commonwealth of Independent States.
Austria's central bank has been urging lenders to shore up their balance sheets, which it says are undercapitalized compared with international peers, but it has also taken issue with critics of banks' exposure to emerging Europe.
Austrian banks' operations in emerging Europe are primarily in stable markets with good growth prospects, central bank Governor Ewald Nowotny said on Wednesday, pointing out that the downgrades were in the context of a Europe-wide review of banks.
"This does not come as a surprise and not should be over-rated," Nowotny said in a statement.
Austria's central bank said last week analysts had to differentiate more about the risks posed by countries in the region, and noted Austria had adopted an early-warning mechanism that flagged potential problems from excessive loan-to-deposit ratios.
It also pointed out that Austrian banks had only slight exposure to southern Europe so "the risk profile is significantly better than in other European banking systems".
Ratings agencies see Austria's relatively large financial sector as a potential risk to sovereign ratings should the state need to step in again to prop up lenders.
Austria had to nationalize two banks during the 2008/09 financial crisis and has just got a large minority stake in ailing Volksbanken AG <OTVVp.VI>.
Moody's said on April 13 it would begin issuing conclusions to various reviews for European banks and global financial securities firms, including big U.S. investment banks.