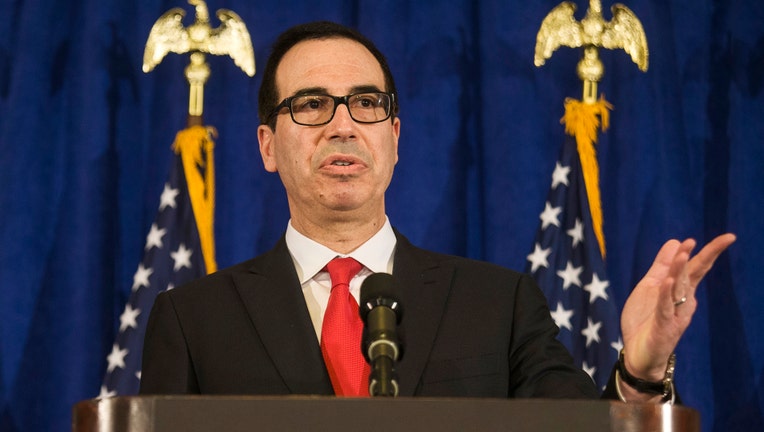 Treasury Secretary Steven Mnuchin told FOX Business on Wednesday he was "shocked" to hear Senate Minority Leader Chuck Schumer's harsh criticisms of the Trump administration's plan for tax reform.
"Look, it's factual. If we get the growth it will pay down the debt. So we can debate whether we'll get the growth or not but I was quite surprised at his comments," Mnuchin told Maria Bartiromo on "Mornings with Maria."
Schumer, D-N.Y., told Politico on Wednesday: "I don't know if the man's deliberately lying, but it seems so … His statements are outlandish, and he seems just to want to — I don't know if I'm allowed to use this word; I think I am — suck up to Trump."
Mnuchin responded: "I've been working with the president for the last two years during the campaign. I've known the president for 15 years—I'm focused on economic growth. What's good for the middle class … business [and] what's good for creating jobs. What the Democrats need to realize is they are telling us that's what they want also. We'll let them work with us on these issues."
Bartiromo asked Mnuchin whether pressure from Democrats prompted the administration and Republicans to contemplate adding a fourth tax bracket.
"Did you get bullied into coming up with this idea that you need another, higher bracket?" asked Bartiromo.
"The president doesn't get bullied and I don't get bullied," Mnuchin responded, adding that the extra bracket would only be created to produce a larger middle income tax cut.
"As the president has said, he's not looking to lower taxes on the rich. Now, we're not necessarily looking to raise taxes on the rich, but the focus here is middle income tax cut, and we have been consistent on that all along. So anybody who says there is any inconsistency, I don't know what they've been reading," said Mnuchin.