Mnuchin, Cohn Meet Privately with Senate Finance Committee On Tax Reform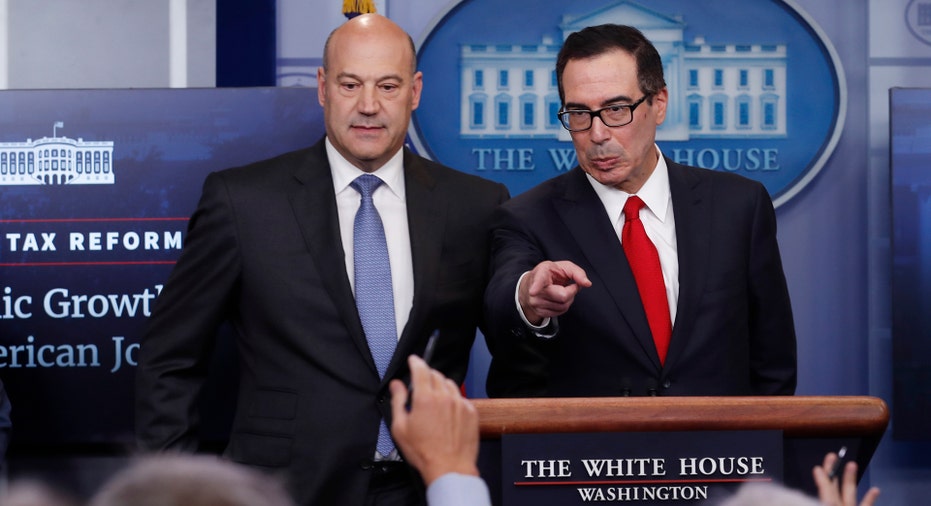 Treasury Secretary Steven Mnuchin and National Economic Director Gary Cohn held a private meeting with the Senate Finance Committee's Republican and Democratic members Wednesday to discuss tax reform, FOX Business has learned.
As the Trump administration reached across the aisle on tax reform for the first time Wednesday, Democrats communicated some requests of their own regarding the tax overhaul. Those requests included a middle class tax cut and that the overall bill not be part of a reconciliation package, a source close to the Senate Finance Committee told FOX Business' Adam Shapiro. These two criteria were viewed by the Democrats as a starting point for a "productive conversation about real tax reform that benefits everyone," the same source said.
Cohn and Mnuchin laid out the administration's blueprint for a sweeping tax overhaul last month, which included a simplification of the tax code, a cut to individual and corporate rates and the elimination of most tax benefits on the personal side. The Trump administration's proposal calls for the collapse of the current seven-tier tax bracket system into just three brackets: 35 percent, 25 percent and 10 percent.
Mnuchin has repeatedly said the goal of the administration is middle class tax relief, but he has refused to guarantee it under the proposed plan.
"I can't make any guarantees until this is done and on the president's desk," he said during an interview with ABC's George Stephanopoulos.
The administration also said it planned to fast-track both health care and tax reform through reconciliation, a budgetary process requiring a simple majority for approval. This would help eliminate pushback from Democrats in Congress if Republicans can get on the same page.
The administration has run into a few roadblocks with its legislative agenda so far this year, including the botched rollout of its plan to repeal and replace the Affordable Care Act, an amended version of which was pushed through the House of Representatives earlier this month. Tax reform, another pivotal part of the agenda, is likely to be even more controversial on Capitol Hill. Democrats are already pushing back on the Trump administration's tax reform blueprint, which differs from the House GOP plan, saying they need to see more than just a few bullet points in order to start working on it.