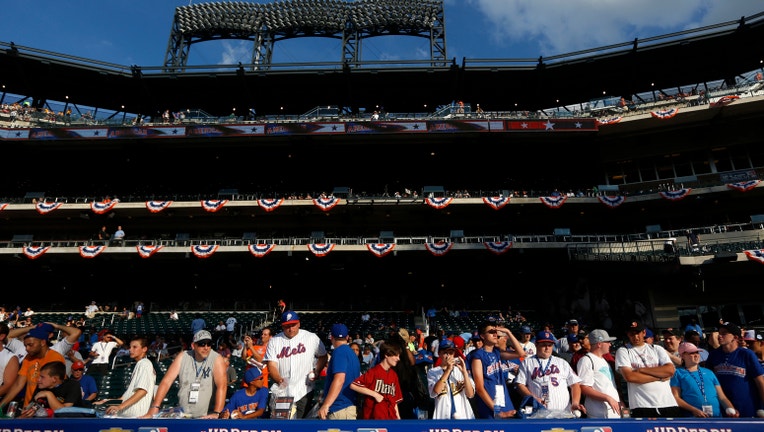 The Major League Baseball All-Star Game Tuesday evening at Citi Field is already shaping up to be the most profitable in three years as ticket prices soar 50% above last year and robust demand fuels a seller's market.
Tickets to the game, which brings together the best players in the National and American leagues vying for the home-team spot in this year's World Series, are selling for an average price of $760.21, according to the latest raw data from TiqIQ.
That far eclipses the $576.96 average price during the 2012 All-Star game at Kauffman Stadium in Kansas City, the $294.33 price at Chase Field in Paradise Valley, Ariz. in 2011, and $594.33 at Angel Stadium of Anaheim in 2010.
When considering the Full Strip price, or the cost for both the game and Monday night's Home Run Derby, the cost of $1,139 at Citi Field is so far exceeding both the $1,098 price last year at Kauffman and $613 at Chase Field.
The increase is two-fold: discretionary spending is on the rise as the economy improves, and the game is being held for the ninth time in New York City, one of the world's largest sports markets.
"It isn't just that you have a lot of wealthier people in New York but also that you have a major opportunity to entertain," said Nicholas Colas, chief market strategist at ConvergEx.
While many affluent Americans live in the tri-state area and have the ability to attend the game, there are also major corporations – a large chunk in the financial sector – looking to woo clients.
It's evidenced even as giants like Citigroup (NYSE:C), MetLife (NYSE:MET) and Barclays (NYSE:BCS) cough up lofty fees to have their name plastered on the sides of the region's largest and most popular arenas.
Improving Economy?
As of Tuesday afternoon on the secondary market, just 1,700 tickets were still available, down from 4,100 a day ago. While TiqIQ CEO Jesse Lawrence said that type of run-up prior to a major game is usual, it's notable given the sharply higher year-over-year premiums.
Premiums, the price of the MLB All-Star Game tickets compared with average MLB prices for the regular season, currently stand at about 1,100%, up from just 700% in the 2012 season, TiqIQ said. The most expensive ticket listed is currently in the first row of the Delta Platinum suite, and it will cost a whopping $7,100.
As much as New York City, with its notable media, corporate and sports markets, dwarfs Kansas City and Arizona, the economy has also helped fuel comparable prices. Consumers are feeling more confident and are willing to spend excess cash.
"The bottom line is if the economy were very weak it wouldn't matter where that game was, we wouldn't see a major expansion in ticket prices," Colas said, whose company sometimes analyzes offbeat economic indicators.
Prices have also been fueled by the so-called "bucket list mentality," he notes, where sports fans look to check off a list of things – in MLB's case the All-Star Game, World Series and Hall of Fame in Cooperstown. Colas said there has been an increasing premium for major once-a-year events like those and the Super Bowl as the economy rebounds.
"It seems like those once-a-year opportunities are seeing more price appreciation than things that are available more often," he said.
The Star Appeal 
And how does the MLB All-Star game stack up to its peers?
The NBA, whose cream-of-the-crop players like Kobe Bryant, Dwight Howard and LeBron James tend to carry more star power than the MLB, saw average premiums of 1,800% last season compared with the MLB's 1,100%, according to TiqIQ, a ticket intelligence company that sells on the secondary market.
MLB just doesn't have as much celebrity power, Lawrence notes. Jimmy Fallon tried to prove that this week when he sent Mets phenom fireballer, Matt Harvey, starting pitcher in the All-Star Game, around to find out what New Yorkers thought about Matt Harvey. A majority, including several Mets fans, had no idea who he was or that he was standing right in front of him, even as he held his baseball card in their face.
Yet, when compared with the National Football League's Pro Bowl, MLB is far superior. Tickets to the NFL Pro-Bowl, which is held in Honolulu, actually sold for a discount of 16% last season.
"Of all the major sports games and leagues, the NFL hasn't figured out how to make the Pro Bowl a marquee event," Lawrence said. "I'd say the premium is as much about the market as anything else."