Missouri senator gives Biden's speech last night a reality check: 'Disconnected'
Sen. Eric Schmitt explains how Biden's State of the Union was 'the epitome of tone deaf'
Following President Joe Biden's State of the Union address Tuesday evening, Missouri Republican Sen. Eric Schmitt wasted no time giving the speech a reality check, calling it "completely out of touch" and "disconnected" from the truth.
"It's disconnected from reality. There's just no other way to put it," Sen. Schmitt told Fox News Digital Tuesday moments after the address. "It's like Groundhog Day. It's the same speech from last year, and nothing's gotten any better. Things have gotten worse for people. That's because this president is beholden to the radical left and their agenda that makes life more difficult for average Americans."
During his speech, the president touted various spending bills passed by Democrats over the last two years and even touted incorrect jobs numbers. Biden additionally claimed that Republicans want to take the economy "hostage."
At times, Biden also appeared to go off script, with Republican lawmakers in the chamber laughing at his claim that the U.S. will need fossil fuels for at least another decade despite his party pushing to ban gas-powered cars and appliances.
S.O.T.U.: BIDEN PUSHES FOR INSULIN COST CAPS
"It was completely out of touch," Schmitt said. "It was more of the same kind of stuff that's gotten us into this mess where the American people are paying $10,000 more a year for things than just a couple of years ago, that means at the pump, that means at the grocery store, utility bills. And it's because this president is addicted to spending money we don't have and declaring war on domestic energy production. There's a cost to that."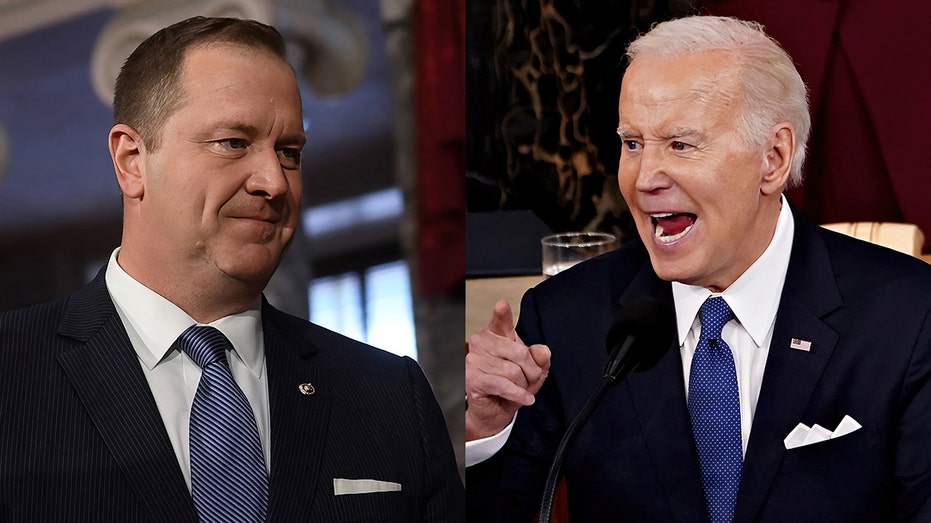 The Missouri senator further ripped the president for his "glossed over" comments on the border crisis and Chinese spy flight coming an hour into his speech, arguing that Biden "missed the mark."
"We don't have a secure southern border, and our airspace has been violated by a Chinese spy balloon that went over critical military installations," Schmitt said. "He is purposely undermining the policies that were working under President Trump like the 'Remain in Mexico' policy, Title 42, the border wall, all of those things. He's eviscerated."
Schmitt called out the president's contradiction of taking aim at oil companies while stating oil and gas would be needed for years to come, saying Biden has created a "war on domestic energy production."
"That is hurting the American people. He's talking about mining fossil fuels for another 10 years? This stuff is like a dispatch from Fantasyland," the senator said. "He's talking to the radicals on the left that have moved an agenda that moves our jobs overseas, forces us to buy oil from Saudi Arabia and Venezuela and ship our strategic petroleum reserves to China, have an open border, and, oh, by the way, not take China seriously."
"That's a disaster," he continued. "That is not what the American people want, and so I think his speech was the epitome of tone deaf… he didn't want to [level with Americans] because he knows that the world was watching, and he failed that test miserably."
Schmitt, who also resides on the Senate Commerce Committee, noted the state of the U.S. economy is in "pretty bad shape," and Republicans will be left to clean it up.
"We have an inflation crisis, and that's a direct result of this president's policies. He said nothing tonight that would change that trajectory," he pointed out. "So, I think Republicans are going to have to be the grown-ups to move an agenda forward that empowers working-class families, not makes their lives tougher."
GET FOX BUSINESS ON THE GO BY CLICKING HERE
Summing up Tuesday's State of the Union in one word, Schmitt called it "disconnected."
"I just think he gave a rosy, detached speech tonight. And Americans face a difficult reality every day of higher prices on everything, a wide open border and no clear end in sight," the senator said. "There's nothing he proposed that would actually address these issues that concern everyday working families. And his words were hollow."