Minimum wage increases expected in 18 states in January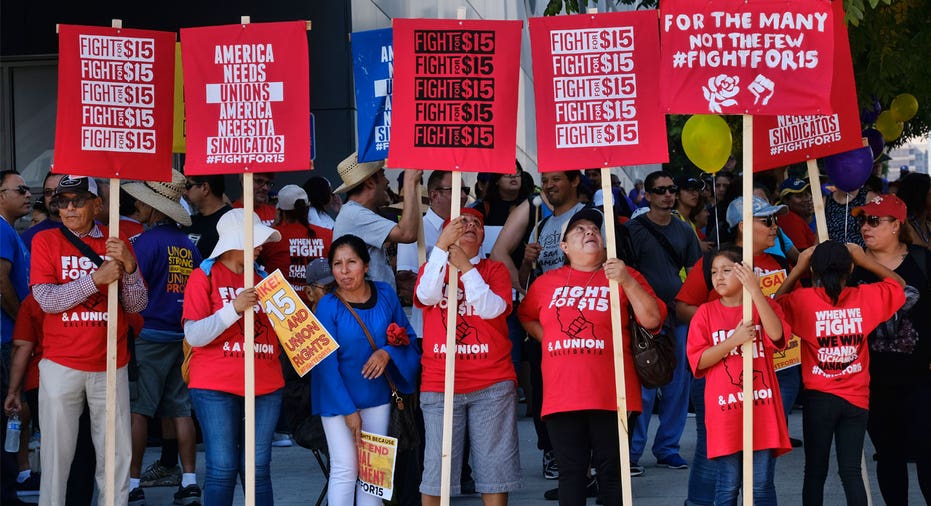 Beginning on January 1, workers in a large number of cities and states across the nation should expect a pay bump as new minimum wage policies go into effect.
Eighteen states and 20 cities are scheduled to raise minimum wages on the first day of the New Year, according to the National Employment Law Project (NELP), a worker advocacy group.
As of January 1, California's minimum wage will increase to $11 per hour from the current level of $10.50 per hour for businesses with 26 employees or more. In New York City, larger employers will be required to pay employees a minimum wage of $13 per hour as of Dec. 31, while minimum wage in the state as a whole will rise to $10.40 on the same date.
In Rhode Island and Hawaii, where campaigns have already been proposed to increase the minimum wage to $15 per hour over the next few years, the minimum wage will be raised to $10.10 during 2018. In New Jersey, the minimum wage will rise to $8.60, and in Vermont to$10.50.
Later in 2018, three additional states will implement a wage hike, according to NELP.
The campaign for a $15 minimum wage, and rising wages overall, has been divisive. Earlier this year, a study conducted by the Employment Policies Institute (EPI), which analyzed employment trends from 1990 through 2017, found that each 10% increase in the minimum wage in California has resulted in a corresponding 2% decline in employment for affected employees. The impact was larger, 5%, for lower-paid workers. By those estimates, the EPI projects that the pending $15 minimum wage hike would cost California 400,000 private sector jobs, with heavy losses in both the foodservice and retail sectors.
On the flip side, the Institute for Research on Labor & Employment (IRLE) at U.C. Berkeley, found that a higher minimum wage would actually add a small amount of jobs to the state economy by 2023. Without the increase, IRLE forecasts employment would grow 1.4% annually. The minimum wage increase would raise employment by 0.1%, equal to about 13,000 jobs, by 2023, according to the group's study.
The Republican Party, which passed sweeping tax reform in late-December, is hopeful that its new law will spur companies to increase wages for workers on their own accord.