Mexico says Trump-Pena Nieto meet unlikely to lead to big deals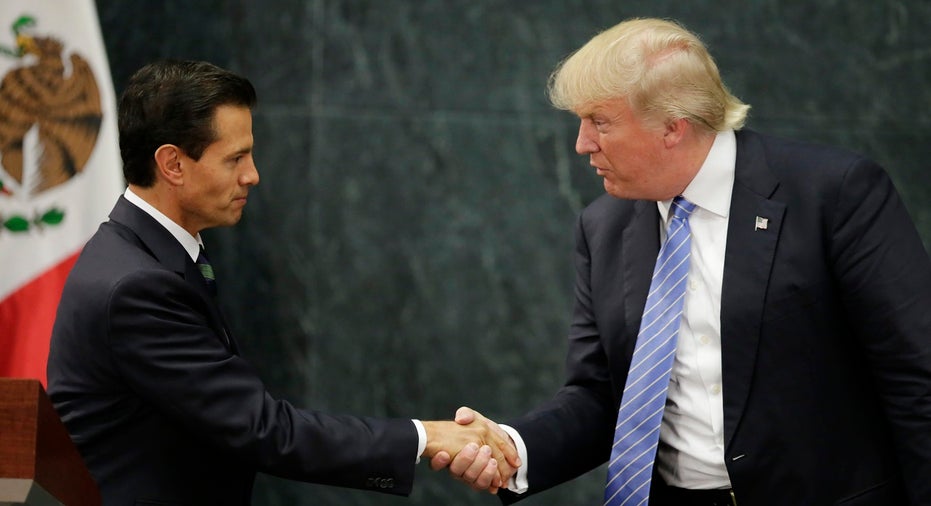 A meeting between Mexican President Enrique Pena Nieto and U.S. President Donald Trump on Friday at the G20 summit in Germany will last about 30 minutes and probably not lead to any major agreements, Mexico's foreign minister said on Wednesday.
The face-to-face talks will be the first between Pena Nieto and Trump as presidents. Mexican Foreign Minister Luis Videgaray warned not to expect too much.
"We have to put it in context and not have expectations that are unjustified," Videgaray said.
Trump's election and his early days in office strained relations between the two neighbors because of his threats to apply tariffs to Mexican-made goods and a plan to build a wall on the southern U.S. border and force Mexico to pay for it.
Trump and Pena Nieto will discuss renegotiations of the North American Free Trade Agreement scheduled for August, as well as cooperation in combating drug cartels and development in Central America, the Foreign Ministry said.
Pena Nieto will also talk about the rights of Mexican migrants in the United States, the ministry said.
Later on Wednesday, Pena Nieto and Videgaray met with U.S. Homeland Security Secretary John Kelly, who was visiting Mexico ahead of the G20 summit along with CIA Director Mike Pompeo.
According to a statement from Pena Nieto's office, both sides agreed to work together on security and Pena Nieto praised the Trump administration's decision to keep in place a program that allows some immigrants, brought into the country illegally by their parents, to stay.
One topic not on the agenda at the encounter in Hamburg is Trump's pledge to build a wall on the U.S.-Mexico border, Videgaray said in an earlier television interview.
In late January, a planned meeting between the two presidents was canceled following a Twitter dispute over Trump's pledge to make Mexico pay for the wall, which the Mexican government has insisted it will not do.
Trump has since said he will find a way for Mexico to repay the United States for construction of the wall but that Congress would need to fund it first. His administration also toned down threats to pull out of the NAFTA pact with Mexico and Canada.
Last August, during Trump's presidential campaign, he accepted an invitation to visit Mexico in what became a public relations disaster for Pena Nieto, who was widely condemned for inviting a man who has united Mexicans like few others in shared disdain.
(Additional reporting by David Alire Garcia; Editing by Jonathan Oatis and Peter Cooney)