Mexico, Canada poised to push back over US NAFTA demands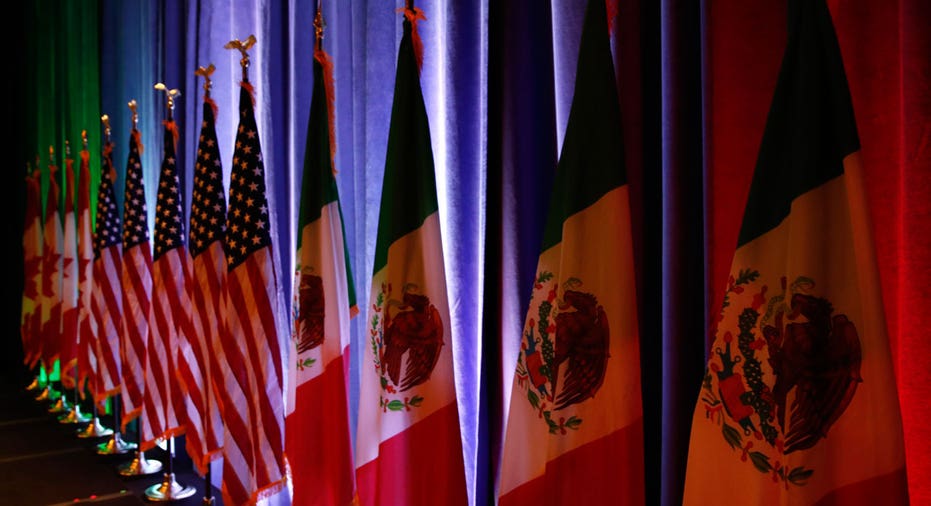 Trade ministers from the United States, Canada and Mexico on Tuesday wrap up a contentious round of NAFTA negotiations dominated by aggressive U.S. demands including a sunset clause that Canadian and Mexican officials say will be rejected.
The Trump administration's proposals to reshape the North American Free Trade Agreement to help shrink U.S. trade deficits have clouded the talks to modernize the 23-year pact, leaving some participants and analysts wondering how an impasse can be avoided.
Washington's demands, previously identified as red lines by its neighbors, include forcing renegotiations every five years, reserving the lion's share of automotive manufacturing for the United States and making it easier to pursue import barriers against some Canadian and Mexican goods.
Mexican and Canadian officials at the talks, currently being held in Washington and expected to resume in Mexico City later this month, have said those proposals are unacceptable while stressing their governments will not walk away from the table.
Describing some of the demands as "ridiculously extreme", Moises Kalach, head of the international negotiating arm of Mexico's powerful CCE business lobby, said the U.S. government knew that it would not be able to push them through.
"The key is to remain calm and see if the American government is ready to negotiate," he told Mexican radio.
One person close to the process said there was now a possibility negotiations to modernize NAFTA, which underpins some $1.2 trillion in annual trade between the three countries, could even extend into March.
U.S. Trade Representative Robert Lighthizer, Mexican Economy Minister Ildefonso Guajardo and Canadian Foreign Minister Chrystia Freeland are scheduled to meet and take stock of the talks before issuing statements at a joint event at 3 p.m. (1900 GMT) in Washington. They later plan to separately brief media.
Lighthizer says his hard negotiating line reflects U.S. President Donald Trump's desire to claw back lost manufacturing jobs and shrink U.S. goods trade deficits amounting to $64 billion with Mexico and $11 billion with Canada last year.
Financial markets have taken notice of the acrimony.
Mexico's peso is trading at its lowest level in almost five months against the dollar, while the Canadian dollar hit a one-week low against the greenback on Tuesday.
'NORMAL PROCESS'
Trump, who made trade a centerpiece of his 2016 presidential campaign as he promised to reinvigorate the U.S. manufacturing sector, has continued his attacks on NAFTA during the talks and repeatedly threatened to terminate it if Mexico and Canada will not agree to changes.
U.S. negotiators opened a new front over the weekend with a proposal that Canada dismantle its system of protections for the dairy and poultry sectors, a move that Ottawa will reject, a source briefed on the matter said on Monday.
The Trump administration has also set out proposals that could impose fresh restrictions on long haul trucking from Mexico, according to a person familiar with the matter. That too is likely to meet stiff resistance, Mexican officials say.
U.S. opposition to NAFTA's dispute resolution mechanisms, plans to restrict outside access to government contracts and attacks on Canadian dairy and softwood lumber producers are all causing friction behind the scenes, officials say.
In public, Mexican and Canadian officials have played up progress in areas of greater consensus such as telecommunications, financial services and digital trade, saying the initial schedule of seven rounds of talks through December will be met.
"This is what negotiations are like," Vanessa Rubio, Mexico's deputy finance minister, said over the weekend.
"There are sectors where you get to a deal quicker, and in other sectors where you don't. But let's just say we're in the normal process of a free trade negotiation."
Canadian and Mexican officials are loosely allied with U.S. industry, farm and services lobbying groups that oppose the Trump proposals and are stepping up their efforts to persuade administration officials to ease them.
(By David Lawder and David Ljunggren; Additional reporting by Dave Graham in Arlington and Sharay Angulo in Mexico City; Editing by Kim Coghill and Paul Simao)