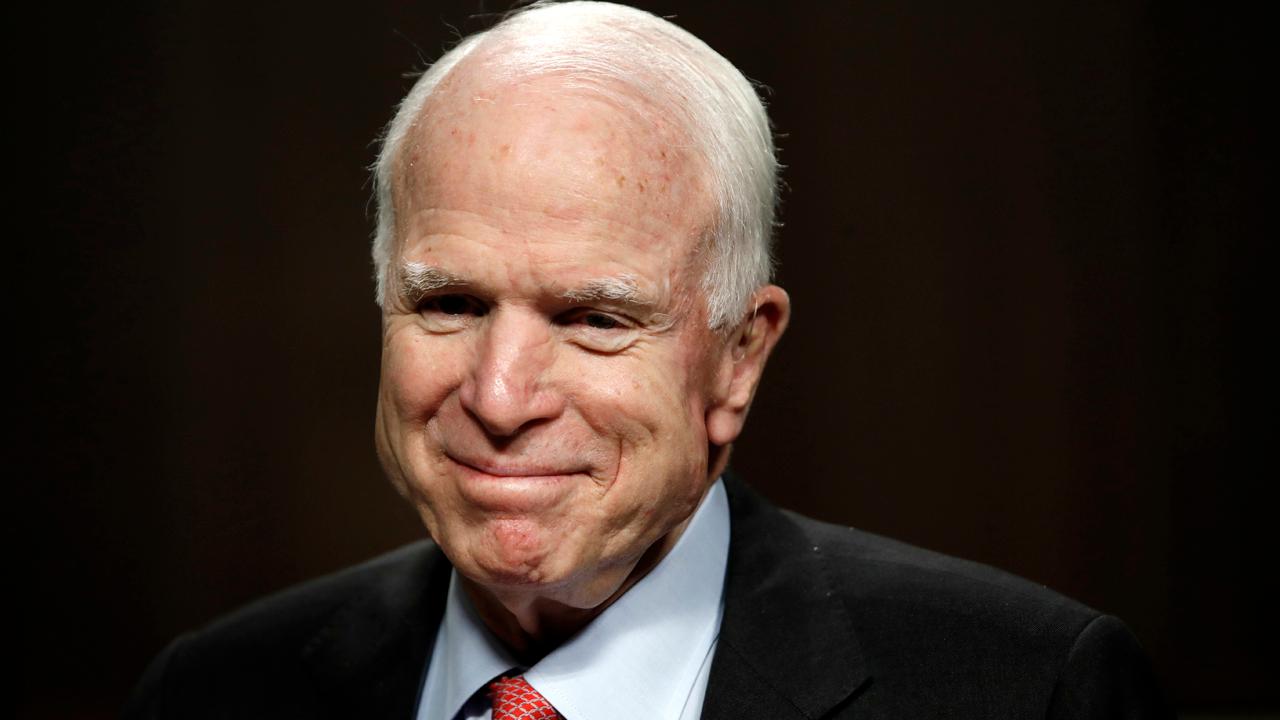 Dr. David Samadi on Thursday described the difficult journey ahead for Sen. John McCain (R-Ariz.) as he battles brain cancer.
Sen. McCain has been admitted to Walter Reed National Military Medical Center to address the side effects from his brain cancer treatment.
"Glioblastoma is a very, very aggressive brain cancer, and despite dimensional breakthrough, unfortunately we haven't had anything coming down the pipeline for the last three decades," he told FOX Business' Liz MacDonald on "Risk & Reward."
Dr. Samadi said patients who have had glioblastoma on average have a median life expectancy of 12 to 14 months, but discussed how different kinds of radiation and immunotherapy treatments can help.
"Some of the radiations are very focused and concentrating on bits of cancers that are left behind. Immunotherapy is coming down the pipeline, meaning that we would take the cells from the patients, we are reengineering them and putting them back into the system to fight some of the cancer cells. We still have a long way to go to see people live more than one year," he said.
Last month, McCain suffered from an Achilles tendon tear, which required him to wear a walking boot.
However, despite the good that chemotherapy can do to treat cancer, Dr. Samadi discussed how it can also weaken the body as well.
More from FOXBusiness.com
"It's a very difficult process because chemotherapy not only is going to concentrate on the cancer, but it also eats up all the good cells in your body, so you become very fatigued, you have nausea, he has some tendinitis," he said.
GOP lawmakers are expected to vote on what may be the Trump administration's first legislative win in reforming the tax code.
However, if McCain missed the vote due to his medical treatment, it could put Republicans at a disadvantage trying to pass tax reform.
Regardless, Dr. Samadi believes that McCain needs to take care of himself before the cancer gets the best of him.
"[McCain] is a very strong 81-year-old man. He doesn't take a rest. He follows his schedule. So he's the type of man that he needs to rest, he needs to eat well, he needs to take care himself before the cancer over takes the whole system," he said.
Former Vice President Joe Biden helped comfort the senator's daughter, Meghan McCain, after she began crying while discussing her father's fight with brain cancer on ABC's "The View."
"That emotional reaction that Joe Biden did was extremely important. An example of a real support group that we see in cancer treatment," Samadi said.