Lawmakers to Vote on Last-Minute Debt Deal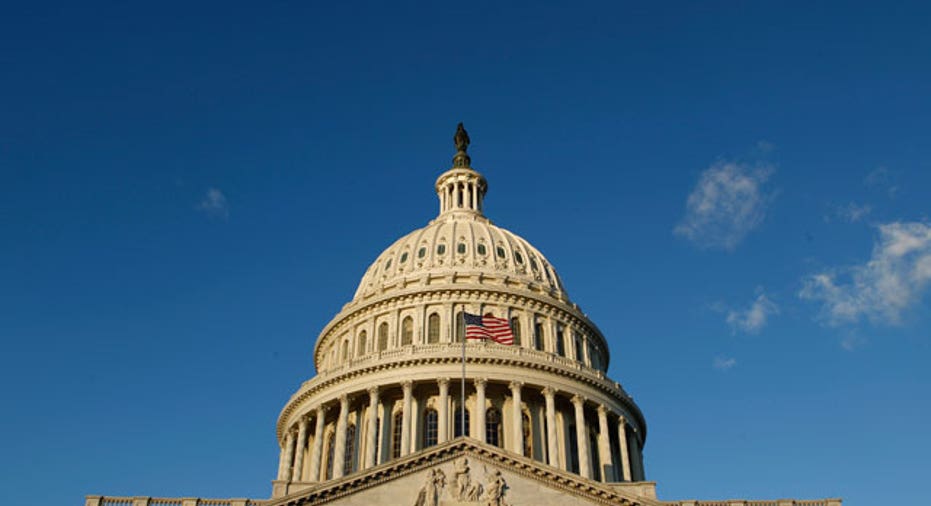 The White House and congressional leaders scrambled for enough support from skeptical lawmakers on Monday to push through an 11th-hour deal to raise the U.S. borrowing limit and avert a devastating debt default.
Just one day before the deadline to lift the nation's debt ceiling, the Democratic-led Senate appeared on track to pass the $2.1 trillion deficit-cutting plan on Monday or Tuesday.
But uncertainty over its fate in the Republican-controlled House of Representatives rattled financial markets worldwide.
Leaders of both parties worked furiously to sell their rank-and-file on a compromise reached with President Barack Obama in a bid to end an acrimonious impasse that has undermined Americans' faith in their political institutions and hurt Washington's image abroad.
Vice President Joe Biden met for 2-1/2 hours with House Democrats, many of whom are unhappy about the steep spending cuts with no tax increases in the deal he helped broker.
"I am confident that this will pass," he told reporters even as questions remained about when the House would hold a vote on the plan on Monday.
Global markets at first showed signs of relief that the United States appeared to be dodging default, but fears that the country might still lose its triple-A credit rating even with a debt deal contributed to a fizzle in a brief stocks rally.
But with mounting complaints on the left and the right, congressional action looked likely to go down to the wire on the deal to raise the $14.3 trillion debt ceiling.
The plan that emerged on Sunday would raise the borrowing limit into 2013, calls for spending cuts spread over 10 years and creates a new congressional committee to recommend a deficit-reduction package by late November.
"This has been a long and messy process and as with any compromise the outcome is far from satisfying," Obama said in a video message to supporters issued by his 2012 re-election campaign. "But it has also launched an important debate about how we approach the big challenges we face."
The political dysfunction in Washington has also dented America's stature as the world's capitalist superpower.
Russian Prime Minister Vladimir Putin, a frequent U.S. critic, accused America of living beyond its means "like a parasite" on the global economy and said dollar dominance was a threat to the financial markets.
If Congress fails to approve the plan by Tuesday, the United States will no longer be able to borrow money to pay all of its bills, a prospect that could have serious global financial consequences.
HOUSE DEMOCRATS FRET
It is expected to pass the Senate, where Democratic leader Harry Reid said a vote "could happen either tonight or tomorrow."
But the deal could face a harder path in the larger and more fractious House, where a vote is expected later on Monday and both conservative Tea Party supporters and liberal lawmakers have expressed dissatisfaction.
House Democratic leader Nancy Pelosi, a leading liberal considered crucial to securing enough votes to offset Republican defections, said she was still undecided.
"We are very concerned that a bill that makes these big cuts and has not one red cent from the wealthiest people in our country, no revenue, is very disconcerting," Pelosi said.
Despite the Democrats' doubts, the House Republican leadership was holding out hope that they would be able to get enough of them on board to propel the legislation to passage.
With 240 Republicans in the House and several of that party's conservatives expected to vote against the bill, it likely will require the help of at least several Democrats for Republican Speaker John Boehner to rack up the 217 votes needed to pass.
An angry, red-faced Representative Peter DeFazio, a liberal from Oregon, told reporters, "What's the package about, it's all about cutting, cutting, cutting."
Major U.S. stock exchanges closed down about a half a percent or lower, in part on uncertainty over congressional action on the debt deal.
Healthcare stocks, including United Health, were among the worst performers on Wall Street as investors feared the debt-ceiling deal could lead to cuts in Medicare and other federal health programs, analysts said.
"We avoided the possibility of a default, but now concerns are turning to a possible downgrade," said Phil Streible, senior market strategist with futures broker Lind-Waldock in Chicago, referring to credit agencies' threat to lower the rating on U.S. Treasury bonds.
Such a move could send shockwaves through the global financial system.
It was hard to identify winners from a bitter fight that appeared to be finally winding toward a conclusion.
Obama had to accept deeper spending cuts than he wanted and will have to defend them to his liberal base during his campaign for re-election in 2012, but he could win points with moderate independents he needs to win a second term.
Boehner, the top U.S. Republican, got cuts he demanded without immediate tax increases, but had to fight an image of being inflexible and a captive of his party's Tea Party wing.
Americans anxious to reduce the country's 9.2 percent jobless rate became increasingly frustrated as the debate raged on through the summer.