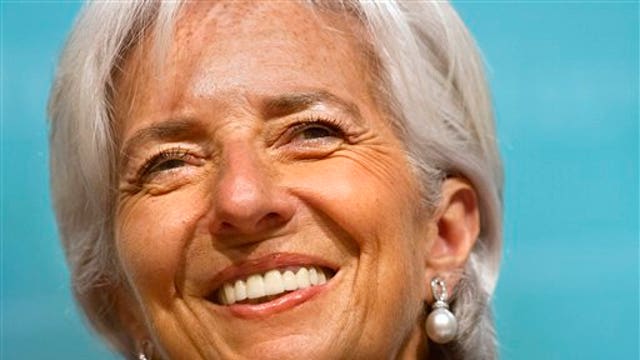 International Monetary Fund Managing Director Christine Lagarde told the FOX Business Network that recent economic data suggests the Federal Reserve should delay a decision on raising interest rates until next year.
"What we are seeing on the data, particularly on inflation, is that the pickup is very slow and we believe that there is a good argument to actually defer until early 2016 any rate hike," Lagarde said in an exclusive interview with FOX Business Network's Maria Bartiromo.
Lagarde's comments to Bartiromo echo a recommendation included in an IMF report released Thursday that in addition to calling for a delay in a rate hike also lowered the IMF's economic forecast for U.S. growth in 2015 from 3.1% to 2.5%.
The Fed seemed poised for a rate hike in the first half of 2015 until the economy contracted in the first quarter, as reported by the government last week. Now the Fed is taking a more dovish approach toward liftoff and a delay into 2016 is entirely plausible.
Lagarde also commented on the latest turmoil in Greece, where government officials are balking at implementing further fiscal reforms mandates as part of a massive bailout provided by European fiscal leaders.
"The whole purpose of the exercise is for Greece to return to economic growth and to a sustainable economic growth. And given the situation action is needed on various fronts – there has to be some fiscal adjustment and under the proposal to the Greek authorities that fiscal adjustment has been  phased over a longer period of time," Lagarde said.
You can watch the full interview on FOX Business Network's Mornings With Maria on Friday from 6am-8am ET. Find FOX Business Network using the channel finder.