Kudlow, Moore call for Trump to walk back tariffs, fear trade war
President Donald Trump's closest economic advisers are scrambling to get in his ear after the commander in chief announced plans to implement tariffs on steel and aluminum products, FOX Business has learned.
Steve Moore and Larry Kudlow, external advisers to the president, have been reaching out to senior White House officials since Thursday's announcement in efforts to temper the president's path towards a potential trade war with nations that are allies of the United States.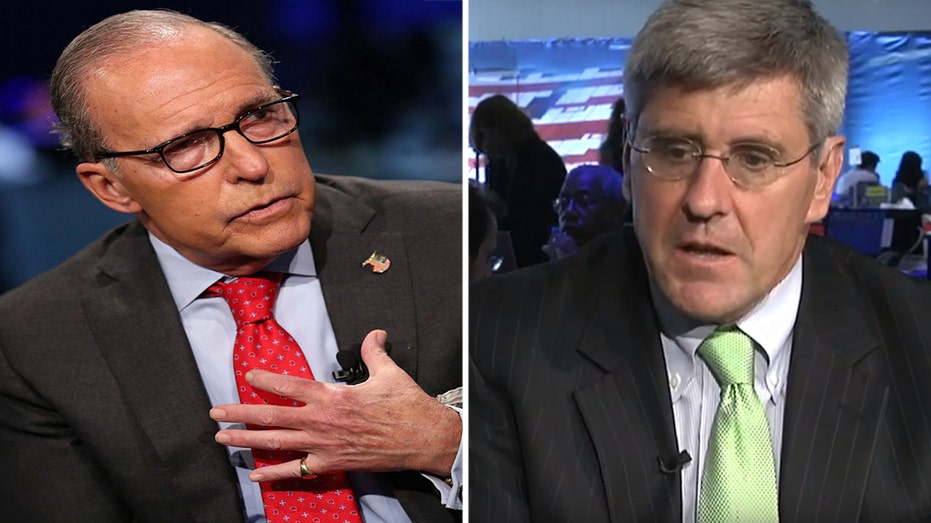 "We'd like to try to get in to see him and try to talk him out of this or at least ramp it down. Whether it's going to happen or not is unclear. Whether he's already totally bogged down, I'm not sure," Moore, a distinguished visiting fellow at the Heritage Foundation, told FOX Business on Friday.
Kudlow, a conservative economist, confirmed to FOX Business they're trying to get in the White House to dissuade the president, but admitted the chances of success are slim.
"I'm quite certain the steel deal is done," Kudlow said. When asked if he thought they had a chance to convince the president to reverse track on the likely tariffs on aluminum goods, Kudlow simply replied, "no."
Both Kudlow and Moore are known as supply-side economists, a group that believes natural economic growth comes from cutting taxes and limiting business regulations. They were also key advisers of the recently passed Republican tax bill which, amongst other things, cut the corporate tax rate from 35% to 21% and nearly doubled the standard deduction.
On Thursday Trump, with a host of steel and aluminum executives by his side, made the bold announcement that he will be imposing import tariffs of 25% on steel products and 10% on aluminum. His argument was that countries have been taking advantage of the U.S. for decades with tariffs of their own and this was his chance to make a change to those past policies. On Friday he doubled down on his decision via a tweet saying "trade wars are good and easy to win."
However, the president's seemingly last minute decision has left him isolated, at least for now, from allies abroad, within the White House, on Capitol Hill and Wall Street, including National Economic Council director Gary Cohn, who, according to Moore, is likely not pleased with the move. "I do know he's (Cohn) a free trade guy and he's probably not really thrilled with the latest developments," Moore said. He added though, that he's unsure if the disagreement with the announcement will be enough to force Cohn to resign. "It's possible he may leave at some point but I don't think it will be anytime soon as he's an important voice for economic sanity within the administration," Moore said.
Allies expressing outrage include Canada, with Prime Minister Justin Trudeau on Friday calling the tariffs on steel and aluminum products "absolutely unacceptable" while noting his government will continue to engage with U.S. officials on the issue.  Trudeau's criticism comes as the European Union is reportedly considering applying 25% tariffs on around $3.5 billion worth of U.S. imports, if the administration moves ahead with restrictions of their own. The president has yet to explain which nations will receive the brunt of their new trade policies.
Senator Ben Sasse (R-NE) led the charge from Capitol Hill against Trump, going as far to say "You'd expect a policy this bad from a leftist administration, not a supposedly Republican one," in a statement on Thursday.
America's most powerful CEOs took on the administration as well. The Business Roundtable, chaired by JPMorgan CEO Jamie Dimon and whose member companies bring in over $8  trillion in annual revenues, denounced the White House announcement in statement of their own.
"Business Roundtable strongly disagrees with today's announcement because it will hurt the U.S. economy and American companies, workers and consumers by raising prices and resulting in foreign retaliation against U.S. exporters," Joshua Bolten, Business Roundtable's president said in a statement.
A White House spokeswoman did not return requests for comment at the time of publication.  However, Commerce Secretary Wilbur Ross told FOX Business' Stuart Varney that consumers had nothing to fear.
"I just bought a can of Campbell's soup today at the Seven Eleven. It was $1.99 for the can" Ross said. "There's about 10 cents worth of tin plate steel in this can. So if it goes up 25%, that's a tiny fraction of one penny. That's not a noticeable thing," he added.