Koch network to back Marsha Blackburn in Tennessee Senate race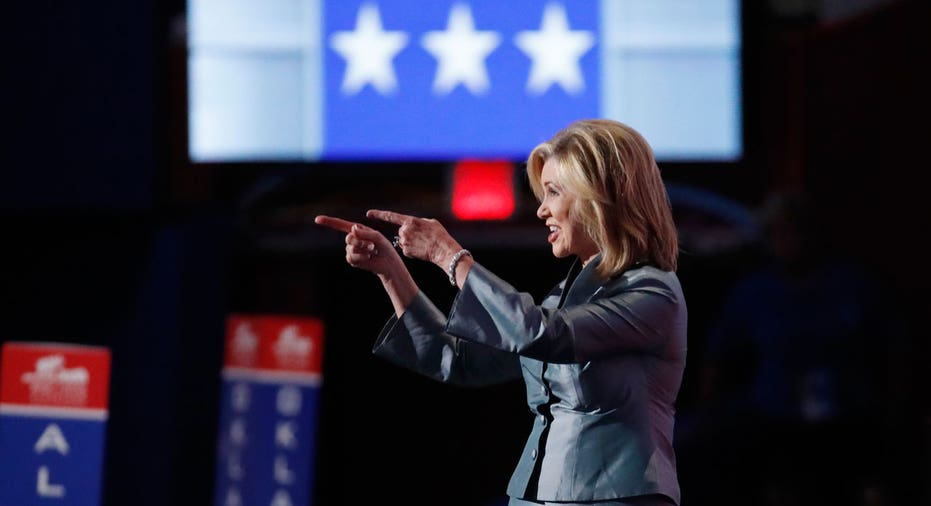 Rep. Marsha Blackburn (R-TN) is getting the backing of one of the most influential political networks that's heavily funded by conservative billionaires Charles and David Koch, FOX Business has learned.
Freedom Partners, a nonprofit political advocacy group, has decided to jump into the Tennessee primary race for Senate and defend Blackburn as she tries to win the seat that's currently held by Sen. Bob Corker (R-TN), a spokesman for the group, James Davis, told FOX Business. Davis also noted the group's public endorsement of Blackburn is likely to come on Wednesday.
Freedom Partners Executive Vice President Nathan Nascimento later confirmed in a statement of they're intentions to support Blackburn.
"Congressman Marsha Blackburn has shown throughout her career that, unlike many others in Washington, she has the backbone to keep her promises and do what she says she'll do. She fought for full repeal of Obamacare when others backed down, she supported tax cuts and reform when others waffled, and she has consistently worked to remove barriers to opportunity to help all Americans improve their lives," Nascimento said. "Congressman Blackburn has been a consistent champion for policies that allow free people to unleash their full potential, and we are proud to stand with her as she campaigns for U.S. Senate."
Blackburn's campaign spokeswoman greeted the pending testimonial with delight while they maintain a decent advantage in fundraising efforts with $3 million raised so far during the 2018 election cycle.
"We welcome the support. We also have been endorsed by Club for Growth, [Susan B. Anthony List] and Winning for Women," Andrea Bozek, spokeswoman for the Blackburn campaign, said in a statement.
In the past, Freedom Partners has brought in revenue of up to $250 million as they perused their free-market conservative causes when they were known as Freedom Partners Chamber of Commerce. The political action committee affiliated with Freedom Partners, the Freedom Partners Action Fund, is also a potential boost to Blackburn's efforts to overtake her opponents.
During the 2016 election cycle, the PAC raised $28 million and spent over $30 million in support of its candidates. This year, it has yet to see a surge in fundraising as it only managed to cobble together $6 million with most of the funds coming from Charles Koch's trust fund, which made a $3 million donation.
The news that Blackburn is gaining a powerful ally also could prove to be a problem for Corker if he decides to jump into the race. In September he announced that he would be retiring from the Senate after a long drawn-out battle with President Donald Trump. However, he's reportedly considering jumping into the race after talking with his constituents in Tennessee who have been asking him to postpone his retirement as the state's primary battle heats up.
A spokeswoman for Corker did not return requests for comment.
Still, if Corker enters the race he will likely have the backing of establishment donors from across the country including executives from Goldman Sachs (NYSE:GS) who have contributed $43,000 to his 2018 campaign fund, according to the Center for Responsive Politics.  In 2016, he was supported by employees of JPMorgan Chase (NYSE:JPM) as they coughed up $59,000.