Kaine Focuses on Trump During VP Debate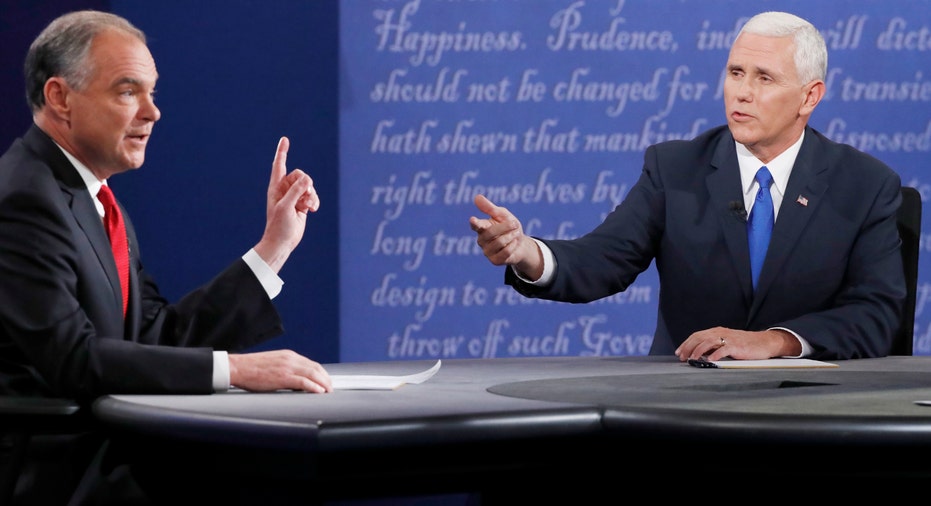 Democrat Tim Kaine tried to make the vice presidential debate all about Donald Trump on Tuesday, calling the Republican presidential nominee a danger to U.S. national security and someone who denigrates women and minorities and appears to pay little in federal taxes.
The debate between Kaine, the No. 2 to Democratic presidential nominee Hillary Clinton, and his Republican rival, Mike Pence, was the only such encounter between the vice presidential contenders, and the two spent most of their time attacking each other's running mates.
Their bickering was so intense that they frequently talked over each other as Kaine, a U.S. senator from Virginia, tried to frighten voters away from Trump, while Pence, the Indiana governor, attempted to portray Clinton as untrustworthy for the White House and a failure as President Barack Obama's first-term secretary of state from 2009 to 2013.
Kaine drew Pence's ire by hearkening back to a remark from former Republican President Ronald Reagan that some fool or maniac with a nuclear weapon could trigger a catastrophic event.
"And I think that's who Governor Pence's running mate is," Kaine said.
Pence shot back: "Senator, senator, that was even beneath you and Hillary Clinton and that's pretty low."
Kaine, in a line that was clearly rehearsed, repeatedly sought to persuade Pence to defend Trump's positions. He reminded the millions watching on television that Trump was enmeshed in a public feud with a former beauty queen last week, and he pointed out that Trump had praised Russian President Vladimir Putin.
But Kaine's overarching objective was to hammer home that Trump has refused to release his tax records, unlike all other presidential nominees in modern history.
The New York Times reported last weekend that Trump had taken a $916 million tax loss in 1995 and may have avoided paying federal taxes for 18 years because of it.
"Governor Pence had to give Donald Trump his tax returns to show he is qualified to be vice president. Donald Trump has to give his tax returns to show he is qualified to be president," Kaine said.
Pence, who has a low-key style compared to Trump's signature bombast, said Trump as a New York real estate developer had created thousands of jobs and had used U.S. tax laws as they were designed to be used.
"Why won't he release his taxes?" Kaine fired back.
CRUCIAL TIME FOR CAMPAIGNS
The two candidates interrupted each other so much in a bid to score points that the debate moderator, CBS News' Elaine Quijano, intervened at one point.
"The people at home can't understand either one of you when you speak over each other," she said.
The debate came at a crucial time for both campaigns. Clinton is seeking to take advantage of the report last week on Trump's taxes to build on her lead in national opinion polls. Trump needs to rebound from a rocky performance in his first debate with Clinton last week with their second encounter coming up on Sunday in St. Louis.
While Kaine accused Trump at length of mistaking "leadership for dictatorship" by praising Putin as a strong leader, he gave a much more abrupt answer when asked what went wrong with the failed U.S. reset of relations with Russia under Obama and Clinton.
"What went wrong with the Russian reset? Vladimir Putin," said Kaine.
Seated beside each other, the two vice presidential candidates launched broadsides against Trump and Clinton soon after taking their places at the debate table.
"Donald Trump always puts himself first," Kaine said, pointing out that when Trump began his presidential campaign last year he called "Mexicans rapists and criminals" and had also voiced the "outrageous lie" that Obama was not born in the United States.
Pence replied that Kaine and Clinton "would know a lot about an insult-driven campaign" and then accused Clinton of bungling foreign policy, with large sections of the Middle East "literally spinning out of control."
(Writing by Steve Holland; Additional reporting by Emily Stephenson in Colorado and Chris Kahn in New York; Editing by Peter Cooney)