John Kerry dismisses Trump's warning to stay away from Iran talks
Former Secretary of State John Kerry answered a hostile tweet from President Donald Trump urging him to "stay away from negotiations" involving the Iran nuclear deal by denying that he is involved in a diplomatic initiative.
"I'm not negotiating with anyone," Kerry said Tuesday at the Seeds & Chips 2018 conference in Milan, Italy, billed as the world's largest food innovation conference. "I have conversations with leaders around the world that are friends of mine that I have met when I traveled and I continue to have conversations with today."
In his tweet, Trump said Kerry's interactions on the matter "are hurting our country."
The former top U.S. diplomat acknowledged that he is urging people to do "the obvious" when it comes to sticking with the Iran agreement, which he set in place in 2015 under President Barack Obama. Kerry spoke before Trump announced that the U.S. was exiting the Iran deal.
"I urge people to do the obvious, which is, I think, [acknowledging that] the deal is working, and I think people should stay in the deal," Kerry said. "But I'm not doing any major diplomatic initiative on it. I just have conversations on it when I engage in meetings all across the world, which is normal."
Kerry added that he is not "vouching for Iran" and recognizes that the country has some problems right now, but overall "the world is safer with this deal."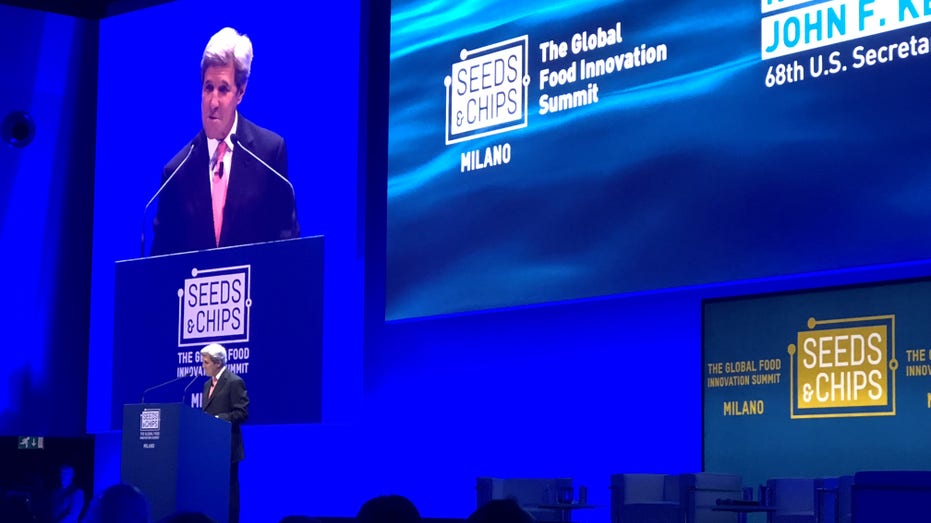 "If you get out of this deal, you are not going to be doing diplomacy soon, and the reality is with the tensions between Saudi Arabia, Israel and Iran right now, you could very quickly see this spiral downwards into conflict," he said. "And we already are seeing that with the price of oil starting to inch up."
Kerry said the best thing Trump's administration can do is say: "We don't like the deal, but we are going to stay in it. But we are telling you right now that you have to deal with these problems."
And he said that if Iran's leaders don't comply in a specific period of time, there should be certain consequences.
"But to play your hand and get out and take away some leverage and an excuse to do other things, that's good negotiating? Please! It doesn't make sense," Kerry said.