Joe Biden's beef with Bill Ackman sparks heated exchange and presidential chatter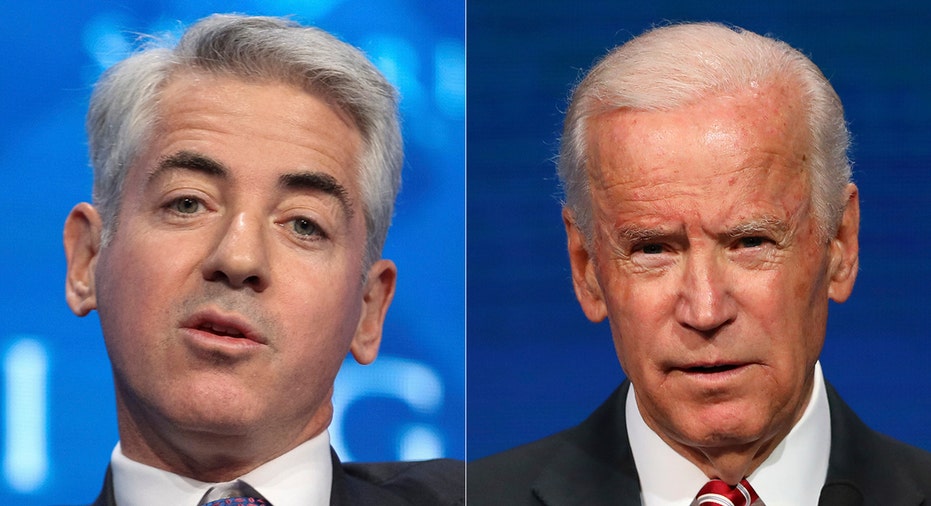 Some say former Vice President Joe Biden is too old to run for president in 2020, but he still knows how to throw a verbal punch -- just ask financier Bill Ackman.
The controversial hedge fund manager, known for his losing bets on stocks like Herbalife (HLF) and Valeant (VRX), got into a verbal tussle with Biden at a private dinner during a recent investment conference. The incident, which hasn't been reported, stunned an A-list group of attendees who witnessed Biden verbally scolding Ackman, according to three people who were present.
Some of the people present say Biden's tough demeanor underscores that he hasn't mellowed even at the age of 74, and that he still has the fire to run for public office, including president, which he has long desired.
"Biden was in rare form," said one person with direct knowledge of the brouhaha. "I can't believe it has never leaked out."
The altercation occurred at this year's SkyBridge Alternatives (SALT) Conference, a popular Wall Street confab held in May and started by hedge fund impresario Anthony Scaramucci. Both Biden and Ackman were featured speakers during the event.
Through his long political career as a U.S. senator and as President Barack Obama's vice president, Biden has been known to make blunt, sometimes politically incorrect comments that can ruffle feathers. Ackman, meanwhile, may be best known for his long, public and so far unsuccessful struggle against multi-level marketing outfit Herbalife, which he called a fraud and has shorted the stock, betting he has said the company will implode and fall to zero.
Shares of Herbalife are now trading above $70.
Indeed Biden made news at the conference for his public comments about the loser of the 2016 presidential election, his fellow Democratic nominee Hillary Clinton. "I never thought she was a great candidate. I thought I was a great candidate," he said, raising speculation that he might himself run for president.
Then during a private VIP dinner that night the question of why Biden didn't run for president in 2016 was raised once again, by former Florida governor and 2016 GOP presidential contender Jeb Bush, who asked Biden "why didn't you run?"
Biden explained that part of the decision stemmed from the death of his son Beau Biden, who died of brain cancer in 2015. The room grew quiet as Biden became emotional, and said: "I'm sorry…I've said enough."
That's when Ackman blurted out "Why? That's never stopped you before."
The formal, and understated dinner conversation suddenly turned tense, according to three people who were present and confirmed both the substance and the wording of Biden's responses.
Biden, these people say, turned to someone seated near him, and asked, "who is this asshole?," a reference to Ackman.
Then he turned directly to Ackman and stated: "look, I don't know who you are, wiseass, but never disrespect the memory of my dead son!" these people say.
Ackman attempted what was described as an apology, to which Biden said, "just shut the hell up."
VIP dinners at the SALT Conference are moderated by Scaramucci, currently an adviser to President Trump and as Fox has reported, a likely appointee to a mid-level post in the administration. Scaramucci instructs the groups that the dinner conversation is private and strictly off the record.
Through a spokesman, Scaramucci had no comment.  A spokeswoman for Biden would not dispute the substance or the wording of the comments attributed to the former vice president. The stunned group of attendees also included 60 Minutes reporter Lara Logan, former N.J. governor and Goldman Sachs chief Jon Corzine, comedian and talk show host, Steve Harvey, hedge fund billionaire Steve Cohen, former top Obama aide Valerie Jarrett, and former Greek Prime Minister George Papandreou.
A spokesman for Ackman disputed "the idea that there was an argument or altercation between Joe Biden and Bill Ackman." The spokesman added: "Bill had a great time at the dinner and enjoyed spending time with the former vice president."
The spokesman, however, would not dispute the words people at the dinner attributed to Biden during his interaction with Ackman.
A spokesperson for Ackman later added that the tense moment with Biden "was in the context of a discussion about the current administration, not Vice President Biden's son."
Biden, for his part, has privately mused that he may indeed run for president in 2020, which would make him the oldest major presidential candidate in the country's history.
But people who know him say he is physically fit and still very much living and breathing politics.
"Joe Biden continues to show that he has plenty energy and plenty of fire," said Democratic political consultant Hank Sheinkopf. "No matter his age, don't count him out to run for president if an opportunity arises."
Ackman's Pershing Square hedge fund has had a difficult three years though his performance is better of late. In 2016 he was down 13.5%, amid losses from his short position of Herbalife and stake in the trouble pharmaceutical company Valeant.
For the first quarter of 2017 Pershing Square is down 2.3%.