Jobs Blame Game: Lack of Skills or No Demand?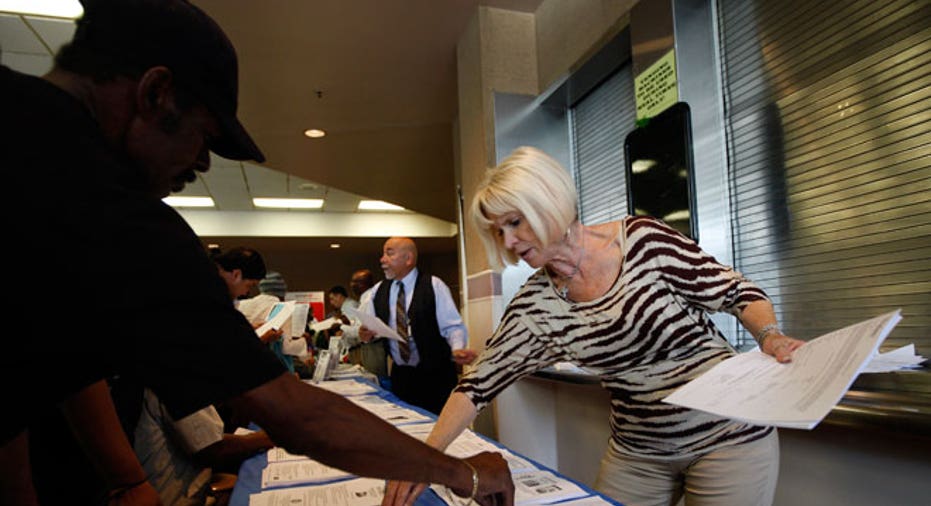 Even as the Federal Reserve unleashed another easing program on Thursday to fight stubbornly high unemployment, many argue that the poor economy isn't the only cause of America's job problem.
The unemployment rate remains stuck above 8% and bleak jobs numbers released last week indicate a grim labor market. But authors of a new Deloitte study are pointing to a mismatch in talent -- rather than just the economy that has led to a decline in demand -- as to why the labor market isn't improving faster.
"The type of talent demanded today — and needed tomorrow — is increasingly either outdated or out of stock," co-authors William Eggers, director for Deloitte Research, Deloitte Services and John Hagel, co-chairman of the Deloitte Center for the Edge, said in a report released this week.
The U.S. Labor Department released disappointing jobs numbers last week showing the U.S. workforce added just 96,000 nonfarm jobs in August, far below the 125,000 forecast by economists. While unemployment slipped to 8.1%, the number of people participating in the labor force shrunk by 368,000.
A separate pool of economists, however, has a much different perspective on the jobs numbers. They believe that it is not a story of talent -- or the lack thereof -- but a series of economic and political headwinds that have kept demand low, causing companies to scale down headcount.
"It makes no sense this idea that we're in this massive skills mismatch."
The Talent Debate
Those economists on the talent side of the debate say the poor jobs numbers speak partly to a dysfunctional education system and an embattled economy that has forced companies to lay off workers, but even more so to a mismatch between the skills employers demand and the talents displayed by the current pool of job seekers.
Americans have long since dropped the traditional employee-for-life mindset and mid-20s employees are changing jobs every 16 months, according to Deloitte. Entrepreneurism has led people to branch away from companies and others have found their skills are best used as consultants.
All of that has drained some of the most talented people from corporations and left a gap of unfilled positions in the U.S., the Deloitte researchers argue, as job hunters' skills fall short of some employer's standards.
Another problem is college degrees carry a shelf life of just five years, according to Deloitte, putting people who have been laid off for an extended period of time or who have not been able to develop their talent at a disadvantage: they no longer have the high-tech skills companies need to succeed in an increasingly competitive global market.
"Most skills become obsolete within five years," Hagel said. "If not updating your talent, you will become increasingly marginalized."
The Demand Debate
A whole other pool of economists believe the unemployment rate is not a talent issue at all but a broader lack of demand and a decrease in the number of people in the labor market due to the shift of baby boomers into retirement.
"If there were [a talent issue] we should be seeing an increase in average weekly hours, as companies that can't find new workers ask their existing work force to put in more hours," said Dean Baker, co-director of the Center for Economic Policy Research. "We don't see this in any major sector of the economy."
Backing that viewpoint is the slow growth of U.S. wages. Average hourly earnings for all employees on private nonfarm payrolls fell by a penny in August, to $23.52, and Baker said wages would be rising rapidly if demand existed as companies tried to "bid away workers" from their competitors.
At the same time, the Labor Department said the job market lost momentum in July as companies posted fewer openings. Total hires were down 55,000 from June last month while total job opening slipped by 58,000.
Even though the recovery began more than three years ago, the U.S. is still down some 4.7 million jobs -- about 3.1% -- from December 2007. To give some perspective, the U.S. had lost at most 3.4% at the very height of the early 1980's recession.
The U.S. has also lost 670,000 public-sector jobs since the recovery began, mostly at the local level as states and municipalities struggle to scrape by.
And when counting the 100,000 jobs needed every month to keep up with the growing labor force, Dr. Sylvia Allegretto, an economist with the Institute for Research on Labor & Employment at the University of California, Berkeley, said that the U.S. is actually down some 10 million jobs.
Further disputing the talent argument, six of the top ten fasted-growing jobs as per the Labor Department's forecasts from 2010 through 2020 are those that really don't require much high-tech skill at all, such as retail salespersons, office clerks or fast-food servers.
Rather, Allegretto said, a high school diploma or work experience would suffice, which comprises a vast majority of job hunters. (The other fastest-growing positions are in the health and education sectors).
"It makes no sense this idea that we're in this massive skills mismatch," Allegretto said. "We didn't create those jobs month after month after month."
Of course, that doesn't mean there aren't some companies that don't have a high-level position that they can't fill, but that theory doesn't fit when looking at mass unemployment, she said.
Finding Answers in the Blame Game
One possible solution to the beleaguered U.S. jobs market, Deloitte economists Eggers and Hagel argue in the "Brawn from Brains" report, may be changing public policy so that it caters to life-long learning and talent advancement, enabling employers to continuously find workers compatible with their needs.
For example, altering immigration policies, such as those within the H-1B visa program, so that companies can more easily hire and retain talented foreign workers, might help spark innovation, which could improve the talent among U.S. employees and even stimulate job growth, Hagel said.
Economists on the demand side of the argument say it's more an issue of job creation, sparking demand through incentives and easing regulations so that companies can justify the additional headcount.
Fed Chairman Ben Bernanke seems to agree, saying on Thursday that the economy isn't growing fast enough to reduce the unemployment rate.
Of course, economists nevertheless say Washington is partly to blame, and many economists feel the current administration hasn't provided enough relief to really spark "bang for your buck job creation."
"We should have had a massive jobs program years ago," said Allegretto, who forecasts a more successful stimulus would have been in the range of $1.5 trillion to $2 trillion. "The resulting job growth has been pretty tepid."