Jamie Dimon Led CEO Group Encouraged By Trump's Approach to Regulation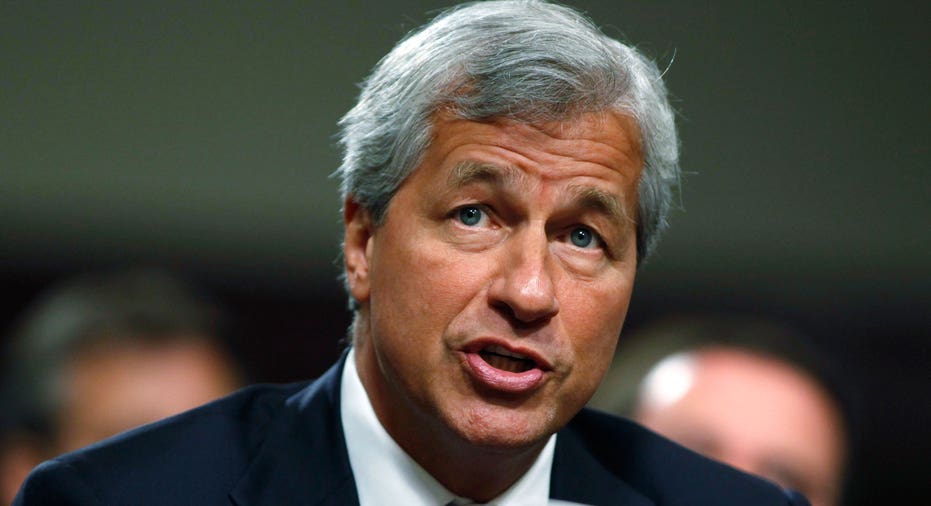 As CEO of JPMorgan (NYSE:JPM), the nation's largest bank, Jamie Dimon has been a vocal and frequent critic about burdensome regulation over the years.  Now, Dimon along with other major CEOs across all industries, are encouraged the Trump administration will succeed in reviewing what's working and what's not, in all sectors.
An awful lot has been done and it makes sense "to look at them [all regulations] in the clear light of day," said Dimon during his first public press call as Chairman of the Business Roundtable, whose members oversee $6 trillion in annual revenues and 15 million employees. "If you talk to any CEO [across any industry], they say it's time to do that." Many of the group's member CEOs have met with President Trump at the White House including Aetna's Mark Bertolini (NYSE:AET) and Lockheed Martin's Marillyn Hewson (NYSE:LMT) to name a few.  Trump has said he wants a steady dialogue with the nation's business leaders.
Last month, President Trump signed an executive order requiring federal agencies to cut two regulations for every new one implemented. "It sets the right tone," said Joshua Bolten, Business Roundtable President and CEO, when discussing the 1-in-2-out rule. "Don't do more because you can," he added during the same call. Bolten spent part of his career serving under President George W. Bush as Chief of Staff and Director of the Office of Management & Budget.
Optimism that real change will be applied to regulatory and tax reform under the Trump Administration is lifting CEO spirits when it comes to hiring, investing in business and growing sales.
The Business Roundtable CEO Economic Outlook Index, which tracks projections over the next six months, saw the biggest increase since the fourth quarter of 2009. The index is now above its historical average of 79.8 for the first time in seven quarters.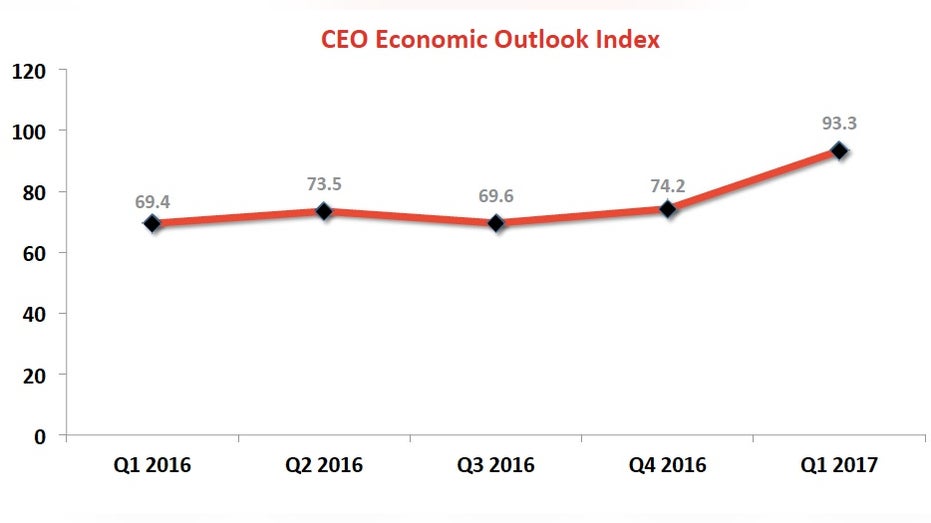 While the nation's CEOs are encouraged by the Trump administration's early days, their projections for U.S. economic growth remain just so-so. GDP is expected to increase just 2.2% in 2017, a modest shift since December, according to the survey.
"The country can do better" said Dimon while noting that good policies are good for all Americans not just companies.
And the White House agrees. "We could absolutely get 3% growth in the third and fourth quarter of this year," said White House Chief Economic Advisor Gary Cohn, during a recent interview with FOX Business Network's Stuart Varney.
Suzanne O'Halloran is Managing Editor of FOXBusiness.com and a graduate of Boston College. Follow her on @suzohalloran Opens a New Window.