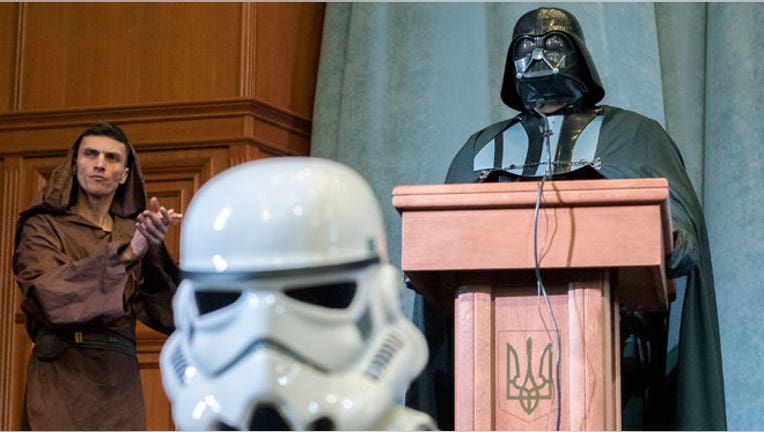 He's threatening, prone to acts of aggression and strikes fear in his enemies… no, it's not Vladimir Putin. I'm talking about Darth Vader, but if you think about it they do share some ominous similarities.
Putin is President of Russia, Mr. Vader commands the Imperial Armed Forces of the Galaxy. Putin is quick to stamp on any rebels, so is Vader. Putin likes to show force, Vader knows when there's a disturbance in the force.
And now Darth Vader wants to emulate Putin and is setting his sights on earth. He wants to become the next President of Ukraine and has thrown his black plastic mask into the ring for the May 25th presidential elections.
Vader won the nomination from the Internet Party of Ukraine. At his press conference he appeared in full costume, encased in black armor and flanked by supporters in Imperial Stormtrooper and Chewbacca costumes. His campaign speech promised that he would turn Ukraine into "a galactic empire."
According to local media reports, Vader has reportedly demanded a plot of land in Odessa to park his space ship.
Who says Eastern European elections are boring?
That said, Darth's political ambitions have been dealt a serious kick in the Ewoks. Ukraine's Central Electoral Commission says parts of Darth Vader's application are "questionable" -- there's a suspicion of forgery. Rumors on the inter-galactic grapevine say the man is really an electrician called Viktor Shevchenko, who changed his name to Darth Vader in March.
"After winning intra-party primaries by a landslide, comrade Vader will be our party's candidate," said Party leader Dmitry Golubov, who spent time in prison after being convicted of using the Internet to run a credit card fraud scheme.
But the plot thickens. At least one election commission member is suggesting that Darth's presidential run is actually being orchestrated by Moscow. It's believed that the Star Wars character is an attempt to discredit the upcoming election by Ukraine's interim government, a government that Russia doesn't recognize. The Darth Vader story has received extensive media coverage in Russia.
Another fact could also add credence to the "Dark force" speculation. To run for president Ukraine requires a $227,000 deposit along with the application. That's pretty steep for an electrician.
Ukrainian election commission member Ihor Zhydenko says that deposit is no joke and someone has to be behind the campaign. He also suggests Darth Vader should run for the presidency in Russia, "They already have little green men," he says, referring to Russian troops in the Crimea region. "Such a commander-in-chief would be appropriate."
Twenty three candidates have been registered to run in the snap presidential election that was called after President Viktor Yanukovych was ousted following months of protests.
Whoever wins, the task at hand is daunting. Ukraine's economy is in dire straits and the threat from Russia a constant presence. Darth Vader should probably keep his sights set on a land far, far away.