Is Ben Bernanke Worthy of Hall-of-Fame Status?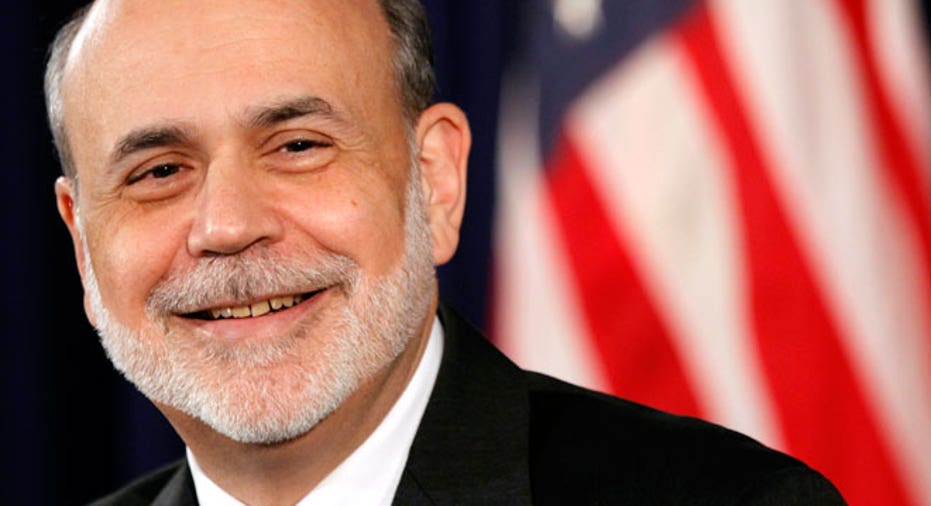 There's little doubt Ben Bernanke was dealt one of the toughest hands any central banker has ever received when he took the reins of the Federal Reserve in 2006.
He didn't know it at the time, but he inherited a severe real-estate bubble and eventual panic that threatened to bring down the global financial system and spark an economic depression.
Bernanke's response to the worst crisis since the Great Depression was aggressive, controversial and, much to the surprise of his critics, largely successful. As Janet Yellen prepares to take over the Fed, it seems likely that Bernanke's ability to limit the damage and avoid an all-out collapse will secure his place in the history books as one of the greatest chiefs in the central bank's 100-year history.
"He almost single handedly saved us from a depression," said Greg Valliere, chief political strategist at Potomac Research Group. "Quite clearly the economy is recovering nicely right now. I would say he is the major reason why."
Bernanke convinced his colleagues at the Fed and investors around the world that the central bank could breathe life back into the tattered economy by deploying innovative techniques like quantitative easing.
Near-Death Experience
While later iterations of QE have had mixed results, the early bond-buying exercises combined with historically low interest rates to encourage growth.
"He did extremely well breaking the bonds of orthodoxy in fighting the great credit crisis of 2007 to 2009 with every single piece of ammunition he could find," said David Jones, a former Fed economist and author of upcoming book Understanding Central Banking: the New Era of Activism.
It's clear that the economy did not perform as well as Bernanke would have liked, but it is in a far better place than the dark days of 2008 and 2009.
In a farewell speech last week, Bernanke noted payroll employment has surged by 7.5 million jobs from its trough, the unemployment rate has dropped to 7% from a peak of 10%, real gross domestic product has grown in 16 of 17 quarters and industrial production has matched or exceeded pre-recession peaks.
Wall Street, which had been pricing in a depression in March 2009, has seen the Dow Industrials skyrocket almost 10,000 points, or 151%, from their bear-market lows.
"Bernanke will stand in history as the person who rose up and defeated a credit crisis that could have done much more damage than it did," said Jones.
-
Click image to enlarge
The Greatest Fed Chief? 
Bernanke also ushered in an era of a more open Fed, which had long been a closed entity that was shrouded in secrecy. He boosted transparency by introducing press conferences, economic projections, inflation and unemployment targets and even conducting TV interviews and town halls.
"We took extraordinary measures to meet extraordinary economic challenges, and we had to explain those measures to earn the public's support and confidence," said Bernanke, who added these efforts support the Fed's "democratic legitimacy."
He showed courage by breaking with conventional wisdom and keeping his foot on the easy-money pedal in 2011 and 2012 even as growth returned.
"Considering the enormity of the crisis that Bernanke faced, he has to go down as the greatest Fed chairman," said Valliere.
Most Fed watchers believe that assessment is too strong for now, especially considering Bernanke (and most other economists) failed to see the Great Recession coming in the first place.
The Fed actually raised interest rates as late as June 2006 and didn't begin cutting until September 2007. Bernanke infamously said in March 2007 that he believed "the impact on the broader economy and financial markets of the problems in the subprime market seems likely to be contained."
"He was a little slow to catch what was going on, but once he did, he took these very bold actions," said Richard Sylla, an economics professor at NYU.
Click image to enlarge
Stacking Up Against Volcker, Greenspan
Sylla and Jones said the gold standard for Fed chairmen remains Paul Volcker, who slayed the inflation dragon in the 1980s. Volcker took very unpopular steps to send interest rates surging to put a stop to double-digit inflation.
"It was very painful. We went through two recessions back-to-back, but he broke the back of inflation and fundamentally changed the economy," said Jeffrey Shafer, a veteran of both the Fed and Treasury Department.
Fed watchers differ over whether or not Bernanke could eventually surpass Alan Greenspan as the second best chairman.
Greenspan, who was dubbed "The Maestro," enjoyed a glowing reputation during his 19-year tenure that included strong economic growth with few pauses. However, it's now clear the Fed kept rates far too low in 2004 and 2005, allowing the housing bubble to inflate. Greenspan has also been criticized for lax oversight that later fueled the crisis.
"Bernanke will stand in history as the person who rose up and defeated a credit crisis that could have done much more damage than it did."
"Maybe his reputation was too high before and too low now. He was a strong, effective manager of the Fed for a long time," said Shafer. "My bet is this time the way history breaks will be more in Bernanke's favor."
2014 Could Alter Big Ben's Legacy
That may be the case, especially if the U.S. economy picks up steam in 2014 as the Fed scales back on QE. With fewer fiscal hurdles on the horizon, there are mounting signs that risks to the growth outlook now stand on the upside.
Alternatively, if a melt-up in stock prices emerges and the market suffers a steep plunge, Bernanke will likely get the blame for fueling the bubble with QE. The same can be said if long-dormant inflation becomes an issue due to Fed policy.
"I'm more critical every day of QE3," said Jones. Bernanke "got into extremely dangerous territory. He pushed the highly accommodative stance too far," he said.
But Bernanke has thus far escaped the debilitating period of high prices that inflation hawks have warned of for years. If anything, inflation remains too low, falling far shy of the Fed's 2% goal.
"I think he was right and they were wrong," Sylla said of the criticism from inflation hawks. "That shows Bernanke understands how the economy really works -- more than his critics did."
Bernanke is now set to hand the keys to the Fed's $4 trillion balance sheet to Yellen, who was confirmed by the U.S. Senate earlier this week.
Not only does Yellen instantly become one of the most powerful women in the world, she must now follow in the footsteps of three of the most widely-acclaimed Fed chiefs in history.
"Yellen does have big shoes to fill. That is for sure," said Jones.