Illinois' fiscal crisis at 'critical juncture' as budget deadline looms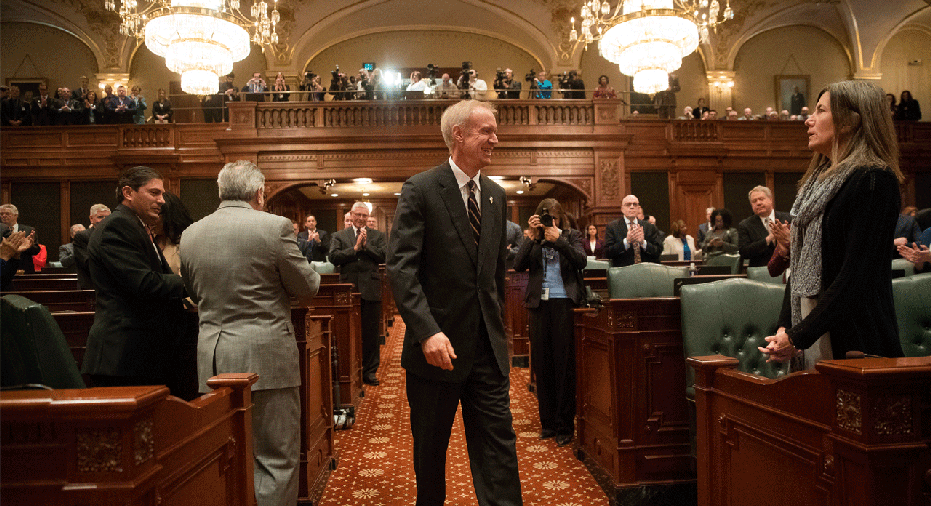 With billions of dollars in unpaid bills, unfunded pension liabilities and a severe budget problem, the state of Illinois is facing significant financial trouble if lawmakers don't agree on a spending bill by Wednesday, experts warn.
The state government in Illinois is split between a Republican Governor, Bruce Rauner, and a legislature that is controlled by Democrats, which has resulted in paralyzing gridlock. For about 23 months the state has remained afloat on court-ordered spending measures and continued appropriations.
Failure to break the spending impasse, which has existed since 2015, could result in another critical credit downgrade, ratings agency Moody's said. Wednesday marks the last day of the spring session and the new fiscal year begins July 1.
Since 2015, the three major credit rating agencies have downgraded the state of Illinois a total of six times. Moody's has given it the lowest rating out of every state at Baa2 negative, just two levels above non-investment grade, also known as junk. The last time Moody's cut Illinois' credit rating was June 2016, following the state's failure to reach a budget deal.
The state boasts a backlog of unpaid bills worth a record $13 billion. That total will skyrocket to $28 billion by June 2019 without a deal, Moody's predicted, which would rack up even more interest and penalties than what is already owed. Even if a deal is reached, state debt and taxpayer dues will both likely increase.
Additionally, the state currently has $130 billion in unfunded pension obligations, annual payments of which could be cut if a deal isn't struck; a scenario that Moody's warned would be a negative credit event for bondholders.
Moody's said in March the state is at a "critical juncture" and faces "unsustainable fiscal challenges" should the two parties fail to come together on a bill.
"Leaders must choose between further credit deterioration and drift without compromise, or the potential for stabilization," Ted Hampton, a Moody's senior credit officer, said.
Two proposals are floating around the State House and Senate, one sponsored by the Republicans and one sponsored by the Democrats. Recent posturing among the parties' leaders make a compromise by Wednesday appear unlikely.