Illinois considers huge tax hike as showdown continues, credit downgrade looms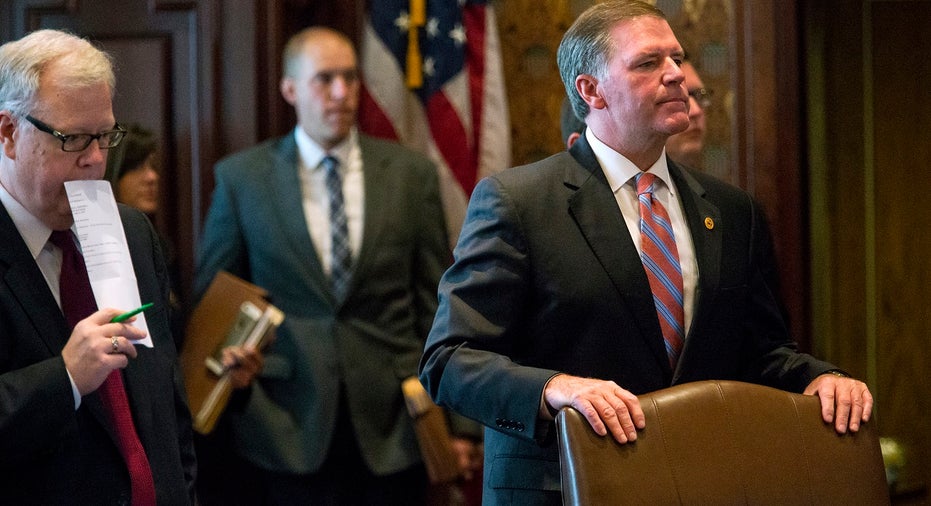 As Illinois attempts to strike a budget deal to end the country's longest running state spending impasse, the infighting between Republican Governor Bruce Rauner and the Democratic controlled General Assembly shows no signs of waning despite progress made toward passing a $36 billion spending package early this week.
The spending legislation passed the House on Monday and the Senate on Tuesday, when it was then promptly vetoed by Rauner. On Tuesday, the Senate voted to advance with the package despite Rauner's veto. The House will have a chance to do the same on Thursday.
The legislation in question would increase income taxes in Illinois by $5 billion over the next fiscal year, in order to address a backlog of unpaid bills worth $15 billion and more than $250 billion in unfunded pension liabilities—the financial consequences of having no budget for the past two fiscal years.
The proposal calls for a permanent increase in the personal income tax from 3.75% to 4.95%, a 32% jump, which is wildly unpopular among Republican lawmakers.
However, lawmakers in Illinois have been left with little choice. After entering a third straight fiscal year with no spending deal, the state is facing a threat to its own credibility. Failure to strike a budget agreement by the end of the state legislature's annual session on May 31 resulted in a critical credit downgrade for the country's fifth largest state to Baa3, the lowest of any state and only one level above non-investment grade — also known as junk. Illinois has received 8 downgrades in as many years and most states are rated at least 8 levels higher, according to Moody's.
Now, Illinois is facing the possibility of becoming the first ever U.S. state to receive a junk rating, meaning the state would be at a high risk of being unable to repay its debt and having to pay in order to be able to borrow money.
For about 24 months the state has remained afloat on court-ordered spending measures and continued appropriations, but now infrastructure projects, medical payments and even public school funding are at risk. Last month, Gov. Rauner compared Illinois to a banana republic because it has not been able to manage its finances.