Icahn Takes Trump Special Advisor Role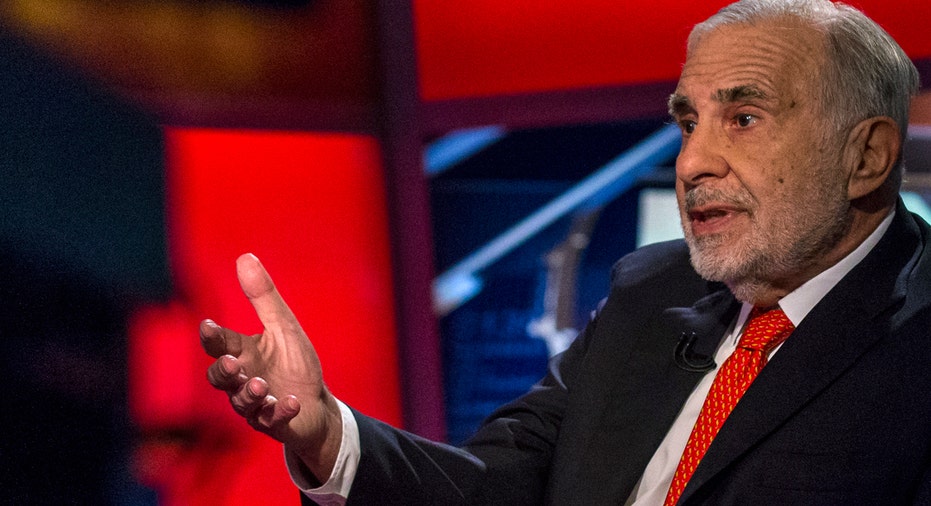 President-elect Donald Trump officially gave billionaire investor Carl Icahn a role in his administration.
Icahn was nammed special advisor to the President on regulatory reform.
Last month, FOX Business was first to report Icahn was weighing whether or not to take a position with the new administration as an adviser on economic matters.
Original Report From 11-21-2016    
It's unclear if Icahn, an early Donald Trump supporter, would take an official position with the incoming Trump White House or remain an informal adviser on economic matters as he has done through the President-elect's campaign, according to two sources with direct knowledge of Icahn's thinking.
Still, Icahn's decision to seek some national policy-making role with the new administration is significant. The 80-year-old financier known for his brash commentary on finance and economics has never served in government, and has long communicated to Trump and to the media he is not interested in becoming Treasury Secretary. But in recent weeks, particularly after Trump's surprise victory over Democratic challenger Hillary Clinton in the 2016 presidential contest, Icahn has made it clear that he is increasingly interested in playing a more formal role in development of economic policy, these people add.
Icahn has said if he took an official position it would be unpaid and he would continue to work largely out of his offices in New York City, where he runs his investment company Icahn Enterprises.
A call to Icahn's assistant was not returned and a spokesman for Trump had no immediate comment.
Icahn has known Trump for decades and considers his election a chance to change what he feels is gridlock in national economic policy during the past eight years under President Obama. Such gridlock, he says, along with the high tax and onerous regulatory environment, has led to the slowest post-recession economic growth in modern American history.
Obama came to office on the heels of the 2008 financial crisis and inherited the Great Recession that followed, but Icahn believes his fiscal policies — from higher taxes, to an increase in bank regulations and his costly healthcare reform law commonly referred to as Obamacare – slowed the economic recovery considerably.
For that reason, according to people with direct knowledge of his thinking, Icahn would like a hand in helping the new Trump administration cobble together an economic policy that would spur growth considerably from its current anemic pace.
Icahn came from modest means. Born and raised in the New York borough of Queens, the son of a school teacher and a housewife, Icahn is one of the country's richest men worth an estimated $15 billion. Icahn "believes that he should give something back to a country that has given so much to (him)," said one person familiar with the matter.
In a recent interview with FOX Business, Icahn said: "Well, I think, to begin with, business is really afraid to invest. The average CEO, on the one hand, he invests and he's up against a wall which I think in certain cases are absurd regulations, such as the EPA with its RIN program. It's completely insane."
Still, the move might be controversial. Trump ran as an outsider, and his administration is already teeming with Wall Street insiders in key positions. His possible Treasury Secretary, Steve Mnuchin, is a former Goldman Sachs (NYSE:GS) partner and hedge fund manager, while a leading candidate to take the job as Commerce Secretary, Wilbur Ross, is himself a billionaire financier who specializes in bankruptcy restructuring.
Even an informal role in developing economic policy would pose a conflict of interest for Icahn and his investment firm, which owns interests in numerous companies and manages his enormous net worth. Robert Rubin, the Treasury Secretary to former president Bill Clinton, placed his wealth, attained while the head of Goldman Sachs, into a so-called blind trust while he served in the cabinet position, where he had little control over the management of his assets.
Trump himself has faced questions over whether in his role as President he would be able to benefit his private real estate business, which since the election, has been run by his children to avoid such concerns.
Indeed, after Trump won the 2016 presidential contest, Icahn announced that he went out and began snapping up stocks, which have been on an extended rally amid Trump's plans to cut taxes and regulations. The Dow Jones Industrial Average reached a record high Monday.
"I think the only conflict of interest problem would be if he began to speak to Donald about an area or an individual company that he's invested," said veteran Attorney Stanley Arkin. "He's certainly still qualified to talk about economics. The problems come when they start talking about particular things and how close he is to the particular issues. Beyond that though, he would be a great advisor to Donald Trump."