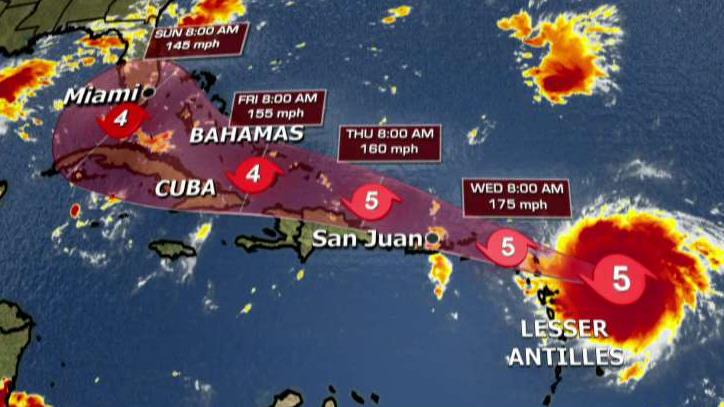 Puerto Rico's governor has activated the entire National Guard in the commonwealth ahead of powerful Hurricane Irma, which has strengthened into a Category 5 storm.
"We've activated the whole National Guard. I did so a couple of days ago, making sure that we have all the prep going," Puerto Rico Governor Ricardo Rossello told FOX Business' Neil Cavuto of Cavuto: Coast-to-Coast.
As a U.S. commonwealth, Puerto Rico is able to activate the National Guard and the governor said the storm's estimated strength caused him to declare a state of emergency on Monday.
"We are talking about a 180 miles an hour hurricane with gust at the center going upwards of 200 miles per hour. Right now it's scheduled to pass somewhere about 40 miles northeast of Puerto Rico, but still the winds would be very damaging and ravaging to Puerto Rico," Rossello said.
Gov. Rossello said the Trump administration has been very supportive in its efforts to activate certain provisions for the Caribbean island of Puerto Rico.
"I actually solicited to the president a pre-landfall emergency declaration so that we can get things moving and have the right resources for the storm," he said.
According to the National Hurricane Center, Hurricane Irma is a "potentially catastrophic" storm with 185 mph winds and gusts up to 220 mph as of before 2 p.m. ET Tuesday.
The Puerto Rico governor said his administration has been working on public safety protocols for the past 5 months to provide food supplies and shelter in c critical areas of flooding.
"The critical component is based on the nature and the danger of Irma, making sure we get people into safe shelter, protect lives over infrastructure, which there really at this point is no telling how damaging it can be," Gov. Rossello said.