Hillary Clinton Criticizes Donald Trump's Economic Plan as Self-Serving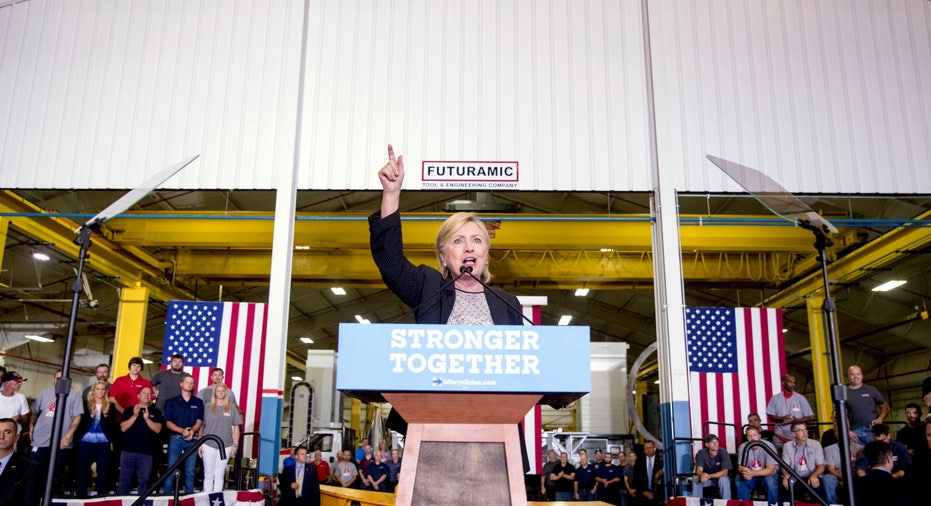 Hillary Clinton dialed up a line of attack on Donald Trump's economic proposals Thursday in a speech that cast his agenda as a crony giveaway that erodes his populist appeal.
Mrs. Clinton's speech in Warren, Mich., followed Mr. Trump's address in Detroit on Monday, where he outlined an agenda to sharply reduce taxes and regulation while advancing a far more protectionist trade policy.
Mrs. Clinton offered one of her most pointed critiques of American trade policy and flatly stated that she would oppose the Trans-Pacific Partnership, a 12-nation trade pact that is a top priority of President Barack Obama. "I oppose it now. I'll oppose it after the election, and I'll oppose it as president," she said.
Too many companies have pushed for trade deals "so they could sell products abroad, but then they instead moved abroad and sold back into the U.S.," she said.
Still, she said Mr. Trump's rhetoric on trade threatened to make America weaker. "His approach is based on fear, not strength," she said. "The answer is not to rant and rave -- or to cut us off from the world."
The Democratic nominee's remarks branded Mr. Trump's proposal to sharply reduce taxes on so-called pass-through entities, where business income is claimed on individual tax returns, as the "Trump loophole." Mr. Trump would lower the top personal tax rate to 33%, from 39.6%, but to benefit small businesses Mr. Trump has proposed taxing pass-through income at 15%.
The Clinton campaign argues the change could potentially deliver a huge windfall to Mr. Trump's companies and other wealthy Americans, including his donors and advisers, many of them successful financiers on Wall Street.
At the same time, Mrs. Clinton called attention to the inability to assess how Mr. Trump's policies would specifically affect his businesses because he hasn't released his tax returns.
Mrs. Clinton's speech also painted sharply divergent visions of where the country is headed. Mrs. Clinton pointed to an economic turnaround in Detroit and across Michigan and chided Mr. Trump for describing the city in exceptionally bleak terms on Monday. "He talked only of failure, poverty and crime," she said. "He is missing so much about what makes Michigan great."
Mr. Trump, addressing the National Association of Home Builders in Miami Beach, Fla., on Thursday, said Mrs. Clinton's attacks were an attempt to deflect attention from her proposals to raise taxes on upper-income households and to maintain a suite of new regulations championed by President Barack Obama. If Mrs. Clinton were to win the election, "enjoy your tax increase, folks," he said. "It's going to be four more years of Obama, but it'll be worse."
Mr. Trump also continued to criticize Mrs. Clinton as unable to change course on the economy because she is beholden to donors. Mrs. Clinton, for her part, attempted to turn one of his selling points -- the political independence he says is afforded by wealth -- into a liability.
Mrs. Clinton wasn't expected to unveil new policy in Thursday's speech but instead to amplify how detailed proposals her campaign has already advanced on infrastructure, taxes and workplace policies could help middle-class families enjoy the benefits of stronger economic growth.
Mr. Trump attempted to reset his campaign on Monday with the economic-policy address in Detroit that advisers had said would modify an existing tax plan that had been criticized as tilted towards the wealthy.
But Mrs. Clinton immediately seized on some of those proposals to show how, in fact, they benefit affluent Americans like Mr. Trump much more than the typical household.
On Tuesday, for example, she slammed his promise to repeal the estate tax. "My eyebrows went up," she said, at a proposal that "would be about a $4 billion gift to him and his family."