Hillary & Bill Clinton's Bottom Line Boosted by Big Business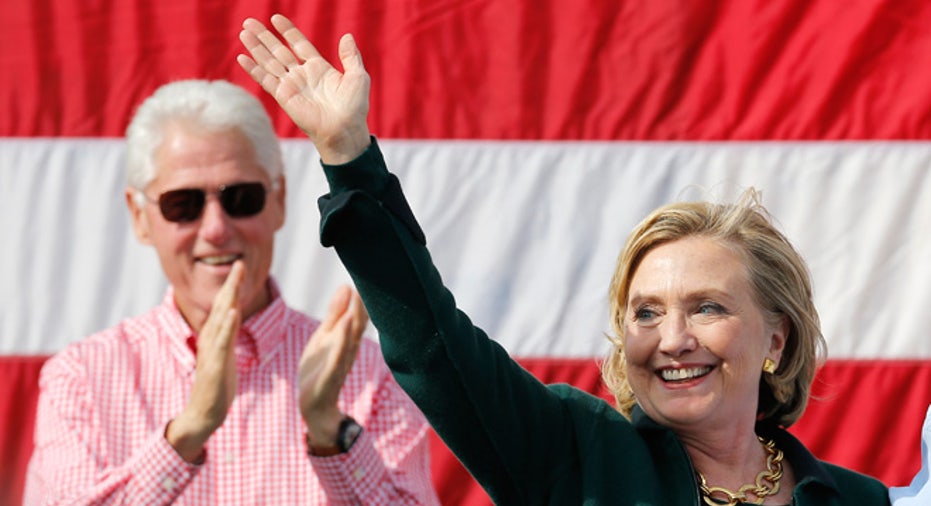 "I believe Wall Street can never, ever be allowed to wreck Main Street again…."
That's how Hillary phrased her pot shot at Wall Street during her speech at the Democratic National Convention last month.
Yet what we are learning, via newly released tax returns, is that Hillary and Bill Clinton are a couple that continue to be influenced by corporate America. Indeed, after reviewing their 2015 tax returns, it showed yet another year of the Clinton's being in the pocket of big business despite their vows to protect those on Main Street.
Let's start with the Democratic Party's standard-bearer, Hillary Clinton. In 2015 she made approximately $1.4 million in speaking fees. The tax returns cite the Harry Walker Agency as the sponsor for her speeches but what they don't reflect are the companies that paid her to speak. Clinton spoke at six events throughout 2015 including the American Camping Association: $260,000, tinePublic Inc., a Canadian promotions company, twice for a total of $524,000, the Canadian Imperial Bank for $150,000, the Watermark Silicon Valley Conference for Women for $225,500 and eBay (NASDAQ:EBAY) for $315,000.
None of the 2015 totals include the hundreds of thousands of dollars she received for past speaking engagements at the top Wall Street banks of Goldman Sachs (NYSE:GS) and Morgan Stanley (NYSE:MS).
However, what the speaking fees do show is that Hillary Clinton is eager to reap the financial benefit that comes from corporate America despite her anti-business rhetoric on the campaign trail.
The groups, mentioned here, who paid Mrs. Clinton in 2015 for speaking engagements, did not return calls from FOX Business for comment at the time of publication.
And it doesn't get any better for her husband. In 2015, former President Bill Clinton was paid approximately $5.25 million in speaking fees and took in about $1.6 million in consulting fees. It's unclear who paid Mr. Clinton to speak at their events but what the tax returns do reveal is clues as to how he was paid; in consulting fees. According to an AP article written in May 2015, Clinton's consulting firm, WJC LLC, located in Chappaqua, New York, was used as a "pass through" in order to funnel consulting payments to the former president. It turns out, the consulting firm, with no apparent employees, was still in service in 2015. The 2015 taxes show that $1 million of the consulting fees were through Laureate Education, a global operator of for-profit colleges, and the rest came from GEMS Education, a Dubai-based company that runs preschool and K-12 programs. From 2010 through 2015, Bill Clinton made $25 million in consulting and had his best year in 2014 with an income of $6 million.
Bill Clinton's past with Laureate is murky at best. As an Honorary Chancellor of Laureate, Mr. Clinton brought in over $17.5 million and it was all paid through his consulting firm. FOX Business reached out to Laureate to try to understand how they paid their former honorary chancellor, and a spokesperson via email said, "In 2010, former U.S. President Bill Clinton signed a five-year contract to serve as the Laureate network's Honorary Chancellor. He advised the network on issues like social responsibility, youth leadership and civic engagement, while also speaking to students, faculty and staff worldwide."
After careful review of Mr. Clinton's taxes from 2010 through 2015, his consulting payments were based on a per annum system and, depending on how much consulting Mr. Clinton did for Laureate, he would get paid a different amount each year. For instance, in 2014 he finished the year with $4.2 million from Laureate as their consultant. In contrast, in 2011 he was paid $2.4 million for his services. Sources close to Laureate confirmed to FOX Business that the payments were only part of his compensation for his five-year term in 2015 and did not deny that the former president was given different payments each year depending on how often he was called upon to advise the for-profit college company.