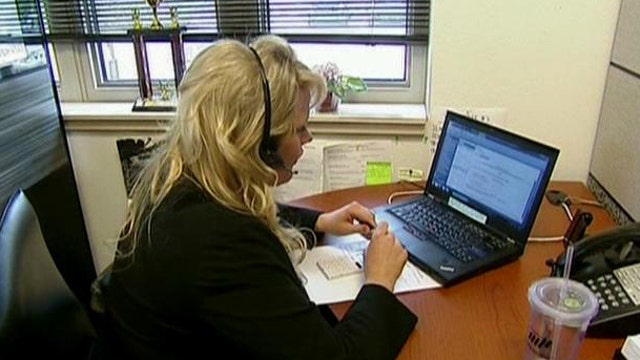 Part-time work accounted for a whopping 77% of the jobs the U.S. economy created from January through July, according to household survey data from the Bureau of Labor Statistics.
Specifically, this data show that the U.S. economy has created 953,000 jobs so far in 2013. Of that sum, 731,000 were part-time jobs versus just under a quarter, 23%, or 222,000, full-time jobs.
This first-half trend held last year. Based on that federal survey, from January to July 2012, the U.S. economy created 1.4 million jobs. Of that sum, 53% were part-time jobs, 764,000, versus 658,000 or 47%, full-time jobs, reports FOX News analyst Steve Joachim.
While the federal government and the White House are reporting the U.S. economy has been adding on average 200,000 jobs a month so far this year, a closer look at government data shows the majority of jobs created are part-time, lower-wage jobs, typically in the retail or restaurant industry, providing the reason why median household income continues to decline.
A rising number of companies are citing health reform as the reason for the growing part-time workforce (see list at bottom). The new health-reform law defines a full-time worker as one who works on average 30 or more hours per week. Those workers must be given health-care coverage or the employer faces government fines and penalties.
As a result, the U.S. workforce is restructuring toward "29-ers", companies and economists report, or employees working just under that threshold. An estimated 1,200 companies and a growing number of unions have either sought or won temporary waivers from health-reform mandates.
GOP members of the House Ways and Means Committee report that under President Barack Obama, since January 2009 the country has added seven times more part-time jobs versus full time jobs, a net total of 270,000 full-time jobs versus 1.88 million part-time jobs.
The U.S. now has a historically low labor force participation rate, with 116.1 million full-time workers and a record 28.2 million part-time jobs.
The rise in the part-time workforce is a significant reason why U.S. worker pay and median income has dropped since the Great Recession ended in June 2009. That trend held in July. Government data show that average hourly pay fell two cents in July to $23.98 an hour. The average workweek for all private sector employees dropped again that month, this time by a tenth of an hour to 34.4 hours. In manufacturing, the work week decreased by 0.2 hour to 40.6 hours.
U.S. employment trends are a warning, as the U.S. has a retiree population growing faster than its working population, a pattern former President Bill Clinton noted when he said the baby boom was about to become a senior boom in his 1999 state of union address.
To fill up the flat tire that is the American economy, jobs are best created by corporate cash, especially the estimated $2 trillion parked overseas due to Congressional overreach, whereby U.S. companies' foreign profits are taxed twice. Confusing and hyperactive Washington, D.C. policy appears to have locked the Federal Reserve into QE eternity, as a D.C. wet blanket has caused GDP growth to flat line around a soggy 1.5% rate.
The central bank's monetary easing is being undone by an economy that has seen the rise of a government regulatory state, with whole new bureaucracies for health and financial reform. It is a mistake to think progress comes from more legislation. Political fighting is still a check on economic growth, as the U.S. now faces another costume drama of a D.C. debt fight this fall.
Whether Congress can enact tax reform to make the U.S. a tax haven like, say, Ireland to draw corporate money here to create jobs remains to be seen. But economists are increasingly noting that it is better to spend money on inventing products, and creating jobs here, instead of encouraging sectors of the U.S. economy that invent  tax avoidance schemes.
Even the IRS Taxpayer Advocate warns the "complexity creep" of the U.S. tax code that Congress is largely responsible for confirms "taxpayers' suspicions that the  tax laws that are designed to entrap them."
What economists have noted is that the U.S. economy has been restructuring since the 1980s away from higher paying manufacturing jobs into lower-paid service industry jobs, in restaurants, retail, health, tech, legal and education companies, providing a drag on GDP growth since the consumer is about 70% of the U.S. economy.
Government data show that retailers, restaurants and bars delivered more than half of July's job gain. These low-paying industries account for just 39% of the U.S. workforce, according to Bureau of Labor Department data analyzed by Moody's Analytics. Moody's also notes that mid-level jobs have contributed just 22% of job creation so far in 2013.
Companies are also relying increasingly on technology or outsourcing to low-wage Asian countries to replace U.S. workers in order to lower costs and boost their bottom lines. Restaurant, hotel, retail, and home health care jobs typically can't be exported.
It's important to pay attention to economists who correctly note the trends happening in the U.S. workforce—and not wrongly prognosticate the impact of new means of production in the U.S. economy. Such as: "By 2005 or so, it will become clear that the Internet's impact on the economy has been no greater than the fax machine's." Paul Krugman, 1998.
Some companies citing health reform as reason for increase in part-time workers:
Forever 21
Wal-Mart
White Castle
CKE Restaurants
Hobby Lobby
Hurricane Grill & Wings
Regal Entertainment
Papa John's
Dunkin' Donuts
Darden Restaurants
Applebee's -  New York City
Denny's - Florida
Dairy Queen - Florida
Wendy's - Nebraska
Subway Restaurants – Mich.
Taco Bell – Okla.