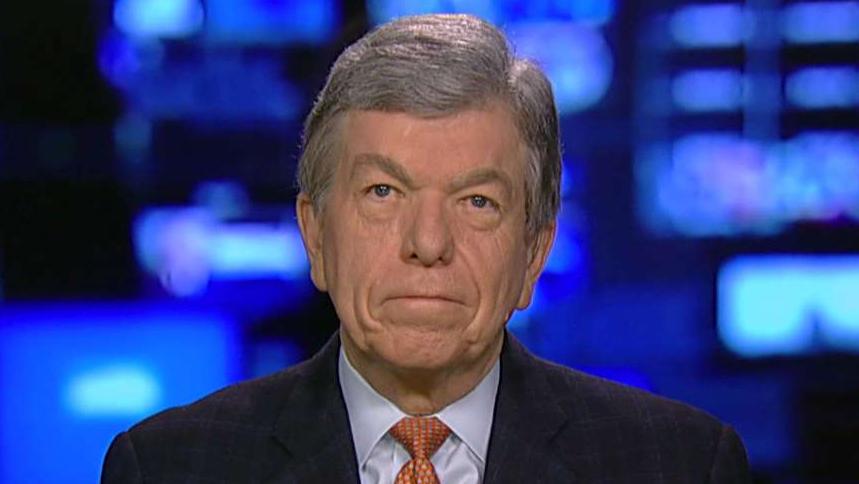 Sen. Roy Blunt, R-Mo., said on Sunday the federal government shutdown—which is now in its second day—is impacting the "No. 1 responsibility of the federal government": to defend the country.
"We're asking young men and women to step forward and defend us without giving them what they need," Blunt told Maria Bartiromo on "Sunday Morning Futures." "We should never want an American service person to be in a fair fight. We want them to have every possible advantage and they clearly are moving away from that long advantage they have had."
While active-duty members and critical support staff are required to work during the shutdown, their payments will be delayed until after the government reopens.
Illegal immigration has been the hotly-debated item prohibiting Democrat and Republican lawmakers from coming to an agreement to keep the government open. Democrats, led by Chuck Schumer in the Senate, refuse to agree to a deal unless there is continued protection of young, illegal immigrants—originally granted under the Deferred Action for Childhood Arrivals (DACA) program, which was signed into law by former President Barack Obama in 2012—who were brought to the U.S. as children by their parents. Much of the finger-pointing by Republicans has been aimed at the New York Democrat, with many even calling the impasse the "Schumer Shutdown."
"There is no reason for this to have occurred and one of the lessons here is we need to get back to where we openly debate these appropriations bills and get them to the president's desk one or two at a time, rather than every year have this issue," Blunt said, adding that Schumer "made a decision here that he was going to have a shutdown over an issue that is clearly solvable that has nothing to do with appropriations."
Schumer met with President Trump on Friday, even entertaining the idea of the commander-in-chief's proposed wall along the nation's southern border with Mexico in exchange for the protection policies for Dreamers. However, the talks fell apart and no deal was made.
"Negotiating with this White House is like negotiating with Jell-O. It's next to impossible," Schumer told reporters on Saturday.
The Senate is expected to vote in the early hours of Monday morning on legislation to reopen the government. Blunt said he doesn't think the Democrats can endure the shutdown much longer and that the issue of immigration should have an "easy conclusion," with "70%-plus" of Americans agreeing that Dreamers should be allowed to stay in the U.S.
"But 70% of the American people also agree that the border needs more control and immigration needs more control … This is a foolish place that Democrats in the Senate have forced the country to and I think that they'll change their mind on this pretty quickly," the Missouri Republican said.