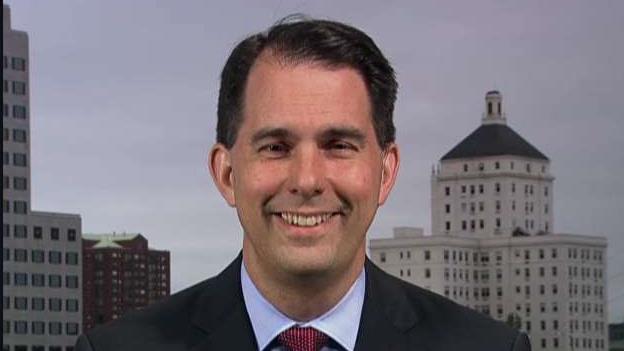 Governor Scott Walker (R-WI) weighed in on President Trump's tax reform plan and explained how tax cuts can help improve the U.S. economy.
"If we are able to get the employer tax rate, the corporate tax rate down to a level that is commensurate with most of the rest of the industrialized world… I believe it will help bring back American jobs," he told FOX Business' Neil Cavuto.
Walker said that the best way to bring confidence back to the economy is to begin cutting taxes.
"I would literally just cut the rate, make it easier to bring those dollars back, cut individual rates along the way if you can afford to do that, that as well as the regulatory reform the president and his administration have already done."
The Wisconsin governor also discussed how tax cuts have benefited his state. "We continue to see dramatic economic growth; we're down at an unemployment rate of 3.7 percent. In fact, our cumulative benefits of all of our tax cuts…will exceed $8 billion dollars. And yet even while we've cut rates on income, we've cut rates on property, we've cut taxes on businesses, we actually see more revenue coming into our state."
More from FOXBusiness.com
Walker said that the U.S. needs tax cuts nationally and believes that President Trump will be able to do that.
"If you cut taxes, you put more money back in the hands of not just individual tax payers, but employers. That's the best stimulus you can provide not only for more jobs, but for higher wages. That's the best way to truly stimulate the economy."