GOP's 'Obamacare' repeal all but dead; McCain deals the blow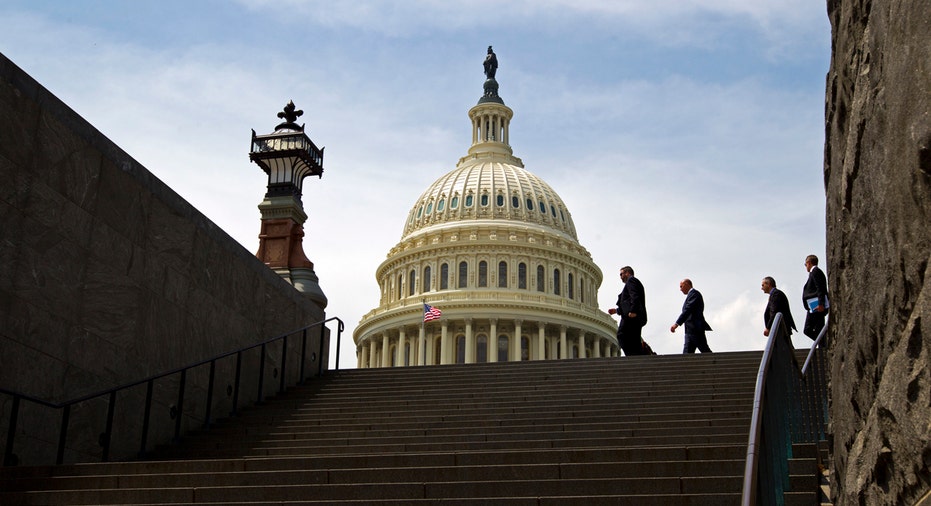 Sen. John McCain declared his opposition Friday to the GOP's last-ditch effort to repeal and replace "Obamacare," dealing a likely death blow to the legislation and, perhaps, to the Republican Party's years of vows to kill the program. It was the second time in three months the 81-year-old McCain emerged as the destroyer of his party's signature promise to voters.
"I believe we could do better working together, Republicans and Democrats, and have not yet really tried," McCain said of the bill, co-written by Lindsey Graham of South Carolina, his best friend in the Senate, and Bill Cassidy of Louisiana. "Nor could I support it without knowing how much it will cost, how it will affect insurance premiums, and how many people will be helped or hurt by it."
McCain, who is battling brain cancer in the twilight of a remarkable career, said he could not "in good conscience" vote for the legislation. That all but ensured a major setback for President Donald Trump and Senate Majority Leader Mitch McConnell, and appeared likely to deepen rifts between congressional Republicans and a president who has begun making deals with Democrats out of frustration with his own party's failure to turn proposals into laws.
During the election campaign Trump had pledged to quickly kill President Barack Obama's health care program — "It will be easy," he contended — and he has publicly chided McConnell for not winning passage before now.
With the Arizona senator's defection, there are now two declared GOP "no" votes on the repeal legislation, the other being Rand Paul of Kentucky. With Democrats unanimously opposed, that's the exact number McConnell can afford to lose. But Maine GOP Sen. Susan Collins said Friday she, too, is leaning against the bill, and Lisa Murkowski of Alaska was also a possible "no," making it highly unlikely that McConnell can prevail.
So once again, the GOP seems destined to fail on a campaign promise that every Republican agreed on — right up until the party obtained full control of Congress and the White House this year and was actually in position to follow through.
Trump, speaking at a rally Friday night in Alabama, called McCain's opposition "sad" and "a horrible, horrible thing" for the Republican Party.
Vice President Mike Pence said the fight wasn't over. "This is not going to be easy. Some have gone so far as to announce their opposition already," he said. "President Trump and I are undeterred."
Graham, too, vowed in a statement to "press on," and reaffirmed his friendship with McCain.
Up until McCain's announcement Friday, close McConnell allies were still optimistic McCain's relationship with Graham might make the difference.
GOP leaders hoped to bring the legislation to the Senate floor next week. They face a Sept. 30 deadline, at which point special rules that prevent a Democratic filibuster will expire.
Democrats hailed McCain's announcement and pledged to commit to the bipartisan process he sought. GOP Sen. Lamar Alexander of Tennessee and Democratic Sen. Patty Murray of Washington have been working on a package of limited legislative fixes to the "Obamacare" marketplaces.
"John McCain shows the same courage in Congress that he showed when he was a naval aviator," said Senate Minority Leader Chuck Schumer, D-N.Y. "I have assured Sen. McCain that as soon as repeal is off the table, we Democrats are intent on resuming the bipartisan process."
The Graham-Cassidy bill would repeal major pillars of Obama's law, replacing them with block grants to states to design their own programs. Major medical groups are opposed, saying millions would lose insurance coverage and protections, and a bipartisan group of governors also has announced opposition.
Yet Republican congressional leaders, goaded by GOP voters and the president himself, were determined to give it one last try. Trump spent much of August needling McConnell for his failure to pass a repeal bill, and Republican lawmakers back home during Congress' summer recess heard repeatedly from voters angered that after seven years of promises to get rid of "Obamacare," the party had not delivered.
The House passed its own repeal bill back in May, prompting Trump to convene a Rose Garden celebration, which soon began to look premature.
After the Senate failed in several attempts in July, the legislation looked dead. But Cassidy kept at it with his state-focused approach, and the effort caught new life in recent weeks as the deadline neared. Trump pushed hard, hungry for a win.
Trump tweeted Friday morning that "Rand Paul, or whoever votes against Hcare Bill, will forever (future political campaigns) be known as 'the Republican who saved ObamaCare.'"
On the other side, late-night TV host Jimmy Kimmel, whose son was born with a heart defect, got considerable attention when he criticized the new repeal effort at length on his show and said the Republicans were lying about what their new program would cover. In a tweet Friday, he thanked McCain "for being a hero again and again and now AGAIN."
The bill would get rid of unpopular mandates for people to carry insurance or face penalties. It would repeal the financing for Obama's health insurance expansion and create a big pot of money states could tap to set up their own programs, with less federal oversight. It would also limit spending for Medicaid, the federal-state program that now covers more than 70 million low-income people. Insurance rules that protect people with pre-existing conditions could be loosened through state waivers.
Over time, the legislation would significantly reduce federal health care dollars now flowing to the states. But McConnell had little margin for error in a Senate split 52-48 between Republicans and Democrats, and could lose only two votes, counting on Pence to break the tie.