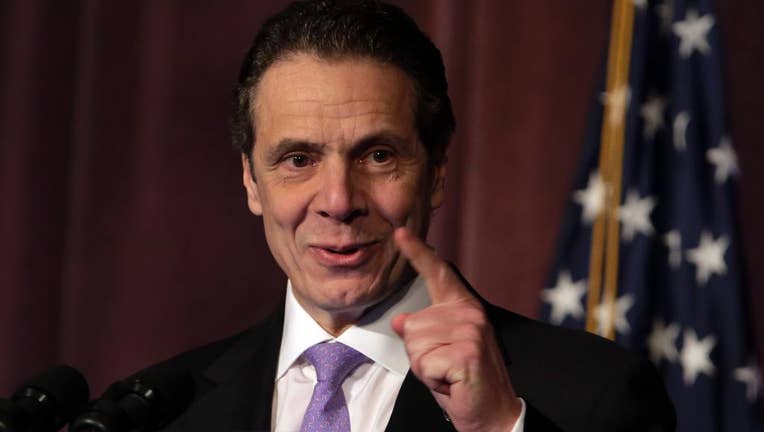 Gov. Andrew Cuomo is getting a taste of what's to come from a Republican super PAC that's determined to derail his future political ambitions including a potential run for president in 2020, FOX Business has learned.
America Rising, an anti-Democrat political action committee, published a website on Tuesday that goes after pay-to-play allegations against one of Cuomo's former top aides, Joseph Percoco, and link the corruption charges to the New York governor's office, with their efforts aimed at spoiling any future ambitions of running for president.
"A large impetus of work that we've done last year and this year is related to him likely running in 2020," Scott Sloofman, press secretary for America Rising, said in an interview with FOX Business. "We believed that since he's running for re-election this year, it's the perfect time to start going after him," he added.
Sloofman went on to explain the website is just the beginning and Cuomo should expect extensive web attack ads against him as he works toward getting re-elected for a third term as governor, and prepares for a possible run for president. The PAC's leadership is also continuing to examine public records and cobble together opposition research, including information on suspicious Cuomo donors that have reportedly been under criminal investigations.
Within a research list reviewed by FOX Business, the PAC cites a New York Daily News story under the subsection "contributions from donors with legal issues," that claims Husam Ahmad, who gave $15,000 to Cuomo's 2018 election campaign, runs a firm that's under investigation for contributions to New York City Mayor Bill De Blasio's mayoral election.
The New York State Democratic Committee labeled the PAC's effort as an attempt by Republicans to distract from President Donald Trump's policies that they say raise taxes on New Yorkers.
"This is yet one more sad attempt to distract from the four major Republican corruption trials this year and from Trump's disastrous polices that are threatening New Yorkers and raising their taxes," Geoff Berman, Executive Director of the NYS Democratic Committee, said in a statement. "New Yorkers aren't stupid and know that Democrats are the ones fighting to protect them while the Republicans are dug in trying to defend the indefensible," he added.
America Rising is run by the former campaign manager for Mitt Romney's 2012 presidential campaign, Matt Rhoades, and in the past has received the financial backing of some top Republican donors including the founder of investment management firm Elliot Management Corporation, Paul Singer, and Citadel CEO Kenneth Griffin, according to the Center for Responsive Politics.
All of this is an attempt by the PAC to convince voters that the Cuomo administration is corrupt at a time when prosecutors in the Percoco trial try to link his alleged "pay-to-play" scheme with the governor.
Percoco stands accused by the United States Attorney's office in Manhattan for accepting bribes of more than $300,000 worth of personal bribes in exchange for favorable action on behalf of Todd Howe—an Albany, N.Y., lobbyist—and his clients, Steve Aiello and Joe Gerardi, executives at Syracuse, N.Y., real estate firm COR Development, and Peter "Braith" Kelly, a government relations executive at energy company Competitive Power ventures.
Last week, jurors learned that Percoco, as Cuomo's campaign manager in 2014, may have violated state campaign laws when he used the state'soffices in Manhattan to conduct campaign business. It was not clear if he was meeting with the governor at the time or if Cuomo's team had any knowledge of Percoco's presence, but there could be a potential problem for the governor's office because it's illegal in New York state for a campaign manager to conduct business in a government office. The governor himself has not yet been implicated in the Percoco trial.
Still, the PAC's goals of taking down Cuomo may be easier said than done because of the governor's own powerful fundraising operation and his popularity within New York.
According to campaign finance reports, Cuomo has raised more than $32,000 per day for the last six months and has put together a $30 million campaign arsenal for 2018.
During the previous six months, Cuomo's campaign has received $129,200 from hedge fund manager Joseph DiMenna and his wife, $25,000 from Hollywood executive Jeffrey Katzenberg and $30,000 from billionaire businessman Barry Diller.
Chris Seeger, a founding partner at Seeger Weiss LLP, and a longtime supporter of Cuomo, giving $25,000 toward his re-election efforts in 2017, said he has no plans on pulling back his campaign contributions, even with Percoco on trial.
"I have no second thoughts about supporting Gov. Cuomo. I've supported him his entire political life and think he's been an outstanding Governor and public servant," Seeger said in a recent email to FOX Business. "I seriously doubt this trial would hurt the Governor in any way nor should it. Percoco is his own man and made his own decisions. We all know people close to us who make bad decisions or are accused of bad conduct," he added.
In a recent poll by the Sienna Research Institute, Cuomo's popularity jumped to the highest it's been in his eight years as governor, with 62% favorability rating among likely voters. The poll also found that Cuomo's job performance rating is up to 50 percent, up five points from November.