Goldman's Gary Cohn on List for Trump Energy Secretary, Ponders Firm Exit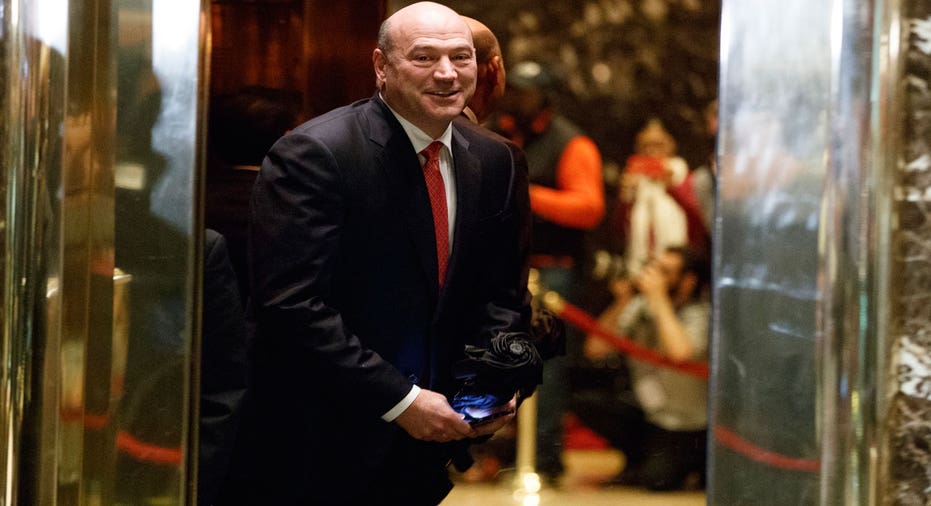 President-elect Donald Trump is considering Goldman Sachs (NYSE:GS) chief operating officer Gary Cohn to run his Energy Department as the former commodities trader and No. 2 executive inside one of Wall Street's top investment banks signals he could soon leave the prestigious white-shoe firm, the FOX Business Network has learned.
Cohn has weighed leaving Goldman for years now, as it became clear that he would not soon replace Lloyd Blankfein as Goldman's chief executive—a position he has long sought.
In recent weeks, Cohn, 56, who has served as the company's No. 2 executive since 2006, has grown even more frustrated as the 62-year-old Blankfein has made it clear he isn't ready to step down anytime soon, according to people with direct knowledge of the matter.
Blankfein recently survived a bout with lymphoma and is expected to make a full recovery, the firm has stated.
Cohn is still considered Blankfein's successor when the CEO decides to leave, but has become increasingly wary that by the time Blankfein steps down, he won't have much time running the firm as a new crop of younger executives will be eager to take his place, these people say.
With that, Cohn met with the President-elect on Tuesday at Trump Tower to discuss a possible post inside the administration, and according to these people, the sit-down went exceedingly well. Cohn has told people inside Goldman he is likely to leave the firm if he gets a top job in the new administration, these people say.
"Trump loved him," one person with direct knowledge of the meeting said.
A Goldman Sachs spokesman would not deny the possibility that Cohn is looking to leave the firm, or that he is being considered for a cabinet post, including U.S. Energy Secretary. A Trump spokeswoman had no comment.
While Cohn has weighed starting a hedge fund for years, according to people with knowledge of the matter, until now he has never seriously considered government work. At first, speculation swirled inside the Trump transition team that Cohn might be considered as head of the Office of Management and Budget, given his role as the day-to-day manager of Goldman's sprawling investment banking, trading and wealth management operations.
While it is uncertain whether Cohn will get any job in the new administration, people inside the Trump transition team say they're impressed with his meeting with the President-elect and that he might be more suited for the position of Energy Secretary. Cohn has a long history as a commodities trader and deep expertise in the complexities of energy pricing. Another possible choice to run the Energy Department, oil tycoon Harold Hamm, recently told FOX Business he wasn't interested in the job. Another name being floated as a possible contender is Senator Joe Manchin (D-WV).
Cohn would mark the third executive from the firm to make his way into the new Trump Administration—moves that are already raising eyebrows among many Trump supporters who were attracted to the candidate's anti-Wall Street, populist message during his presidential campaign.
Trump ran as an outsider, and often bashed his Democratic opponent Hillary Clinton and her ties to Wall Street, including her paid speeches to Goldman after serving as the Obama Administration's Secretary of State and while she was running a private charity, the Clinton Foundation.
The FBI continues to investigate Clinton over donations to the foundation from people who did business with the federal government while she was at the state department. She has denied wrongdoing.
Goldman made a particularly inviting target for Trump given the firm's long and controversial role straddling the nexus between government and big business; two of the firm's former top executives, Robert Rubin and Hank Paulson went on to become Treasury Secretary in the administrations of former Presidents Bill Clinton and George W. Bush, respectively.
Critics of the firm, such as Senator Elizabeth Warren (D-MA), and members of the right-wing Tea Party movement, contend that Goldman over the years exerted far too much influence on public policy. Rubin, for instance, helped de-regulate banks during the Clinton years, which some say led to the 2008 financial crisis. Paulson was behind the massive bank bailouts at the end of Bush's second term when the crisis threatened to destroy the U.S. banking system.
Trump likened the ties between Clinton and firms like Goldman to a form of crony capitalism, where rich insiders benefit from access to high ranking government officials and those insiders then repay officials when they become public citizens.
Trump vowed during the campaign to "drain the swamp" of this alleged corruption and stop special privileges that he said were flowing to well-connected people during the Obama years, and when Hillary Clinton's husband Bill was president.
Meanwhile, Cohn himself is a longtime Democrat and one of Wall Street's earliest supporters of President Obama. But people who know him say he has grown wary of the President and his class warfare against the big banks in the aftermath of the 2008 financial crisis.
Cohn has also opposed many of Obama's post-financial crisis reforms that put a dent in Goldman's revenues, particularly from the trading desk, which he ran.
And despite Trump's campaign rhetoric, the president-elect is now warming up to Goldman and its people; his recently selected Treasury Secretary, Steve Mnuchin, was a former Goldman Sachs partner. Steve Bannon, his chief strategist, also worked at Goldman, as did hedge fund executive Anthony Scaramucci, a key transition team member.
Cohn would be the latest, and possibly the most high-profile Goldman executive to join a presidential administration since Paulson, given his role as Blankfein's second-in-command.
If he does leave Goldman – as a growing chorus of firm insiders say he soon could—he would quickly be replaced by a group of younger executives that he has long feared were ready to fill his shoes.
Sources inside Goldman say Cohn will likely be replaced by a team of co-presidents, David Solomon, head of the investment banking business and Harvey Schwartz, the firm's CFO.