Goldman Sachs Execs Cringe at Trump, Send Cash to RNC Instead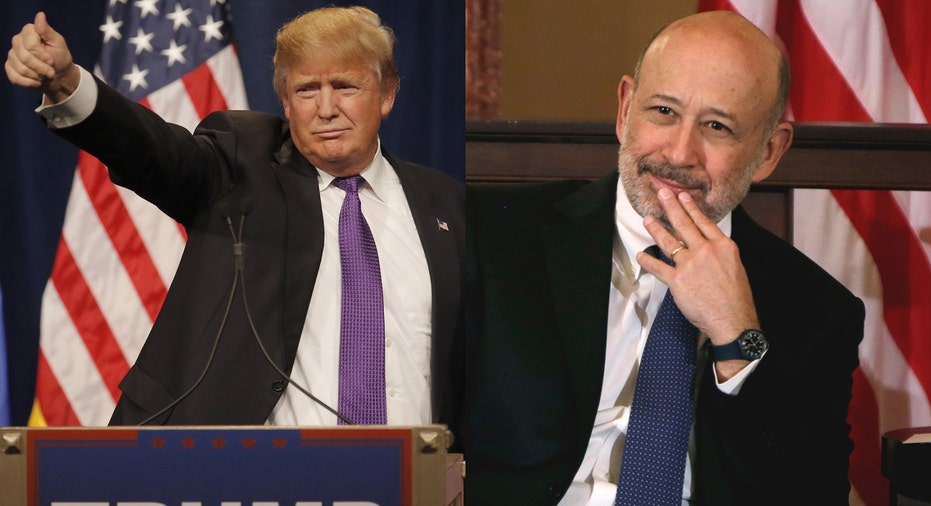 Executives at Goldman Sachs (NYSE:GS) who want to support Republican efforts in this fall's elections are telling GOP fundraisers that management at the big investment bank is cautioning them about making direct contributions to the party's presidential candidate, real estate developer Donald Trump, the FOX Business Network has learned.
Rather, these same Goldman executives say they are being prodded by their supervisors that if they want to support the GOP this year, they should give more broadly to Republican party coffers, such as PACs and directly to the Republican National Committee, another indication that Trump's sometimes erratic campaign rhetoric is having a direct impact on his fundraising, according to people with direct knowledge of the matter.
Trump got off to a slow start in fundraising compared to his Democratic opponent, Hillary Clinton, with as of the last filing date, having just $1.2 million in his war chest, compared to $42 million for Clinton after deciding just weeks ago he would no longer self-finance his presidential campaign and rely on outside donors as well.
But his fundraising has picked up steam of late. On Wednesday, the Trump campaign stated it had raised $26 million in June, and $25 million with the Republican National Committee. Clinton meanwhile raised $40.5 million herself and $28 million with the assistance of the Democratic National Committee.
The distinction is important for campaign financing purposes: Most of the money a candidate raises with the party must be used for "party building" purposes, or in conjunction with party efforts to win congressional and Senate seats, which diminishes its impact for the presidential nominee. Money contributed directly to the candidate or his PAC can be used to mount attack ads or support voter recruitment that directly helps the presidential candidate.
All of which makes Goldman's move a challenge for the Trump campaign since he may not have enough money to directly rebut Clinton's attacks or mount direct attacks on his own, fundraisers tell FOX Business.
Goldman has traditionally been one of Wall Street's biggest pools of campaign cash, while its top executives have often taken key positions in presidential administrations of both parties, earning the firm its moniker, "Government Sachs."
In 2008, the firm was one of candidate Barack Obama's top contributors to his successful presidential campaign even as the firm was on the verge of insolvency during the financial crisis. In 2012, following the passage of new regulations by President Obama and a Democratic congress that hampered its business model, Goldman executives contributed heavily to Republican Mitt Romney's unsuccessful run for the White House.
"What (Trump fundraisers) are hearing is that management has told Goldman executives who want to give they should do so to the party and not to Trump directly," according to one GOP fundraiser with direct knowledge of the matter.
A Goldman Sachs spokesman said no direct edict from company management has been given to executives regarding the Trump campaign. An RNC spokesman had no comment, and Hope Hicks, the spokeswoman for the Trump campaign, didn't return an email and a telephone call for comment.
Goldman's top two executives, chief executive Lloyd Blankfein and president Gary Cohn are considered among the financial sector's leading Democrats. After Clinton left the Obama White House as his secretary of state in 2013, she earned lucrative speaking fees from the firm and other big Wall Street firms.
But at least so far, Goldman executives are siding with the GOP as opposed to Democrats in its 2016 fundraising, contributing just $160,000 to Clinton directly and $971,000 to the DNC and other Democratic campaigns through the end of May, compared with a little more than $2.3 million going to various Republican races including the presidential contest.
The breakdown in Goldman's GOP support is revealing. Of the $2.3 million, $102,000 went to the Republican National Committee and only $534 has been donated directly to the Trump campaign, and that from a single Goldman executive.
Republican fundraisers who have had direct interactions with Goldman executives cite a number of reasons for Goldman executives shying away from donating directly to Trump that go beyond the GOP presumptive nominee's sometimes controversial campaigning, where among other things he attacked the Mexican heritage of a judge presiding over a private litigation involving one of his businesses.
These executives cited Trump's general anti-establishment rhetoric, particularly during his harsh nomination fight; Trump attacked rivals like former Florida Governor Jeb Bush for receiving money from firms like Goldman, which has now made firm executives squeamish about outright support for Trump.
Additionally, some Trump fundraisers say they expect more direct contributions once Trump's nomination is official at the GOP convention in Cleveland in two weeks. A long-shot effort to deny Trump the nomination continues to percolate with some GOP delegates looking to mount an insurrection during the convention.
"I've heard from a lot of people telling me they will write checks once it's guaranteed he's the nominee," a major GOP "bundler" of campaign cash said.
But without more direct support from firms like Goldman, Trump could face difficulties rebutting a planned wave of negative attack ads from Clinton. Trump fundraisers concede modest fundraising goals of around $350 million compared to the estimated $1 billion or more Clinton is likely to raise for the November election.