Gary Cohn Has Emerged as an Economic-Policy Powerhouse in Trump Administration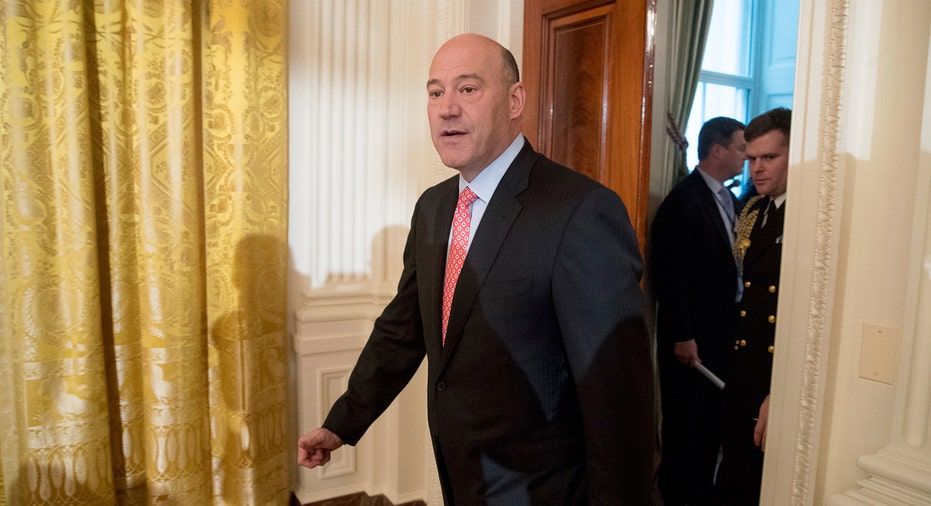 At Donald Trump's first meeting with Gary Cohn in late November, he appeared so impressed with the then-president of Goldman Sachs Group Inc. that he joked about offering him the post of Treasury secretary, said a person who recalled the moment. Sitting nearby was the odds-on favorite for the job, Steven Mnuchin, who got the nod.
Mr. Mnuchin's confirmation has since been delayed. In the meantime, Mr. Cohn, in office as director of the National Economic Council since the start of the Trump administration, has emerged as the most powerful economic policy maker in its early days.
The White House has designated Mr. Cohn to play a central role on taxes, infrastructure, financial regulation and replacing the Affordable Care Act. He stood over the president's shoulder as Mr. Trump signed executive orders on financial regulation. The White House says it is preparing a tax-overhaul plan for release within weeks, giving Mr. Cohn a prime role when several top economic posts remain vacant.
Though these will eventually be filled, Mr. Cohn is rapidly assembling a growing portfolio that could solidify his influence in the administration for the long term.
He met with senators who would shape tax policy two days before Mr. Mnuchin, his fellow Goldman alumnus, faced the same lawmakers for his confirmation hearing. Typically, the Treasury secretary and his senior staff spearhead those discussions. Mr. Trump began a recent meeting by referring to Mr. Cohn as one of "my geniuses."
Mr. Trump rode to office taking hard-edge stands on trade and immigration. Mr. Cohn describes himself in nonideological terms and has signaled a softer edge on globalization. Candidate Trump also was often sparse on policy specifics, giving Mr. Cohn the potential to have greater influence than some of his predecessors in turning the president's ideas into realities.
"When you're dealing with the economy, which is my realm, you have to be pragmatic," Mr. Cohn said in an interview Wednesday. "You have to be realistic to what's going on in the world and you have to be willing to adapt. I think that's my job, to advise the president on what is the right solution."
Speaking about the Federal Reserve at a conference last fall, Mr. Cohn commented that "we have successfully globalized the world, whether we like that or not." That leaves monetary policy, he said, trying to solve a "global growth issue...with domestic policy. It's not going to work."
A representative for Mr. Mnuchin, who is awaiting confirmation, didn't respond to interview requests.
Mr. Trump's selections of Messrs. Cohn and Mnuchin to run economic policy last fall struck a contrast with some of the president's campaign rhetoric, including an ad in which he alleged a global plot to take wealth from workers that flashed an image of Goldman Chief Executive Lloyd Blankfein .
Mr. Trump's critics are trying to turn Mr. Cohn's background against the new administration. Sen. Bernie Sanders (I., Vt.), noting Mr. Trump sought to win over working-class voters through a rejection of big banks, said that now "he's going to the billionaire class, he's going to Mr. Cohn and Wall Street, who are the people who caused the financial crisis in the first place."
On Friday, Sens. Elizabeth Warren (D., Mass.) and Tammy Baldwin (D., Wis.) sent a letter to Mr. Blankfein asking whether Goldman officials have been in contact with Mr. Cohn or other Goldman alumni in the White House and whether the firm expects to benefit from changes to financial regulation Mr. Cohn is pushing through executive orders.
A spokesman for Goldman said it had no involvement in drafting executive orders.
In an interview before the executive orders were signed, Mr. Cohn said the administration's goal of deregulating financial markets "has nothing to do with Goldman Sachs" but was focused on maintaining the nation's dominant position in global banking.
Several gaps remain in the administration's policy team. There is still no Senate-confirmed Commerce secretary or U.S. Trade Representative. The White House hasn't named any members to the three-person Council of Economic Advisers.
The vacancies and Mr. Cohn's proximity to the Oval Office -- the National Economic Council director works in the West Wing, unlike Cabinet secretaries -- enhance his influence, both inside the White House and throughout Washington, several lawmakers and administration officials said.
The NEC post was created by President Bill Clinton in 1993 and has been inhabited by powerful figures such as Robert Rubin and Lawrence Summers. The job is traditionally one part adviser and one part broker negotiating policies that touch on more than one agency. Mr. Cohn is also operating as part congressional and corporate liaison.
Meanwhile, conservative economists, who have played prominent roles in previous Republican administrations, are mostly on the outside looking in.
"It's a little odd that we're in the third week of the administration and there is no Council of Economic Advisers," said Stephen Moore, a former economic adviser to Mr. Trump and a onetime member of The Wall Street Journal editorial page. The CEA, which provides economic analysis to the president, as opposed to the policy-coordination role played by the NEC, has been downgraded to a subcabinet-level office.
On Feb. 3, Mr. Cohn went on cable television to pitch the president's financial regulatory plan and huddled with Republicans on the House Financial Services Committee, promising to support their efforts to rewrite banking rules.
Lawmakers said Mr. Cohn briefed them on the executive orders and took questions, a contrast with the much-criticized immigration-order rollout that left elected GOP officials flat-footed.
"There's no question in the early phases of the administration, he's in the catbird seat. He's going to play an outsize role," said Jeb Mason, a Treasury policy adviser in the George W. Bush administration.
Mr. Cohn, 56 years old and a registered Democrat, grew up in Cleveland, the son of parents who didn't go to college. He was diagnosed with dyslexia as a child, and his mother once thought he might aspire to a career as a truck driver, according to Malcolm Gladwell's "David and Goliath," a book about how what appear to be disadvantages may turn out not to be. In his first job after college at American University, Mr. Cohn sold window panels and aluminum siding.
During a business trip to the New York area, he visited the commodities exchange in the World Trade Center in lower Manhattan. Sharing a cab to the airport with a trader, he talked his way into a job offer.
Mr. Cohn is charming when dealing with clients, but also can be brusque, former Goldman colleagues say. "He's rapid fire. Lots and lots of activity," said one. A Republican lawmaker who has spoken to The Wall Street titan said he hasn't yet adapted to Washington's slower pace and myriad constituencies.
Mr. Cohn bristles at the "brusque" description, suggesting his directness may be unusual in a city whose culture includes filibusters -- endless talking to prevent any action.
"In D.C., no one when you meet them says, 'Nice to meet you,'" Mr. Cohn said. "They say, 'Good to see you.' That's because they pretend like they might have met you before.... Everyone says, 'Good to see you.' Well, I know you can see me."
Among the ways he is amassing influence is interviewing candidates for a range of White House appointments, including top posts at the Fed and regulatory agencies. He sidelined some campaign advisers, including Larry Kudlow, the CNBC commentator who had been considered last year for the still-unfilled CEA post, according to people familiar with the matter.
Taking over at the NEC, in a role that didn't need Senate confirmation, Mr. Cohn quickly staffed the agency with veterans of finance and government, making the council one of the most highly functioning power centers in the administration.
A potential rival influence on economic policy, the National Trade Council, has yet to clearly define its role. The trade council's chairman is Peter Navarro, who is among the few economists in the administration but one with little experience navigating Washington.
In the first two weeks, Mr. Navarro has made some combative statements on trade and currency, such as accusing Germany of using an undervalued euro to seek a trade advantage that provoked concern from business leaders. Several called Mr. Cohn to find out what was happening, a person familiar with the matter said. Mr. Navarro declined to comment.
Washington and Wall Street are waiting to see how Mr. Cohn carves up the policy portfolio with the 54-year-old Mr. Mnuchin at Treasury. Both worked at Goldman in fixed income and made partner in 1994. Mr. Cohn became the head of the fixed-income division in 2002, the same year Mr. Mnuchin left the firm to work for hedge funds.
Mr. Cohn has deeper ties to lawmakers than Mr. Mnuchin, the son of a famed Goldman banker who followed his father's footsteps at the firm before moving to California last decade. There he financed films and scored large returns purchasing a failed bank from the U.S. government, which he and other investors rehabilitated and sold. Mr. Mnuchin was spotted Feb. 4 at the Los Angeles premiere of "The Lego Batman Movie," in which he has a credit as an executive producer.
White House officials dismiss talk of any budding rivalry, and the two men were seen lunching together last week in the White House's mess hall.
"I'm talking to Steve two, three times a day," Mr. Cohn said. "I'm working as well with him as I can in what he's allowed to do under the statutes and not being sworn in yet. I'm convinced we'll work even better when he's sworn in."
A person close to Mr. Mnuchin agreed with Mr. Cohn's assessment, adding that Mr. Mnuchin sees no daylight between the two on policy.