Gary Cohn and the meeting that may have ended his White House role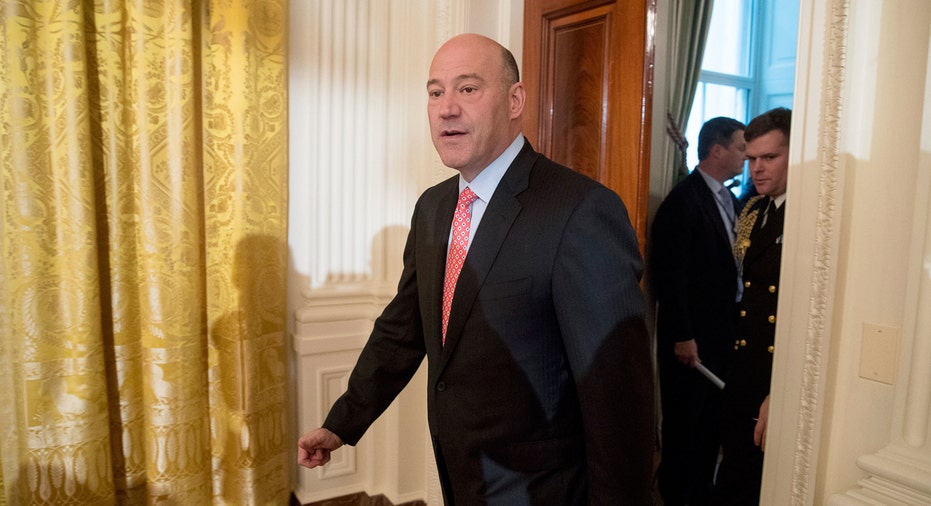 Gary Cohn, the National Economic Council director, resigned from the Trump administration on Tuesday after a possible meeting with executives of companies relying on steel and aluminum imports – including Coca-Cola and Ford – failed to materialize.
Going into the week, according to sources familiar with the situation, White House officials working with Cohn were looking to reach out to high-level automobile and beverage industry interests including those from Coca-Cola and Ford: two companies that would likely feel the brunt of President Donald Trump's decision to impose import tariffs. The hope was that they could set up a White House round-table discussion and persuade the president to back down from tariffs of 25% on steel and 10% on aluminum.
As Tuesday approached, all signs indicated that the meeting was not going to happen. This as Peter Navarro, Trump's architect on trade, and Commerce Secretary Wilbur Ross continued to make the media rounds, pumping up Trump's pro-tariff message. The divide within the White House indicated that Cohn could be losing his fight against the administration's new policy goals, which he thought might lead to a trade war.
Coca-Cola and Ford executives never received an invitation from the White House for a meeting, people close to the companies told FOX Business on the condition of anonymity. Trump officials never added the meeting to the president's schedule, and when asked on Tuesday morning if a meeting was in the works, a White House spokeswoman didn't seem too enthused about the prospects of setting it up.
"The president's team has been coordinating meetings for months with stakeholders across the spectrum of opinions on this issue to ensure his decision is as informed as possible," the spokeswoman said at the time. "Last month, he met with members of Congress who represent constituents with multiple points of view, and last week he met with representatives from steel and aluminum companies," she added.
Then, late Tuesday evening, Cohn suddenly resigned.
A Ford spokeswoman would neither confirm nor deny conversations that company executives may have had with White House officials, but she noted the companyt's disagreement with Trump's decision to enforce steel import tariffs.
"Despite the fact that Ford buys the vast majority of its steel and aluminum for U.S. production in the U.S., this action could result in an increase in domestic commodity prices – harming the competitiveness of American manufacturers," the spokeswoman said.
A spokesman for Coca-Cola declined to comment.
Those close to Ford's leadership said the meeting that was in the works was "on hold for now." Other industry leaders put it more bluntly, telling FOX Business that the meeting never materialized and any chance of it happening ended the moment Cohn said he would leave the White House. It's unclear who pulled the plug on the meeting. What's peculiar is that Cohn's departure is not expected for a few weeks and he could have still held some form of a meeting with the time he has left.
"It has been an honor to serve my country and enact pro-growth economic policies to benefit the American people, in particular the passage of historic tax reform," Cohn said in a statement. "I am grateful to the President for giving me this opportunity and wish him and the Administration great success in the future," he added.
His departure triggered a wave of support from executives across the United States.
"Director Cohn's departure from the White House is a real loss for President Trump and the American people," Business Roundtable CEO Joshua Bolten said in a statement.
Cohn's old boss, Goldman Sachs CEO Lloyd Blankfein, also praised Cohn's efforts.
"Gary Cohn deserves credit for serving his country in a first class way," Blankfein said in a tweet. "I'm sure I join many others who are disappointed to see him leave."
The status of the Trump's trade policies seems to be on track as the president and his pro-tariff team, led by Navarro, had originally planned. When asked at a press conference on Tuesday about a potential trade war with allies that may be affected by steel and aluminum tariffs, the president brushed off questions on the effects that they may have on the American consumer.
"When we're down by $30 billion, $40 billion, $60 billion, $100 billion, the trade war hurts them (American trade opponents), it doesn't hurt us," Trump said.
Now, as Cohn leaves the White House, the president is having a difficult time finding Republican lawmakers on Capitol Hill to back his new trade proposal, with the most recent criticism coming from Senator Orrin Hatch, R-Utah.
In a letter to the president, Hatch warned Trump that if he moved ahead with his desired tariffs, they could hurt the effects of the recently passed tax reform plan.
"I am particularly troubled that the impact of those proposed tariffs would undermine the overwhelming and immediate success of the Tax Cuts and Jobs Act that we worked to bring into law," Hatch said.
While the administration has yet to unveil any form of policy white paper, the commander-in- chief reportedly wants to sign a presidential proclamation on steel and aluminum tariffs on Thursday.