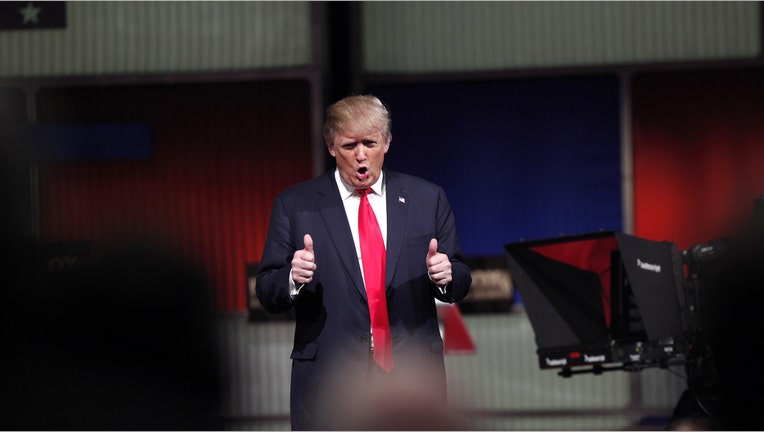 For those who doubt Donald Trump's chances at taking the White House, gamblers have a different point of view.
With primary season ready to begin, bettors are putting their money on Donald Trump and Hillary Clinton as the two candidates likely to square off in the battle for the Oval Office, and Trump's odds of winning the whole thing have improved by a wide margin.
Gambling on U.S. elections is illegal under federal law, but Las Vegas has embraced the entertainment value of presidential odds.
"It would make the Super Bowl look like a high school football game if we could take bets on this," Jimmy Vaccaro, a veteran Las Vegas linesmaker and the head of South Point Hotel and Casino's Race and Sports Marketing division, told FOXBusiness.com. "On the Republican side, going back to June when Trump announced he was in, that's when it all started."
Trump is leading the GOP field not only in the polls, but on betting tickets. Paddy Power, Ireland's largest bookmaker, has even-money odds on Trump winning the GOP nomination as of Jan. 28. In other words, bettors could double their money with a bet on the real-estate mogul.
Trump has also become the second most likely candidate on either side to enter the White House. Clinton remains the betting favorite at 5/6, while Trump's odds have halved since New Year's Day to 3/1. Trump was seen as a 200/1 longshot back in November 2012, meaning bookmakers could be in for some hefty losses if he ultimately becomes president.
"Punters really believe he can win," said Rory Scott, a spokesman for Paddy Power.
Bets Pouring In
Scott added that the 2016 contest "could quite easily end up being the biggest political betting market in history." Historically, presidential races have been a niche market for bookmakers outside the U.S. But political bets have been gaining popularity over the years, and Paddy Power has seen new customers join the fray.
---
General Election Odds
Hillary Clinton 5/6
Donald Trump 3/1
Marco Rubio 11/2
Bernie Sanders 7/1
Jeb Bush 20/1
Ted Cruz 20/1
Michael Bloomberg 25/1
Chris Christie 40/1
Source: PaddyPower.com
---
"We're seeing much more money than we normally would," Scott explained. "Customers are taking advantage of the information out there. With so many polls coming out and 24-hour news, people feel a lot more informed about what's going on."
Since election wagering is prohibited, Vaccaro and other bookmakers in Las Vegas are posting betting lines for the fun of it. Still, interest is through the roof, and Vaccaro said he takes the odds seriously. "We're trying to be as legitimate as possible," he said. When Trump held a rally at South Point last week, the casino had to print more line sheets after running out.
Odds for Victory
The lines have shifted quite a bit leading up to the Iowa Caucus. In March, former Florida Gov. Jeb Bush was the favorite on Paddy Power by a slight margin over Wisconsin Gov. Scott Walker, who has since dropped out of the race. Meanwhile, as recently as October, Florida Sen. Marco Rubio was at the front of the pack.
Texas Sen. Ted Cruz has drifted of late in Paddy Power's odds. More money started going toward Cruz, but Scott noted that bettors have pulled back. "Largely, when you get to this point in the race, money talks," he said. Bookmakers like Paddy Power will set initial prices, but their traders will make adjustments over time based on actual bets.
---
Republican Primary Odds
Donald Trump EVENS
Marco Rubio 2/1
Ted Cruz 6/1
Jeb Bush 9/1
Chris Christie 22/1
John Kasich 40/1
Paul Ryan 50/1
Mitt Romney 50/1
Source: PaddyPower.com
---
Vaccaro said South Point's just-for-fun odds have Trump as the 2/1 favorite, while Cruz and Rubio are close at 3/1. Bush opened as a 4/1 favorite but has slipped to 50/1. New Jersey Gov. Chris Christie is one of the favorites at South Point to land on the GOP ticket as a candidate for vice president.
For the Iowa Caucus on Feb. 1, Paddy Power bettors have made Trump the 8/15 favorite ahead of Cruz, who has 11/8 odds.
Trump also holds the advantage in the New Hampshire primary, which will take place on Feb. 9. Trump's odds to win New Hampshire are 1/4, while Ohio Gov. John Kasich has edged above Cruz and Rubio at 6/1.
Fewer Bets on Democrats
Gamblers have been less interested in the race for the Democrat's nomination, given that Clinton was seen as the overwhelming favorite in a much smaller field. Clinton was a 1/10 favorite at one point, so a bettor would have to place a $10 wager just to earn a buck.
However, the odds have narrowed in recent weeks with bettors putting more money on Vermont Sen. Bernie Sanders. Clinton is now the 1/5 favorite ahead of Sanders, whose odds are 7/2. Vice President Joe Biden, who declined to enter the primary race, is still a 14/1 bet. At 100/1, former Maryland Gov. Martin O'Malley is seen as a distant fourth.
Clinton is a solid favorite to win the Iowa Caucus, while Sanders is tops in New Hampshire with 1/6 odds.